Women and Gendered Issues
Welcome to Women's Forum Australia
Pinkstinks - Home
About-Face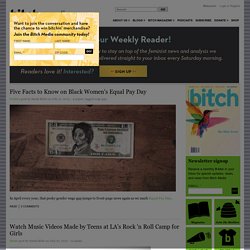 Bitch Media
Here's the news on our radar today! • Yesterday was the anniversary of Roe v. Wade! Current polling shows that 52 percent of Americans support access to legal abortions. [AlJazeera]
Fighting Back for RoeFind a local NOW chapter event marking the 41st anniversary of the landmark Roe v. Wade decision. 41st Anniversary of Roe v. WadeEvery woman has the right to have the children she wants, raise the children she has, plan her own family and make her own health care decisions.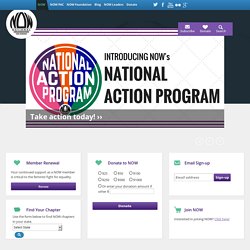 National Organization for Women (NOW)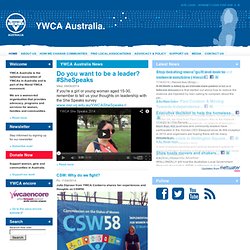 The World YWCA joins the world in mourning Tata Nelson Rolihlahla Mandela, a towering champion of freedom and liberty. He made many personal sacrifices for his country, South Africa, for Africa and beyond. This was a journey he shared with the his family, friends the people of South Africa. With his death, the world's conscience is pricked, for we are all reminded of the deep values he stood for. Read the condolence message from World YWCA General Secretary, Nyaradzayi Gumbonzvanda
YWCA Australia.
Don't tie our hands, Barry. Vote NO on Zoe's Law This Thursday the Liberal Party of NSW will try to push through the Crimes Amendment (Zoe's Law) Bill (No.2) 2013. "Zoe's Law" is a bill which will, for the first time in Australia, grant legal rights to a foetus through creating a separate legal offense of grievous bodily harm against the foetus in addition to any harm to the mother. This legislation is unnecessary and will put women's access to abortion at risk in NSW. There's a reason the Rev Fred Nile MLC* will be sponsoring this bill in the Upper House of the NSW Parliament: it is the first step in undermining women's access to abortion.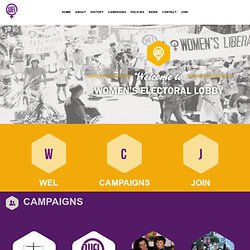 Women's Electoral Lobby
National Foundation for Australian Women — Just another WordPress site
Jan. 8 2014 11:43 AM The first couple weeks of January have informally become a national holiday, when Americans temporarily reckon with our expanding waistlines, vow to shrink them, and embrace whatever the latest trend diet is before drifting away long before Valentine's Day, unable to keep up with the strict demands of only eating while standing on your head or whatever the latest surefire way to lose 30 points is this time around. Trying to capitalize on the season, US News & World Report decided to rank 32 popular diets to find the best one to kick off your ritual of penance and defeat.
The XX Factor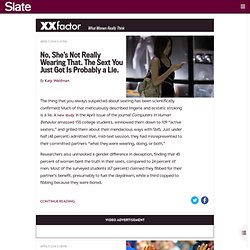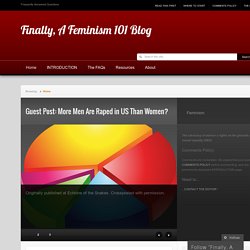 Finally, A Feminism 101 Blog
Guest Post by Dana Hunter Men, even good men, believe women lie about rape. There's this myth that runs amok saying that some enormous proportion of rape accusations are just women lying to get attention, or revenge, or to hide their summer fling from mommy and daddy. And they believe it without question. When male friends toss that grenade at me, I toss it back by asking if they know what the percentage is.
Feminist.com
New Articles/Features: International Women's Day: Reflections from Natalie Portman, Maya Angelou and Other Renowned Women by Marianne Schnall Highlights of What Will It Take to Make a Woman President? San Francisco Panel Discussion (video) featuring Marianne Schnall, Gavin Newsom, Jennifer Siebel Newsom and Amanda de Cadenet Carol Gilligan: On Gender, Democracy, Society by Abigail Pollack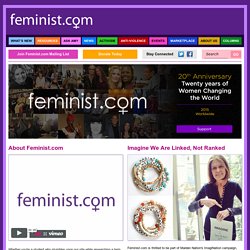 Contemporary UK Feminism
Otterday! And Open Thread By Lauredhel on January 18, 2014 Please feel free to use this thread to natter about anything your heart desires. Is there anything great happening in your life?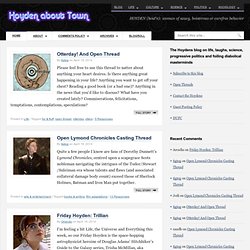 Hoyden About Town: a mixed bag of uppity women blogging from Australia
The Dawn Chorus
(This post is cross-posted at Crikey.) There's an article by Helen Dow currently on News.com.au (originally in Queensland's Sunday Mail) reporting on some findings from social research consultancy McCrindle Research in Sydney: namely, that Generation Y are losing basic skills of self-care and self-sufficiency. Here are some of the stats from the story: