Exchange/communication/locals
Roadside America - Guide to Uniquely Odd Tourist Attractions. Warmshowers.org | Hospitality for touring cyclists. Nomads Connected. Global Greeter Network: Home. BookCrossing in Nederland. Idealist.org - Welcome to Idealist.org - Imagine. Connect. Act. World Footprints. Traveldudes – For Travelers, By Travelers! Center for Responsible Travel : Formerly CESD.
"Economic Impact of Bear Viewing and Bear Hunting in The Great Bear Rainforest of British Columbia" CREST's newest study, released in January 2014, examines the economic impacts of two outdoor recreational activities in the magnificent Great Bear Rainforest in coastal British Columbia: bear hunting and bear viewing.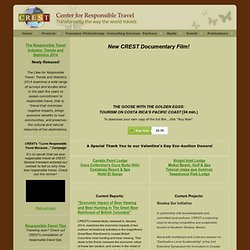 This study is the first to compare the economic value of these two sectors, and comes in the midst of public controversy over trophy bear hunting. The study was conducted by CREST researchers at Stanford University and in Washington, DC, together with two BC-based experts. BootsnAll Travel Network :: Travel Community, Travel Stories, Cheap Tickets, Youth Hostels and all your travel needs. Help Exchange: free volunteer work exchange abroad Australia New Zealand Canada Europe. Tripping - A Global Community of Travelers. Free Homestay, Cultural Exchange, Travel Tips and more.
About. Rising Voices, an outreach initiative of Global Voices, aims to help bring new voices from new communities and speaking new languages to the global conversation by providing resources and funding to local groups reaching out to underrepresented communities.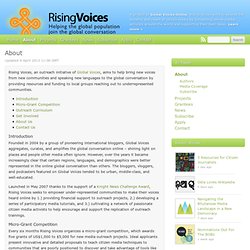 Introduction Founded in 2004 by a group of pioneering international bloggers, Global Voices aggregates, curates, and amplifies the global conversation online – shining light on places and people other media often ignore. Photosynth - Use your camera to stitch the world. Participate in Creating a Better World, One Couch At A Time.
---