Exchange/communication/locals
Nomads Connected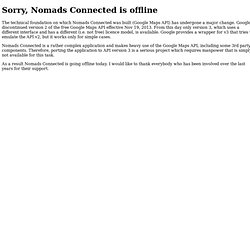 The technical foundation on which Nomads Connected was built (Google Maps API) has undergone a major change. Google discontinued version 2 of the free Google Maps API effective Nov 19, 2013. From this day only version 3, which uses a different interface and has a different (i.e. not free) licence model, is available. Google provides a wrapper for v3 that tries to emulate the API v2, but it works only for simple cases. Nomads Connected is a rather complex application and makes heavy use of the Google Maps API, including some 3rd party components. Therefore, porting the application to API version 3 is a serious project which requires manpower that is simply not available for this task.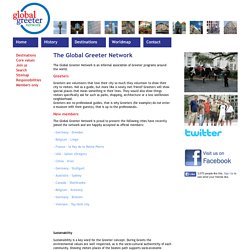 The Global Greeter Network is an informal association of Greeter programs around the world. Greeters Greeters are volunteers that love their city so much they volunteer to show their city to visitors. Not as a guide, but more like a newly met friend! Greeters will show special places that mean something in their lives.
BookCrossing in Nederland
World Footprints
Center for Responsible Travel : Formerly CESD
"Economic Impact of Bear Viewing and Bear Hunting in The Great Bear Rainforest of British Columbia" CREST's newest study, released in January 2014, examines the economic impacts of two outdoor recreational activities in the magnificent Great Bear Rainforest in coastal British Columbia: bear hunting and bear viewing. This study is the first to compare the economic value of these two sectors, and comes in the midst of public controversy over trophy bear hunting. The study was conducted by CREST researchers at Stanford University and in Washington, DC, together with two BC-based experts.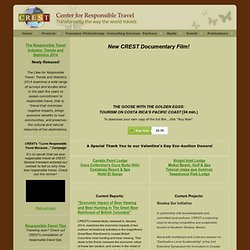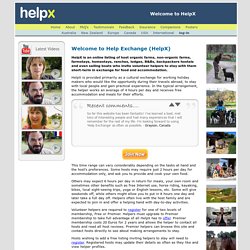 My two experiences were very different from each other, but made up a brilliant month of great travelling, and helpXing! - Katie , United Kingdom I think HelpX is great idea. The website is easy to use, and it is helpful to be able to read hosts profiles and references. I've enjoyed my experience as a helper.
Rising Voices, an outreach initiative of Global Voices, aims to help bring new voices from new communities and speaking new languages to the global conversation by providing resources and funding to local groups reaching out to underrepresented communities. Introduction Founded in 2004 by a group of pioneering international bloggers, Global Voices aggregates, curates, and amplifies the global conversation online – shining light on places and people other media often ignore.
About