Business Tools
34 Search Engine Optimization Techniques
Summify: Gather Trending Articles From Your Feeds and Networks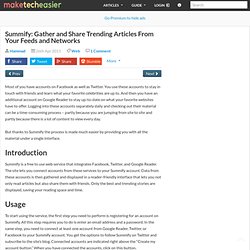 Most of you have accounts on Facebook as well as Twitter. You use these accounts to stay in touch with friends and learn what your favorite celebrities are up to. And then you have an additional account on Google Reader to stay up-to-date on what your favorite websites have to offer. Logging into these accounts separately daily and checking out their material can be a time-consuming process – partly because you are jumping from site to site and partly because there is a lot of content to view every day.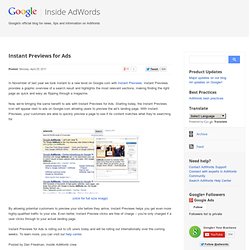 In November of last year we took Instant to a new level on Google.com with Instant Previews. Instant Previews provides a graphic overview of a search result and highlights the most relevant sections, making finding the right page as quick and easy as flipping through a magazine.
Instant Previews for Ads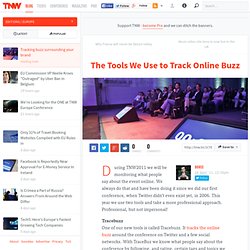 During TNW2011 we will be monitoring what people say about the event online. We always do that and have been doing it since we did our first conference, when Twitter didn't even exist yet, in 2006.
The Tools We Use to Track Online Buzz - TNW Europe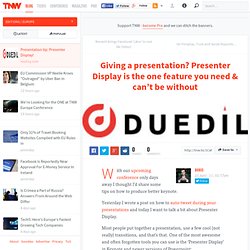 Giving a presentation? Presenter Display is the one feature you need & can't be without - TNW Europe
With our upcoming conference only days away I thought I'd share some tips on how to produce better keynote. Yesterday I wrote a post on how to auto-tweet during your presentations and today I want to talk a bit about Presenter Display. Most people put together a presentation, use a few cool (not really) transitions, and that's that. One of the most awesome and often forgotten tools you can use is the 'Presenter Display' in Keynote and newer versions of Powerpoint: As you can see in the above screenshot this mode show your normal slides on the external screen and a dashboard of what you are doing on your other screen.
as many people have said, dropboxes 'deduplication' methods may render this useless. basically, there is only one copy of any given file on dropbox ever. when you upload a file, dropbox checks (most likely via some hashing method) the file against their database, and - if there is a match - does not upload the file, but rather...notes that you have the file. this way they save lots of money on data storage, and to the end user, the difference is invisible. however, what i'd like to know is, does dropbox keep these deleted files, just 'unlinked' from your account for a 'just-in-case' circumstance (i.e. so that if down the road someone uploads it they won't have to upload it again), or is it truly deleted. and, if the file already exists elsewhere, do they remove the record of the file ever being on your account, or is there still a history.
How to Permanently Delete Old Files from Dropbox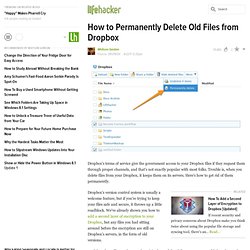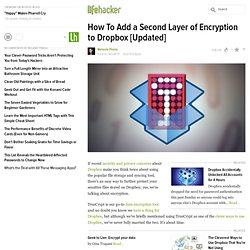 How To Add a Second Layer of Encryption to Dropbox
If recent security and privacy concerns about Dropbox make you think twice about using the popular file storage and syncing tool, there's an easy way to further protect your sensitive files stored on Dropbox: yes, we're talking about encryption.
Sometimes, you need to send sensitive information—say, a password—over the internet, but don't want to use email.
QuickForget Sends Secret, Self-Destructing Messages Over Email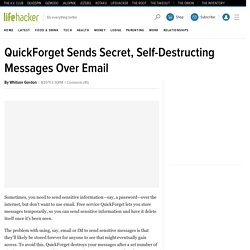 Free and Easy Email Reminders with FollowUpThen - TNW Apps
FollowUpThen is an email reminder service that notifies you when a task is due.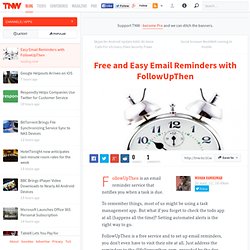 New Tools for Viewing, Editing and Sharing Your Business Cards
If you've ever wanted to make Gmail look just so for your personal tastes, today is your lucky day: Gmail has added a new "Create your own theme" option and tool where you can select background images and then choose your theme's colors.
Gmail Themes Now Fully Customizable with Your Own Backgrounds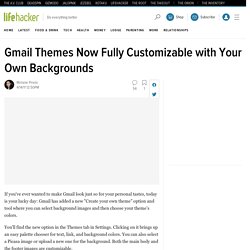 Google+1 Button
I like how you say "use fewer extensions" followed by "use the speed dial extension" and "use the tabvault extension". Snarkiness aside, Opera has the option to start with the tabs from last session or not, and speeddial is built in.
How (and Why) to Set Up a Secondary Browser Optimized for Slow Internet Connections
Separate out mobile campaigns for improved performance
With searches on mobile devices with full Internet browsers growing 4x over the past year, the opportunity to reach users on the go is big and growing. Are your campaigns optimized for mobile?
SlideShare.net is the world's largest online community for sharing presentations with more than 50 million monthly visitors, helping to make it rank amongst the 250 most visited websites in the world.
How to get the most out of SlideShare - TNW Lifehacks
Adobe's Creative Suite gets monthly subscription option - TNW Apps
For those of us who don't rely on the Adobe Creative Suite to do our jobs, the pricing is absolutely insane. For those of you who do, it's still insane, but at least it's a necessary amount of insanity.
Chengyin Liu, an undergraduate Computer Science student at University of Illinois Urbana-Champaign just released a very sweet bookmarklet called WhatFont that instantly identifies fonts while you're web browsing.
This handy WhatFont bookmarklet tells it like it is - TNW Apps
Three Essentials to Creating a Networking Strategy
Establish a plan to help determine who you want to connect with and where to find them. As a time-strapped small-business owner, determining which networking events to attend and which to skip can be tricky.
Print from anywhere as HP launches the first Google Cloud Print printers - TNW Google
Make Any Content on the Web Embeddable With Embedly
Viral Marketing: It Just Takes One
MacDropAny Syncs Local Folders with Your Dropbox Account
holykaw.alltop
A faster way to share files - Cool Sites from The Kim Komando Radio Show® & Web site
Print from your phone using Gmail Mobile and Google Cloud Printing
Dropbox + picplz! • blog plz
The New Evernote-enabled ScanSnap S1100 Scanner — Plus a Giveaway! « Evernote Blogcast
5 mobile apps that could kill business cards
5 Ways Small Businesses Can Use QR Codes
SnapBill Launches Automated Online Billing Service
Meet Pixpa, a killer online showcase tool for photographers
Services | The Social Media Guide
Merchant Account Providers - Compare Merchant Services Providers and Prices
Order Fulfillment Services Price Quotes | Shipping and Warehousing
Buyer Guide to Outsourcing IT Services | Who Should Outsource IT Services? | ResourceNation
Compare Web Designers & Website Design Companies & Prices | Resource Nation
Online Marketing - Compare Online Advertising Companies and Prices
Copiers - Compare Prices for Copy Machines and Office Copiers
DocumentMall, On-demand document management service