Business Tools
34 Search Engine Optimization Techniques.
Domain Search. Summify: Gather Trending Articles From Your Feeds and Networks. Most of you have accounts on Facebook as well as Twitter.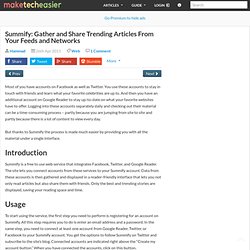 You use these accounts to stay in touch with friends and learn what your favorite celebrities are up to. And then you have an additional account on Google Reader to stay up-to-date on what your favorite websites have to offer. Logging into these accounts separately daily and checking out their material can be a time-consuming process – partly because you are jumping from site to site and partly because there is a lot of content to view every day. Instant Previews for Ads. In November of last year we took Instant to a new level on Google.com with Instant Previews.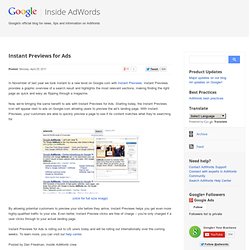 Instant Previews provides a graphic overview of a search result and highlights the most relevant sections, making finding the right page as quick and easy as flipping through a magazine. Now, we're bringing the same benefit to ads with Instant Previews for Ads. Starting today, the Instant Previews icon will appear next to ads on Google.com allowing users to preview the ad's landing page. With Instant Previews, your customers are able to quickly preview a page to see if its content matches what they're searching for.
By allowing potential customers to preview your site before they arrive, Instant Previews helps you get even more highly-qualified traffic to your site. The Tools We Use to Track Online Buzz - TNW Europe. During TNW2011 we will be monitoring what people say about the event online.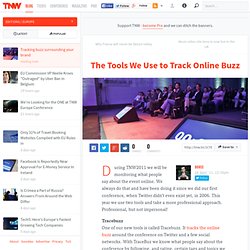 We always do that and have been doing it since we did our first conference, when Twitter didn't even exist yet, in 2006. This year we use two tools and take a more professional approach. Professional, but not impersonal! Tracebuzz One of our new tools is called Tracebuzz. It tracks the online buzz around the conference on Twitter and a few social networks. Giving a presentation? Presenter Display is the one feature you need & can't be without - TNW Europe. With our upcoming conference only days away I thought I'd share some tips on how to produce better keynote.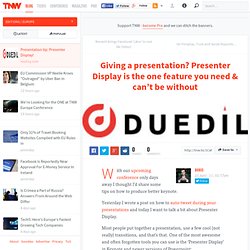 Yesterday I wrote a post on how to auto-tweet during your presentations and today I want to talk a bit about Presenter Display. Most people put together a presentation, use a few cool (not really) transitions, and that's that. One of the most awesome and often forgotten tools you can use is the 'Presenter Display' in Keynote and newer versions of Powerpoint: As you can see in the above screenshot this mode show your normal slides on the external screen and a dashboard of what you are doing on your other screen. How to Permanently Delete Old Files from Dropbox. How To Add a Second Layer of Encryption to Dropbox. QuickForget Sends Secret, Self-Destructing Messages Over Email. Free and Easy Email Reminders with FollowUpThen - TNW Apps. FollowUpThen is an email reminder service that notifies you when a task is due.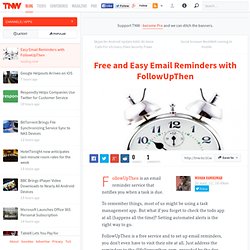 To remember things, most of us might be using a task management app. But what if you forget to check the todo app at all (happens all the time)? Setting automated alerts is the right way to go. New Tools for Viewing, Editing and Sharing Your Business Cards. Gmail Themes Now Fully Customizable with Your Own Backgrounds. Google+1 Button. How (and Why) to Set Up a Secondary Browser Optimized for Slow Internet Connections. Separate out mobile campaigns for improved performance. With searches on mobile devices with full Internet browsers growing 4x over the past year, the opportunity to reach users on the go is big and growing.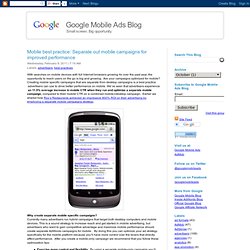 Are your campaigns optimized for mobile? Creating mobile specific campaigns that are separate from desktop campaigns is a best practice advertisers can use to drive better performance on mobile. We've seen that advertisers experience an 11.5% average increase in mobile CTR when they run and optimize a separate mobile campaign, compared to their mobile CTR on a combined mobile+desktop campaign. Earlier we shared how Roy's Restaurants achieved an impressive 800% ROI on their advertising by employing a separate mobile campaigns strategy. Why create separate mobile specific campaigns?
How to get the most out of SlideShare - TNW Lifehacks. SlideShare.net is the world's largest online community for sharing presentations with more than 50 million monthly visitors, helping to make it rank amongst the 250 most visited websites in the world.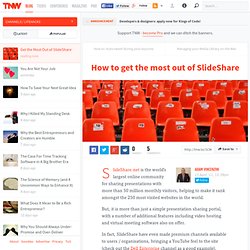 But, it is more than just a simple presentation sharing portal, with a number of additional features including video hosting and virtual meeting software also on offer. In fact, SlideShare have even made premium channels available to users / organisations, bringing a YouTube feel to the site (check out the Dell Enterprise channel as a good example). To help you work out if you are getting the most out of SlideShare, we've pulled together the following 'how to' guide. Account options. Adobe's Creative Suite gets monthly subscription option - TNW Apps. For those of us who don't rely on the Adobe Creative Suite to do our jobs, the pricing is absolutely insane.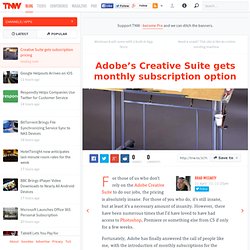 For those of you who do, it's still insane, but at least it's a necessary amount of insanity. However, there have been numerous times that I'd have loved to have had access to Photoshop, Premiere or something else from CS if only for a few weeks. Fortunately, Adobe has finally answered the call of people like me, with the introduction of monthly subscriptions for the Creative Suite apps. By way of comparison, "renting" the use of the app for a year will cost you around 60% of what it would to buy the retail version. Though you can save some cash by doing a full year of subscription, instead of a month-to-month plan. This handy WhatFont bookmarklet tells it like it is - TNW Apps. Chengyin Liu, an undergraduate Computer Science student at University of Illinois Urbana-Champaign just released a very sweet bookmarklet called WhatFont that instantly identifies fonts while you're web browsing.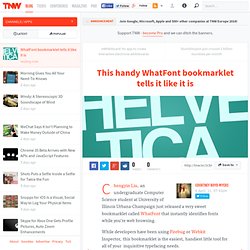 While developers have been using Firebug or Webkit Inspector, this bookmarklet is the easiest, handiest little tool for all of your inquisitive typefacing needs. Just drag the bookmarklet (found here) to your toolbar and start hovering. Exiting is easy. Three Essentials to Creating a Networking Strategy. Establish a plan to help determine who you want to connect with and where to find them.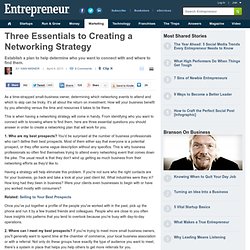 As a time-strapped small-business owner, determining which networking events to attend and which to skip can be tricky. It's all about the return on investment. How will your business benefit by you attending versus the time and resources it takes to be there. This is when having a networking strategy will come in handy. From identifying who you want to connect with to knowing where to find them, here are three essential questions you should answer in order to create a networking plan that will work for you. Print from anywhere as HP launches the first Google Cloud Print printers - TNW Google. Google first outlined the idea of 'Cloud Print' back in November. The service would let you print from a browser anywhere – your phone, for example, to an assigned printer. There was one problem – you couldn't actually buy a printer that supported it.
Make Any Content on the Web Embeddable With Embedly. The Spark of Genius Series highlights a unique feature of startups and is made possible by Microsoft BizSpark. If you would like to have your startup considered for inclusion, please see the details here. Name: Embedly Quick Pitch: Embedly is a platform for converting URLs into embeddable content. Genius Idea: Embedding all the media on the web. Viral Marketing: It Just Takes One. MacDropAny Syncs Local Folders with Your Dropbox Account. Holykaw.alltop. A few months I ran a Facebook promotion where people who "liked" the Enchantment Facebook fan page could get a free copy of my first book, The Macintosh Way.
Around the same time, I also offered an excerpt of Tim Ferriss's The 4-Hour body and Take Control of iPad Basics by Tonya Engst. Around the first week of January I emailed 140,000 of my closest friends to tell them about the offer. This graph shows the effect of this promotion: in a few days, the fan count increased by 50%. Admittedly, it was a small base of 8,000 people, but still—4,000 new fans is 4,000 new fans.
The point is that using the "reveal" technique to attract more fans by giving them something special for liking a fan page and an email blast does work. A faster way to share files. Print from your phone using Gmail Mobile and Google Cloud Printing. Dropbox + picplz! • blog plz. The New Evernote-enabled ScanSnap S1100 Scanner — Plus a Giveaway! 5 mobile apps that could kill business cards. 5 Ways Small Businesses Can Use QR Codes. SnapBill Launches Automated Online Billing Service. Meet Pixpa, a killer online showcase tool for photographers. Virtual Assistant Forums | Virtual Office Assistant Resources.
Services | The Social Media Guide. Merchant Account Providers - Compare Merchant Services Providers and Prices. Order Fulfillment Services Price Quotes | Shipping and Warehousing. Buyer Guide to Outsourcing IT Services | Who Should Outsource IT Services? Compare Web Designers & Website Design Companies & Prices | Resource Nation. Online Marketing - Compare Online Advertising Companies and Prices. Copiers - Compare Prices for Copy Machines and Office Copiers.
DocumentMall, On-demand document management service.
---