Books
Books that will induce a mindfuck. 30 Very Funny Books--Seriously. By Gina Barreca, Ph.D.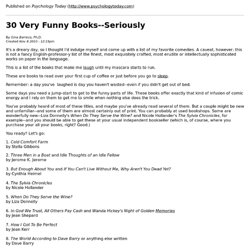 It's a dreary day, so I thought I'd indulge myself and come up with a list of my favorite comedies. A caveat, however: this is not a fancy English-professor-y list of the finest, most exquisitely crafted, most erudite or intellectually sophisticated works on paper in the language. This is a list of the books that make me laugh until my mascara starts to run. These are books to read over your first cup of coffee or just before you go to sleep . Remember: a day you've laughed is day you haven't wasted--even if you didn't get out of bed. The Harry Potter Lexicon.
3 Grown-Up Books For The Hogwarts Grad. iStockphoto.com The Harry Potter franchise has its last hurrah on Friday, and fans like me are facing a forcible graduation from the protection of a fictional universe we've always known.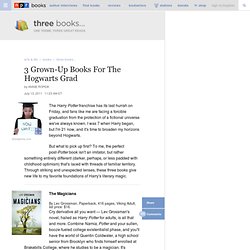 I was 7 when Harry began, but I'm 21 now, and it's time to broaden my horizons beyond Hogwarts. But what to pick up first? Recommendations. The 50 SF Books You Must Read.
---