Sangha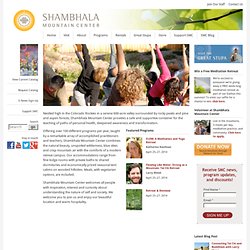 shambhala mntn cntr colo.
Nestled high in the Colorado Rockies in a serene 600-acre valley surrounded by rocky peaks and pine and aspen forests, Shambhala Mountain Center provides a safe and supportive container for the teaching of paths of personal health, deepened awareness and transformation. Offering over 100 different programs per year, taught by a remarkable array of accomplished practitioners and teachers, Shambhala Mountain Center combines the natural beauty, unspoiled wilderness, blue skies and crisp mountain air with the comforts of a modern retreat campus. Our accommodations range from fine lodge rooms with private baths to shared dormitories and economically priced seasonal tent cabins on wooded hillsides. Meals, with vegetarian options, are included.
budhist connect
*Buy a new .COM, get one new .INFO for FREE for 1st year only. Not valid on renewals or transfers. Plus ICANN fee of 18¢ per domain per year. † Good for one 1-year registration of any available .COM, .US, .BIZ, .INFO, .NET or .ORG **New .COs, first year only. Offer ends 5/31/2012. ‡ Annual discounts available on NEW purchases only. GoDaddy.com is the world's No. 1 ICANN-accredited domain name registrar for .COM, .NET, .ORG, .INFO, .BIZ and .US domain extensions. Source: RegistrarSTATS.com
silver tea
gville buddhism
Regardless of your knowledge about Buddhism, this is a group for chatting about Buddhist beliefs and practices. Maybe you would like to recommend a book, or find out about a book you hadn't heard of before. Maybe you're wondering about the different Buddhist practice groups in Gainesville (there are more than one!). Or maybe you're curious about what Buddhists believe. Of course, if you have been practicing Buddhism already for 10,000 years (or only one week), you are also welcome.