Chemistry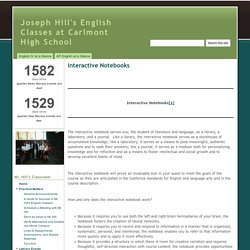 The interactive notebook serves you, the student of literature and language, as a library, a laboratory, and a journal. Like a library, the interactive notebook serves as a storehouse of accumulated knowledge; like a laboratory, it serves as a means to pose meaningful, authentic questions and to seek their answers; like a journal, it serves as a medium both for personalizing knowledge and for reflection and as a means to foster intellectual and social growth and to develop excellent habits of mind. The interactive notebook will prove an invaluable tool in your quest to meet the goals of the course as they are articulated in the California standards for English and language arts and in the course description.
Interactive Notebooks - Joseph Hill's English Classes at Carlmont High School
Sodium Bicarbonate - Lessons in Cancer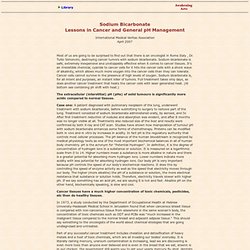 Most of us are going to be surprised to find out that there is an oncologist in Rome Italy , Dr. Tullio Simoncini, destroying cancer tumors with sodium bicarbonate. Sodium bicarbonate is safe, extremely inexpensive and unstoppably effective when it comes to cancer tissues. It's an irresistible chemical, cyanide to cancer cells for it hits the cancer cells with a shock wave of alkalinity, which allows much more oxygen into the cancer cells than they can tolerate. Cancer cells cannot survive in the presence of high levels of oxygen. Sodium bicarbonate is, for all intent and purposes, an instant killer of tumors.
Mathematics Illuminated | Interactives
These interactives illustrate concepts and give opportunities to test out ideas that have been explored in the units. Some set up concepts within the units, while others extend them through idealized real-world applications. HELPFUL TIP: These interactives require JavaScript and Flash Player 7. You can download the latest version of Flash Player at Adobe's website . Figurate Numbers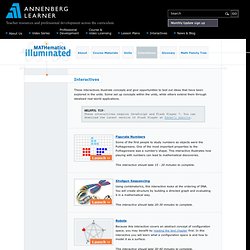 MoleIntro