Costura
Wrap it Up! an iPad Envelope Tutorial. If you can imagine sewing a napkin and decorating it with stickers you can create this simple envelope wrap for your dearest iPad.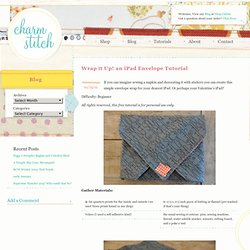 Or perhaps your Valentine's iPad? Difficulty: Beginner. Make It: sketchy pleat clutch. Simple DIY today… Drawn with fabric markers, cut from a curved pattern, and constructed with a single pleat for a handy sized zipper clutch.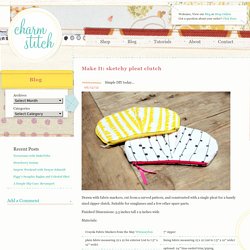 Suitable for sunglasses and a few other spare parts. Finished Dimensions: 5.5 inches tall x 9 inches wide Materials: Make a modular felt trivet. Related to yesterday's coaster project, here's a template for making a larger modular felt trivet.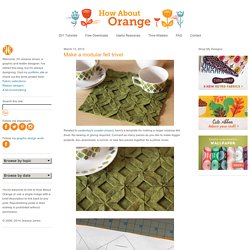 No sewing or gluing required. Connect as many pieces as you like to make bigger projects, too--placemats, a runner, or sew two pieces together for a pillow cover. Download the pattern here. Then print out as many sheets as you need, pin them to a piece of felt, and use a rotary cutter or X-acto knife to cut the slits in each shape. Make a Pretty Pouf Ottoman. Sew This Hot Accent Today Skim any home design magazine these days and you'll see that interior designers find poufs irresistible for their adaptability and usefulness.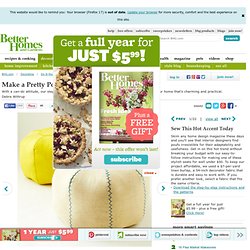 Get in on this hot trend without breaking your budget with our easy-to-follow instructions for making one of these stylish seats for well under $50. To keep our project affordable, we used a $7-per-yard linen burlap, a 54-inch decorator fabric that is durable and easy to work with. Free Japanese Sewing Patterns Links » Japanese Sewing, Pattern, Craft Books and Fabrics. Pattern review: Bucket Bag. My mom, known to you guys as frequent commenter Grandma G, just finished sewing up a Bucket Bag from Keyka Lou's PDF pattern.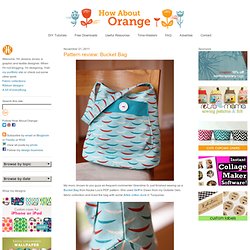 She used Skiff in Dawn from my Outside Oslo fabric collection and lined the bag with some Artee cotton duck in Turquoise. The pattern has an oval bottom, so it really is sort of like a bucket—a cute one with a big pocket on the outside and a nicely proportioned strap. Mum added a magnetic snap since a closure is always nice. And I love the button with its coordinating scallops. A Simple Kindle Fire Slip Case: kindle sewing tutorial series. I received a Kindle Fire for Christmas, it was the perfect present for me, both unexpected and practical.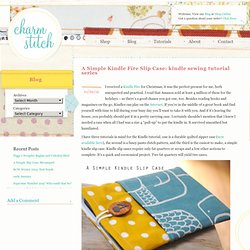 I read that Amazon sold at least 4 million of these for the holidays – so there's a good chance you got one, too. Besides reading books and magazines on the go, Kindles can play on the Internet. If you're in the middle of a great book and find yourself with time to kill during your busy day you'll want to take it with you. And if it's leaving the house, you probably should put it in a pretty carrying case. I certainly shouldn't mention that I knew I needed a case when all I had was a size 4 "pull-up" to put the kindle in. Pattern review: Two Zip Hipster bag.
My mum just tried out Erin Erickson's Two Zip Hipster sewing pattern and sent over the result.
And now we have a problem on our hands, because I love it so much I want a dozen of them in different fabrics. Is that greedy? It's my new favorite bag design. It's got a zipper closure so no worries about your wallet falling out. Abernathy Crafts: Gift card holder tutorial. Satchel sewing pattern review. My mom, known to you guys as Grandma G, has made another bag!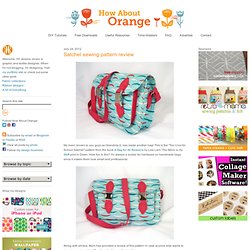 This is the "Too Cool for School Satchel" pattern from the book A Bag for All Reasons by Lisa Lam. The fabric is my Skiff print in Dawn. How fun is this? DIY zippered pouch with gusset. Those who like to sew small, cute things (as opposed to large, ugly things?)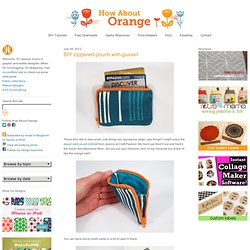 Might enjoy the zipper card pouch tutorial from Joanne at Craft Passion. My mom just tried it out and here's the result. Adorableness! Ravelry - a knit and crochet community. How to sew 9 different bags and purses. Thanks to the ever-generous citizens of the internet, we can learn to sew a whole crop of totes, pouches, and bags.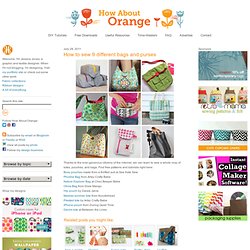 Find free patterns and tutorials right here:Boxy pouches made from a thrifted suit at See Kate SewPhoebe Bag from Artsy Crafty BabeNature Explorer Bag at Chez Beeper BebeOlivia Bag from Dixie MangoHip pouch by Daisie JanieMadras summer tote from NoodleheadPleated tote by Artsy Crafty BabeiPhone pouch from During Quiet TimeDenim tote at Between the Lines. 1st Quarter Inventory and New Product. Yesterday, Emily and I spent most the afternoon trying to figure out my 1st quarter inventory....AHHHHHHHH. It was horrific! I hate this side of the business. Some New Inventory. So, I know, I know...we haven't had the best of starts for 2011 with our blog, but with good reasons/excuses. Sickness, tiredness, coldness, winter in general! I am soooo ready for Spring. Anywho, here are a few things I whipped up today because I haven't spent any quality time with my dear sewing machine in like a week and a half.
Fashion, Sewing Patterns, Inspiration, Community, and Learning | BurdaStyle.com. EL BAÚL DE LAS COSTURERAS. How to Make Clothing Buttons from Shrink Plastic… This tutorial is an old one of mine that's too good not to share again. Since posting the first time, I've had lots of questions about these buttons which will hopefully be answered in this revised post. Equipment. The Roxycraft Amigurumi Pattern Shop. Tutorial: slouchy hobo bag (the tinafish way) Okay...so many of you have asked for a tutorial for this purse and i FINALLY have one!! Let me warn you though, this is my first full fledged tutorial with instructions and all. i did the best i could, but it's a very detailed bag. i took as many pictures as possible so hopefully that will help. here's the link to the other hobo slouchy purses i made..
Anyway on with the show....
---