Social Media Optimization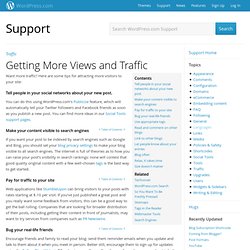 Want more traffic? Here are some tips for attracting more visitors to your site: Tell people in your social networks about your new post.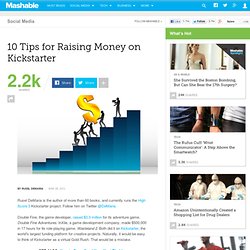 10 Tips for Raising Money on Kickstarter
Rusel DeMaria is the author of more than 60 books, and currently runs the High Score 3 Kickstarter project. Follow him on Twitter @DeMaria. Double Fine, the game developer, raised $3.3 million for its adventure game, Double Fine Adventures. InXile, a game development company, made $500,000 in 17 hours for its role-playing game, Wasteland 2.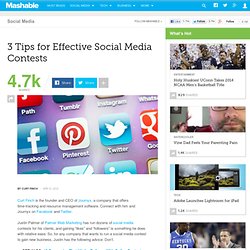 3 Tips for Effective Social Media Contests
Curt Finch is the founder and CEO of Journyx, a company that offers time-tracking and resource management software. Connect with him and Journyx on Facebook and Twitter. Justin Palmer of Palmer Web Marketing has run dozens of social media contests for his clients, and gaining "likes" and "followers" is something he does with relative ease. So, for any company that wants to run a social media contest to gain new business, Justin has the following advice: Don't. SEE ALSO: 10 Companies That Hit the Bullseye With Online Contests According to Palmer, contests and giveaways are effective at bolstering social stats, like the number of followers.
60 Minutes to a More Efficient Social Business Strategy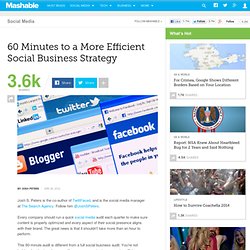 Josh S. Peters is the co-author of TwittFaced, and is the social media manager at The Search Agency. Follow him @JoshSPeters. Every company should run a quick social media audit each quarter to make sure content is properly optimized and every aspect of their social presence aligns with their brand. The great news is that it shouldn't take more than an hour to perform. This 60-minute audit is different from a full social business audit.
Marcia Kadanoff is the CEO and founder of Open Marketing, an online agency specializing in content and inbound marketing. One of the questions marketers get asked most often starts like this. "I think I get content marketing, but what kind of content works best?" The short answer is that there are at least twelve types of content you can utilize as part of any content marketing plan. In this case, the focus is on content that can extend your brand's reach, beyond your website or blog. There's no single type that works best for all companies.
12 Essential Tools for the Content Marketer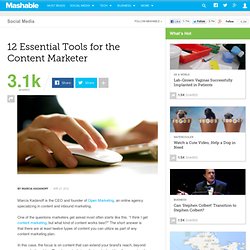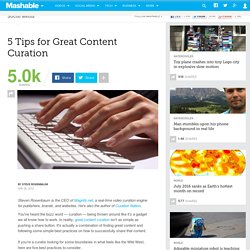 Steven Rosenbaum is the CEO of Magnify.net, a real-time video curation engine for publishers, brands, and websites. He's also the author of Curation Nation. You've heard the buzz word — curation — being thrown around like it's a gadget we all know how to work.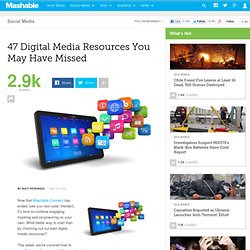 47 Digital Media Resources You May Have Missed
Now that Mashable Connect has ended (see you next year, friends!), it's time to continue engaging, inspiring and empowering on your own. What better way to start than by checking out our best digital media resources? This week, we've covered how to use Pinterest for your wedding, how to make sure your company engages intelligently on social media and how to build a mobile app without hurting your wallet. We've also answered frequently asked questions on Facebook's new app center, included an infographic detailing how Kickstarter is the king of crowdfunding and featured a guest post written by the first woman in space, Sally Ride.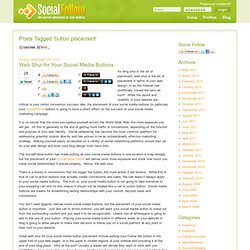 Button Placement | Social Follow
As feng shui is the art of placement, web shui is the art of placement in terms of your web design; or so the Internet has unofficially coined the term as such. While the layout and usability of your website are critical to your visitor conversion success rate, the placement of your social media buttons (in particular your SocialFollow button) is going to have a direct effect on the success of your social media marketing campaign. It is no secret that the more you spread yourself across the World Wide Web, the more exposure you will get. All this is generally to the end of getting more traffic or conversions, depending on the function and purpose of your web identity. Social networking has become the most common platform for addressing potential visitors directly and has proven to be an extraordinarily effective marketing strategy. Making yourself easily accessible on a variety of social networking platforms should then be on your web design and even your blog design must have lists.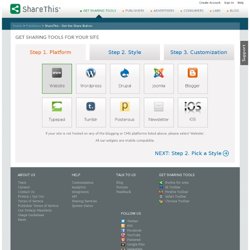 Add CopyNShare to your ShareThis Widget. Check the box on Step 3 to start tracking your users' copy and paste shares. FAQs . If your site is not hosted on any of the blogging or CMS platforms listed above, please select 'Website'. All our widgets are mobile compatible. Drag and copy from 'Sharing Buttons' or 'Other Social Plugins' to 'Selected Services'.
This is a simple plugin to allow you to toggle an element between position: absolute and position: fixed based on the window scroll position.
HOW TO: Add Social Sharing Buttons to Your Website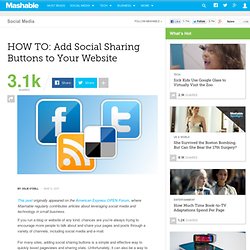 Free demo: social media monitoring, marketing tools - Radian6.com
Looking to learn more about what makes Salesforce Marketing Cloud the industry leader in social media marketing? We'd love to connect with you to discuss your company's social objectives and show you what makes us the choice of over 3,000 organizations globally. Just fill out the form and a Marketing Cloud representative will gladly reach out to you, answer any questions you may have and demonstrate the power of our suite of products.
This post originally appeared on the American Express OPEN Forum, where Mashable regularly contributes articles about leveraging social media and technology in small business. More and more businesses have been getting hip to social blogging platform Tumblr lately — specifically those involved in the fashion industry — which may have you wondering, "Should I be on Tumblr, too? Will the denizens of Hunting Knives R Us dig this blogging platform?
The Pros and Cons Of Tumblr For Small Business
By the end of the year, there may be more people Googling the word "Tumblr" than "blog." The very language of content creation and curation has shifted thanks to Tumblr's ridiculous growth. If you're already Tumbling, you know what's going on out there. If not, you'd better grab a hipster username before it's too late. SEE ALSO: 10 Premium Tumblr Themes Worth Paying For
12 Free Tumblr Themes to Class Up Your Blog