Student
Peter U Larsson - En blogg om mina tankar och ideér om livet. Www.skolvarlden.se | Om skolan varje dag. Länkkatalog. Mölndals stadsbibliotek. Karlstads universitet - Ett modernare universitet. Jag ska bli lärare. Connectivism: A Learning Theory for the Digital Age. Connectivism: A Learning Theory for the Digital Age December 12, 2004 George Siemens Update (April 5, 2005): I've added a website to explore this concept at www.connectivism.ca.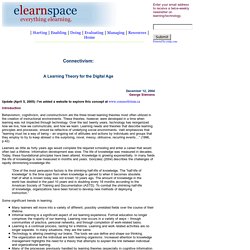 Kungliga Tekniska Högskolan, Biblioteket. Nds universitets bibliotek - Källkritik. Adobe Connect. Learning Net. I debatten brukar andelen distansstudenter lyftas fram som en faktor som drar ner högskolans effektivitet.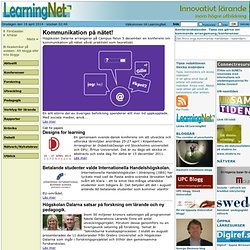 Men distansstudenter vid Karlstads universitet presterar över rikssnittet. Lena E Johansson, utbildnings- och forskningssamordnare, och Lars Haglund, professor i ekonomi, har undersökt hur distansstudenterna upplever sina studier och vilka resultat de gör. Undersökningen visar att programstudenter på distans hade 85 procents genomströmning och att siffran för fristående kurser på distans var 55 procent 2009.
---