linkee95x
Get flash to fully experience Pearltrees
Editor's Note: Reggie Bradford is the Founder and CEO of Vitrue , a provider of social marketing SaaS solutions.
Let me guess, you heard about Pinterest . Or more like, you can't spend 15 minutes online without hearing about it… And now you're thinking, "should I jump on the wagon too?"
It doesn't matter who you are—a blogger interested in food and fashion or a B2B marketer working for a custom plastic molding company —you've probably been hearing about Pinterest and how it could be good for your brand.
Grant Crowell is a multimedia writer and marketing analyst who's been covering the online video space since 2006. Connect with him on LinkedIn or follow him at @grantcrowell .
In what seemed like no time (but was, in fact, several years) , Pinterest went from a talking point for digital elites to a de rigueur social tool for just about every person, media company and, of course, brand.
Pinterest has become a running joke to many.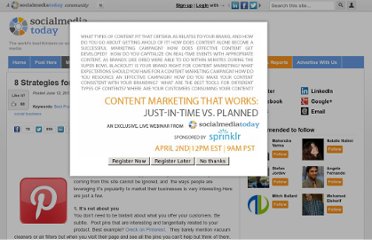 This is the second article in a 10-part content series on Unified Marketing, which will bring to light collaborative marketing principles and successful strategies in areas including marketing, branding, PR, social media, mobile and other digital practices. Unless you've been meditating with some monks in Tibet for the last few months, you've probably at least heard of Pinterest. The virtual "pinboard" social network exploded this winter and went from fewer than 1 million users to 150 million in just six months.
Are you engaging your fans on Pinterest?
Have you joined the latest social media kid on the block? Pinterest is a flashy new platform that allows users to create pinboards, share images and even sell products online. With more than 9000% growth in the last few months and boasting 18.7 million users (according to ComScore) Pinterest is now one of the top four social media platforms.