Translation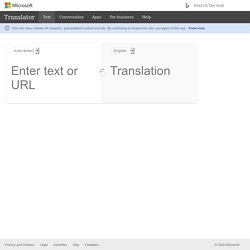 Convert Romanized Arabic text to Arabic script in most websites and Windows applications. Use the Microsoft Translator webpage widget to deliver your site in the visitor's language. The visitor never leaves your site, and the widget seamlessly translates each page as they navigate. Build a customized translation system for your style and terminology. Type any language with any keyboard on any web page.
Bing Translator
Micah Wittman - friendfeedTranslate – userscript and bookmarklet
friendfeedTranslate A bookmarklet and greasemonkey script that translates friendfeed posts and comments from one language to another (e.g. Farsi to English, German to French, English to Simplified Chinese, etc).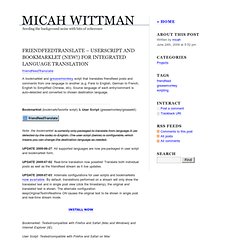 Translate
Translate
• ASL • American Sign Language
Nice Translator was created to provide an improved interface for translating text on the Web. Thanks to the Google Translation API, we were able to focus on designing a simple and functional online translator, unlike any other. We will continue to develop Nice Translator over the coming months but will not stray from our initial mission to provide the easiest online translator. Tumble Design is a Web Design Firm of two young developers taking time away from school to focus on building web-apps designed with their users in mind.
Nice Translator - The fast, easy to use online translator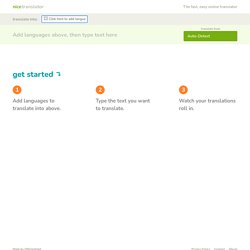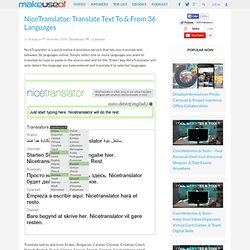 NiceTranslator is a quick online translation service that lets you translate text between 36 languages online. Simply select one or more languages you want to translate to, type or paste in the source text and hit the "Enter" key. NiceTranslator will auto detect the language you have entered and translate it to selected languages. Translate text to and from Arabic, Bulgarian, Catalan, Chinese, Croatian, Czech, Danish, English, Dutch, Filipino, Finnish, French, German, Greek,Hebrew, Hindi, Indonesian, Italian, Japanese, Korean, Lithuanian, Latvian, Norwegian, Portuguese, Polish, Russian, Romanian, Serbian, Slovak, Slovenian, Spanish, Swedish, Ukrainian and Vietnamese. Features:
NiceTranslator: Translate Text To & From 36 Languages | Make
free online translator | frengly.com
Enter text to translate in any language Entrez le texte a traduire dans n'importe quelle langue Translation Web Service - Translation API via REST