Translation
Bing Translator. Micah Wittman - friendfeedTranslate – userscript and bookmarklet. FriendfeedTranslate A bookmarklet and greasemonkey script that translates friendfeed posts and comments from one language to another (e.g.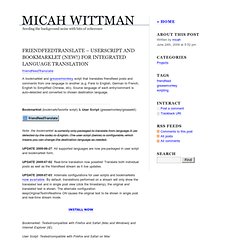 Farsi to English, German to French, English to Simplified Chinese, etc). Translate. Translate. • ASL • American Sign Language. Nice Translator - The fast, easy to use online translator. NiceTranslator: Translate Text To & From 36 Languages | Make. NiceTranslator is a quick online translation service that lets you translate text between 36 languages online.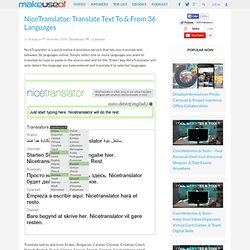 Simply select one or more languages you want to translate to, type or paste in the source text and hit the "Enter" key. NiceTranslator will auto detect the language you have entered and translate it to selected languages. Translate text to and from Arabic, Bulgarian, Catalan, Chinese, Croatian, Czech, Danish, English, Dutch, Filipino, Finnish, French, German, Greek,Hebrew, Hindi, Indonesian, Italian, Japanese, Korean, Lithuanian, Latvian, Norwegian, Portuguese, Polish, Russian, Romanian, Serbian, Slovak, Slovenian, Spanish, Swedish, Ukrainian and Vietnamese.
Features: Free online translator | frengly.com.
---