Socialmedia
Peter emailed to tell me about Memcatch MemCatch is the first social knowledge network, allowing individuals to not only collect and manage their knowledge, but to utilize it throughout their social networks.
MemCatch - a social knowledge network - Social Media In Learning
15 reasons why companies may fear social media
Last night I was talking with Rachel Happe and Leigh Duncan-Durst on Twitter and we were discussing the following statement I made: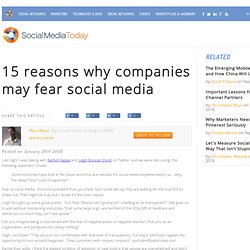 Robert Frost Famous Quote about Forgiveness
Your boss, executive client or any other leader with whom you're dealing (or perhaps even you, yourself) may not intuitively understand social media. This is not because of a lack of understanding or the technical acumen to use some internet connected device and hosted software, but more likely because they don't feel the need to put forth the effort or energy to embrace it (or why anyone else would goof with social media, for that matter). As social media continues to accelerate as a method of connecting people to one another as well as to news, information and other snippets of value, I keep thinking about people who aren't all that social, are not inherently "connectors," or are folks who are simply not all that interested in connecting with other people in some virtual way.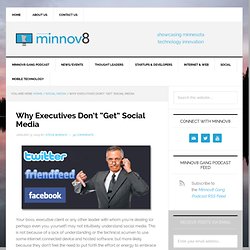 Why Executives Don't "Get" Social Media | Minnov8: Minnesota Inn