Generators
Recipe Cards Wood Box Image Generator (Data Storage The Old Fash
We have 9 Sections of Christmas Holiday Graphics so be sure to check out our Christmas Index . Home > Graphics & Comments > Holiday Graphics To share on facebook, click on the blue button under the graphic. To share on other sites, get html code, forum code and more codes and share buttons, click on the graphic.
Christmas Ornament Comments and Graphics: Frosty Ornament, Fire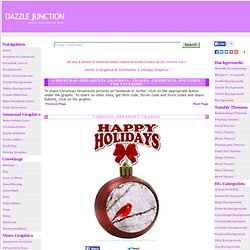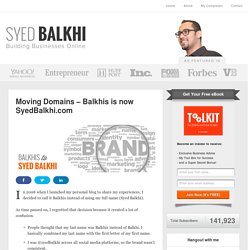 As I searched for a complete resource of online generators, I did not find any. I found multiple different categories of online generator lists such as favicon generators, css generators, badge generators, color generators, and so on. So I decided to create this ultimate list of online generators. Each of these generators are hand picked by myself and categorized so it is easy to browse. I believe each of these are extremely useful and time efficient. I use quite alot of these myself.
Confuse and Impress Friends with Upside-Down Text
˙ǝʇɐpdn ʞooqǝɔɐɟ ɹo ʇǝǝʍʇ ɹǝʇʇıʍʇ 'ʇsod ƃoןq ʇxǝu ɹnoʎ uı ǝuo sıɥʇ ɥʇıʍ unɟ ǝɯos ǝʌɐɥ 'spuǝıɹɟ ɹnoʎ ɹoɟ ɥƃnouǝ ǝʌıssǝɹdɯı puɐ ƃuısnɟuoɔ ʇ'uǝɹɐ sʇɥƃnoɥʇ uʍo ɹnoʎ ɟı (If your own thoughts aren't confusing and impressive enough for your friends, have some fun with this one in your next blog post, Twitter tweet or Facebook update.) It's not voodoo – its a simple combination of equivalent English characters (where a p is an upside down d and vice versa), and Latin Unicode characters. But don't worry, you don't have to do it all by hand. Visit the Upside Down Text generator at WhatIsMyIp.Org , and just type your right-side-up text into the box.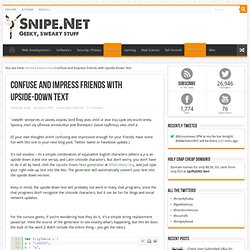 Online Generators
Tartan Maker.