Generators
Recipe Cards Wood Box Image Generator (Data Storage The Old Fash. Christmas Ornament Comments and Graphics: Frosty Ornament, Fire. We have 9 Sections of Christmas Holiday Graphics so be sure to check out our Christmas Index.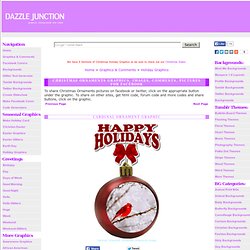 Home > Graphics & Comments > Holiday Graphics To share Christmas Ornaments pictures on facebook or twitter, click on the appropriate button under the graphic. To share on other sites, get html code, forum code and more codes and share buttons, click on the graphic. Confuse and Impress Friends with Upside-Down Text. Advertisement ˙ǝʇɐpdn ʞooqǝɔɐɟ ɹo ʇǝǝʍʇ ɹǝʇʇıʍʇ 'ʇsod ƃoןq ʇxǝu ɹnoʎ uı ǝuo sıɥʇ ɥʇıʍ unɟ ǝɯos ǝʌɐɥ 'spuǝıɹɟ ɹnoʎ ɹoɟ ɥƃnouǝ ǝʌıssǝɹdɯı puɐ ƃuısnɟuoɔ ʇ'uǝɹɐ sʇɥƃnoɥʇ uʍo ɹnoʎ ɟı (If your own thoughts aren't confusing and impressive enough for your friends, have some fun with this one in your next blog post, Twitter tweet or Facebook update.)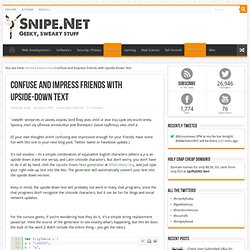 It's not voodoo – its a simple combination of equivalent English characters (where a p is an upside down d and vice versa), and Latin Unicode characters. But don't worry, you don't have to do it all by hand. MagMyPic.com - Fake Magazine Covers with your Photo! Novelty Mag. Online Generators. Tartan Maker. Image Generator Links 2009, Make Custom Graphics/Clipart Online. Funny Photo! - Create funny pics online.
---