SEWING
Mission Reorganization: Fabric Storage
Closet Case Files
DIY Yoga Mat Bags - Free Patterns & Tutorials
246415
Part of my goal to sew more lingerie this year is to make more bras. I want to really immerse myself in the techniques of bra-making and truly master this skill.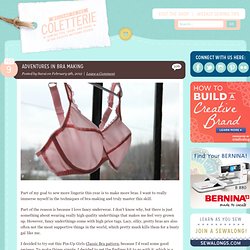 Adventures in bra making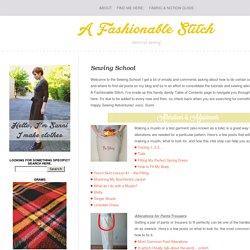 Welcome to the Sewing School! I get a lot of emails and comments asking about how to do certain sewing related things and where to find old posts on my blog and so in an effort to consolidate the tutorials and sewing advice you find here on A Fashionable Stitch, I've made up this handy dandy Table of Contents page to navigate you through what's available here.
Several people have asked me how to make my Picnic Dress . It's a bit too complicated for the step by step instruction on how to draft a pattern I gave for the draped t-shirt , but I hope this will be enough detail for anyone who is familiar with how dresses are made. You will need 4 yards of 45″ fabric and an 18″ zipper.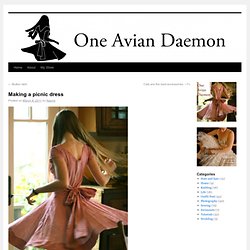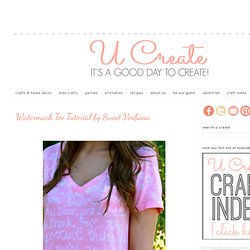 Hello U-Create readers!
June 16th, 2010 Email
Men's Shirt Makeover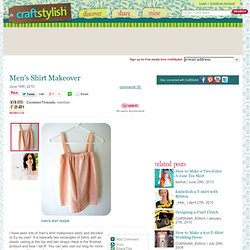 Hello blog world!
Double Sided Fabric Headband Pattern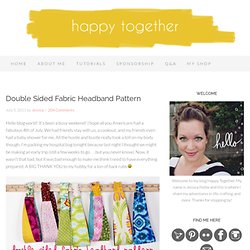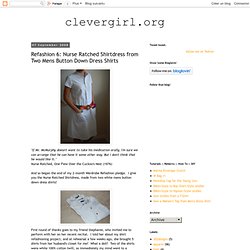 "If Mr. McMurphy doesn't want to take his medication orally, I'm sure we can arrange that he can have it some other way. But I don't think that he would like it."
:: clevergirl.org ::: Refashion 6: Nurse Ratched Shirtdress from Two Mens Button Down Dress Shirts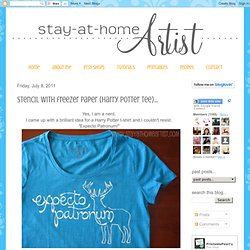 Yes, I am a nerd.
today's agenda
David Coffin Photo: David Coffin When the first layer is complete, wrap twice more, first vertically, then again horizontally, further compressing the waistline to fit each layer more closely, and smoothing over wrinkles this causes with more tape.
Duct-Tape Dress Form #1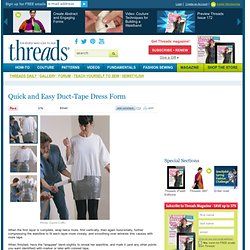 I love mannequins
See how easy it is to create a MyTwin Dressform! It's easy to do, and DVDs and instruction manuals are available for additional assistance. First, you will need to purchase a dressform or pantsform kit, which includes a step-by-step guide to making the form.
Do it Yourself - My Twin Dressforms & Pantsforms, made in the exact shape of your body! A must for the serious sewer
Singer® 150 Adjustable Dressform - Small/Medium & dressforms at Joann
Model 150 fits sizes 10-16 and has 12 adjustment dials Bust sizes 33''-39'' (84cm-100cm) Waist sizes 25''-31 1/2'' (64cm-80cm); Hip sizes 34''-40'' (86cm-102cm) Waist to neck length is 16'' to 19'' due to Exclusive torso height adjustment Includes 1 year limited Manufacturer's warranty The Singer Adjustable Dressform allows pattern adjustments before cutting. Set necklines, sleeves and collars easily. Perfect for linings, hems or total construction. Dressform includes 12 dials for adjusting: bust, waist, hip, and body contours.
Before you begin, you MUST have another person with you to help with this project. First, get your materials ready. Your going to need: -a roll of brown packing tape. 1 side has dry glue on it & it sticky when wet. I bought a huge roll for about 7 bucks at Office Depot.
Tutorial for my homemade packing tape dressform - CLOTHING
Making of a Dress Form Part 1 of 4 - Cast Yourself
I've always wanted a custom made dress form, but one can run upwards of $800, and the cheapies sold at a local craft store are just unusable.
Singer® 151G Adjustable Grey Dressform - Medium/Lrg & dressforms at Joann
Model 151G fits sizes 16-22 and has 12 adjuster dials Bust sizes 39''-46'' (99cm-114cm) Waist sizes 30''-37'' (76cm-93cm), Hip sizes 40''-47'' (102cm-117cm) Waist to neck length is 16'' to 19'' due to Exclusive torso height adjustment Includes 1 year limited Manufacturer's warranty The Newest Addition is the Singer Adjustable Dressform in Grey! Enjoy the same great quality and function of Singer in this gorgeous Grey Form!
I have always wanted my own dress form, mostly so that i can work on a garment whilst it is actually hanging up on form, and also to try my hand at draping. But commercial dress forms are expensive and rarely come in my size or even dimensions. Honestly, does anyone really have a body shaped like a tailor's dummy, even the adjustable ones?
Custom dress form 1
How to Construct a Personal Dress Form
DSC00430.JPG (image)
Singer® 151 Adjustable Dressform - Medium/Large & dressforms at Joann
DRESS FORM, Dress Forms, Professional dress form, Ladies Dress Form, Mannequin Dress Form