READ
Maisie lord (edited transcript) After she moved to Brooklyn, my mother collected strays — human strays, not animals. every time i went to visit her, there seemed to be another "assistant," poet, drifter, or just plain charity case living in one of the rooms, and i worried they might take advantage of her, rob her, or even kill her in her sleep. i worry too much; it's chronic. i became the worrier in the family — my job. The man who called himself the Barometer lived with mother for a long time. he had spent two weeks in Bellevue not long before he landed on her doorstep. he rattled on about the words of the winds and made peculiar gestures to lower the humidity.
untitled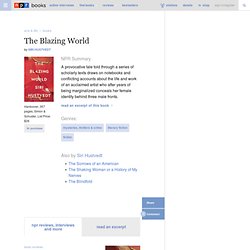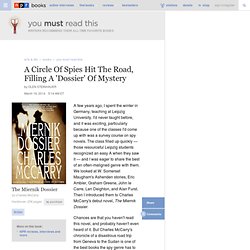 A few years ago, I spent the winter in Germany, teaching at Leipzig University. I'd never taught before, and it was exciting, particularly because one of the classes I'd come up with was a survey course on spy novels. The class filled up quickly — those resourceful Leipzig students recognized an easy A when they saw it — and I was eager to share the best of an often-maligned genre with them. We looked at W. Somerset Maugham's Ashenden stories, Eric Ambler, Graham Greene, John le Carre, Len Deighton, and Alan Furst.
You Must Read This: 'The Miernik Dossier'
Lightspeed Magazine | About
Lightspeed is a science fiction and fantasy magazine. In its pages, you will find science fiction: from near-future, sociological soft SF, to far-future, star-spanning hard SF—and fantasy: from epic fantasy, sword-and-sorcery, and contemporary urban tales, to magical realism, science-fantasy, and folktales. No subject is off-limits, and we encourage our writers to take chances with their fiction and push the envelope. Lightspeed is a three-time finalist for the Hugo Award, and stories from Lightspeed have been nominated for the Hugo Award, the Nebula Award, and the Theodore Sturgeon Award. Edited by bestselling anthologist John Joseph Adams, every month Lightspeed brings you a mix of originals and reprints, and featuring a variety of authors—from the bestsellers and award-winners you already know to the best new voices you haven't heard of yet. When you read Lightspeed, it is our hope that you'll see where science fiction and fantasy comes from, where it is now, and where it's going.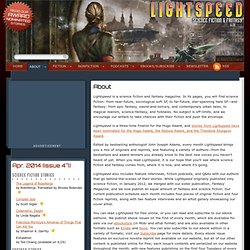 1. The Hour of the Star by Clarice Lispector Page count: 96 Excerpt: "All the world began with a yes.
16 More Little Books For Long Journeys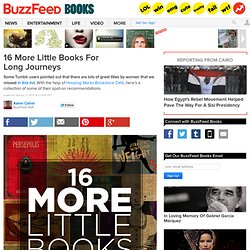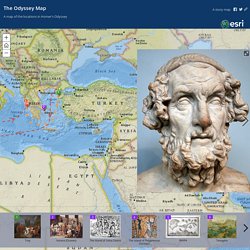 Aeolia Odysseus stopped at Aiolia, home of Aeolus, the god of the winds. Aeolus gave them hospitality for a month and provided for a west wind to carry them home. Aeolus gave Odysseus a leather bag containing all the winds, except the west wind, a gift that should have ensured a safe return home. However, the sailors foolishly opened the bag while Odysseus slept, thinking that it contained gold.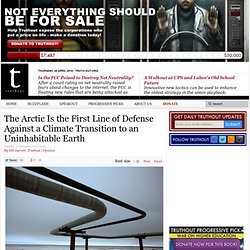 Oil pipelines at Prudhoe Bay in the North Slope of Alaska on October 29, 2008. The Arctic may contain as much as a fifth of the world's yet to-be-discovered oil and natural gas reserves, the United States Geological Survey said as it unveiled the largest-ever survey of petroleum resources north of the Arctic Circle. (Photo: Damon Winter / The New York Times) "I am enthusiastic over humanity's extraordinary and sometimes very timely ingenuity.
The Arctic Is the First Line of Defense Against a Climate Transition to an Uninhabitable Earth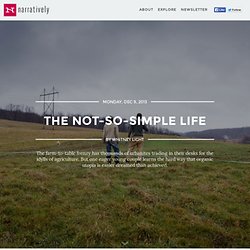 The Not-So-Simple Life by Whitney Light Narratively
by Whitney Light The farm-to-table frenzy has thousands of urbanites trading in their desks for the idylls of agriculture. But one eager young couple learns the hard way that organic utopia is easier dreamed than achieved. Photos by Whitney Light On a sunny fall day in 2005, Kate and Dan Marsiglio pulled their Audi A4 station wagon into the drive at Stony Creek Farmstead, three Tamworth piglets bouncing in the backseat. They had $25,000 and planned to build a second farmhouse on the old ninety-acre Catskills dairy where Dan's parents had retired.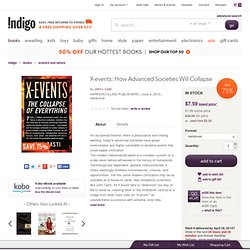 An acclaimed theorist offers a provocative and chilling warning: today''s advanced societies have grown overcomplex and highly vulnerable to extreme events that could topple civilization The modern industrialized world is a complex system on a scale never before witnessed in the history of humankind. Technologically dependent, globally interconnected, it offers seemingly limitless conveniences, choices, and opportunities. Yet this same modern civilization may be as unstable as a house of cards, fear complexity scientists like John Casti.
X-events: How Advanced Societies Will Collapse Book by John L Casti | Hardcover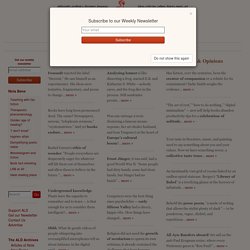 New material is added to Arts & Letters Daily six days a week. We continually test links for reliability. Despite our best efforts, links may fail (often only temporarily) without warning. We apologize for any inconvenience. New links are added at or near the tops of sections, with older ones sliding down the columns accordingly.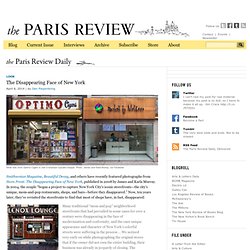 Donald Barthelme would've been, and should be, eighty-three today. It would be an exaggeration to say that I feel the absence of someone whom I never met—someone who died when I was three—but I do wonder, with something more than mere curiosity, what Barthelme would have made of the past twenty-odd years. These are decades I feel we've processed less acutely because he wasn't there to fictionalize them: their surreal political flareups, their new technologies, their various zeitgeists and intellectual fads and dumb advertisements.
* Copy courtesy of The Reading Room and Penguin Australia * After reading and reviewing a handful of 3 star rated books, I can't tell you the feeling of relief and expectation picking up an advanced copy of Honey Brown's new thriller Through The Cracks. Without a doubt the hero of the book is Adam Vander, growing up with an extremely abusive father in suburban Sydney. Made to feel unwanted and different, his home life shifts when Adam becomes old enough and strong enough to fight back.
Carpe Librum
Sketchy Details
If a heist film doesn't actually focus on the heist, is it still a heist film? That's the premise of American Hustle, another one of those inspired by a true story crime capers. A pair of con artists are forced to deliver four big name criminals through their banking operation to avoid prosecution.
Image: Do Ho Suh, "Fallen Star," 2012 © Do Ho Suh. Stuart Collection, University of California, San Diego. Photo: Philipp Scholz Rittermann