Web 2.0 Seja bem-vindo/a à Biblioteca Digital Camões! A disponibilização de um conjunto de textos e documentos de grande relevância cultural e linguística insere-se na missão do Instituto Camões: A promoção da língua e cultura portuguesas, de que se vem ocupando desde 1929. A Biblioteca Digital Camões pretende fazer chegar o Português a um universo cada vez mais amplo de falantes e estudantes do Português.
Biblioteca Digital Camões
Web 2.0 4 teachers 081407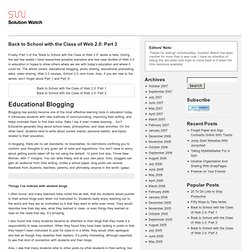 Finally, Part 3 of the "Back to School with the Class of Web 2.0" series is here. During the last few weeks I have researched possible scenarios and real case studies of Web 2.0 in education in hopes to show others where we are with today's education and where it could be.
Back to School with the Class of Web 2.0: Part 3
Course: Web 2.0 - An online course for teachers
newtoo-excerpt
HOW2NS_excerpt
Facebook and Education:
55629.pdf
Web 2.0 for Teachers
100ideasWeb2educators
HOW2NS-excerpt