Elearning
Rafael Parente: Quem discorda do Gustavo Ioschpe, clica aqui!
PPEL5 - Graham Attwell e José Lagarto: duas perspetivas sobre o presente e o futuro do ensino online Graham Attwell e José Lagarto: duas perspetivas sobre o presente e o futuro do ensino online
Literacia Digital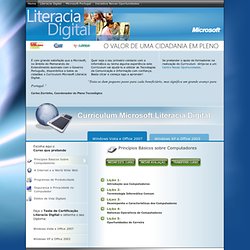 É com grande satisfação que a Microsoft, no âmbito do Memorando de Entendimento assinado com o Governo Português, disponibiliza a todos os cidadãos o Curriculum Microsoft Literacia Digital. Quer seja o seu primeiro contacto com a informática ou tenha alguma experiência este Curriculum vai ajudá-lo a utilizar as Tecnologias da Comunicação e Informação com confiança. Basta clicar e começa logo a aprender! "Trata-se dum pequeno passo para cada beneficiário, mas significa um grande avanço para Portugal."
Julie Cohen - The Book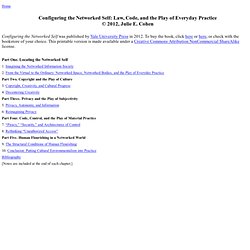 Home Configuring the Networked Self: Law, Code, and the Play of Everyday Practice© 2012, Julie E. Cohen Configuring the Networked Self was published by Yale University Press in 2012.
Mind iT - Intelligent Bookmarking
'Em 20 anos, um PC poderá ter a mesma inteligência que a nossa', prevê Ian Pearson - Globo News - Vídeos do programa Milênio - Catálogo de Vídeos
Is Open and Distance Learning the Key to Quality Higher Education for All?
Nick Moe-Pryce UNESCO has repeatedly argued that the number of places for post-secondary learners must increase from approximately 120 million to 240 million worldwide, with large-scale growth already having been documented over the past decade. In the emerging economic powerhouses of the world, increased access to knowledge and education is crucial to guarantee continued growth. Yet, it is virtually impossible to build the number of traditional post-secondary institutions to keep up with the increase in demand.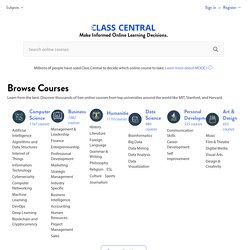 What are MOOCs? MOOCs stand for Massive Open Online Courses. These are free online courses from universities around the world (eg. StanfordHarvardMIT) offered to anyone with an internet connection. Several popular MOOC provider platforms have emerged, such as Coursera, Udacity, EdX, and NovoEd, that partner with universities and professors to offer MOOCs on their platforms.
12 Ways To Learn In 2012 (Source : The eLearning Coach)