Transmedia
Interactive storytelling: an oxymoron
Craig Mod is psyched about the future of literary storytelling.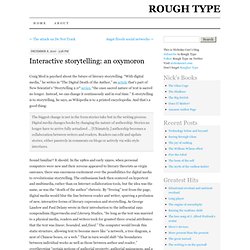 A l'occasion de la grande conférence Tools of Change for Publishing organisée par O'Reilly et qui vient de s'achever à New York, il y a eu une intervention très intéressante de Jeff Gomez, qui est, avec Henry Jenkins, un des grands pontes du transmedia storytelling aux USA. Sauf qu'à la différence de ce dernier, enseignant-chercheur au MIT, Jeff Gomez en a fait un réel business avec sa compagnie Starlight Runner Entertainment qui créé des « univers narratifs » pour, entre autres, Avatar, Halo, Dexter, et Pirates des Caraïbes. Mais, au juste, le transmedia storytelling, à part être un vilain terme jargonneux, c'est quoi, et surtout, comment ça fonctionne ?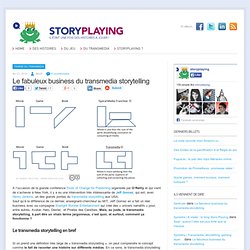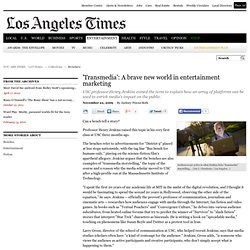 'Transmedia': A brave new world in entertainment marketing - Los
Audiences are active in what Jenkins dubs "transmedia" storytelling,… (Jay L. Clendenin / Los Angeles…)
A blog post is the wrong shape for pulling together strands from The Story.
What shape is a story? | Metamedia