Transmedia
Interactive storytelling: an oxymoron. Craig Mod is psyched about the future of literary storytelling.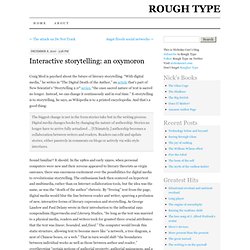 "With digital media," he writes in "The Digital Death of the Author," an article that's part of New Scientist's "Storytelling 2.0″ series, "the once sacred nature of text is sacred no longer. Instead, we can change it continuously and in real time." E-storytelling is to storytelling, he says, as Wikipedia is to a printed encyclopedia. Le fabuleux business du transmedia storytelling. A l'occasion de la grande conférence Tools of Change for Publishing organisée par O'Reilly et qui vient de s'achever à New York, il y a eu une intervention très intéressante de Jeff Gomez, qui est, avec Henry Jenkins, un des grands pontes du transmedia storytelling aux USA.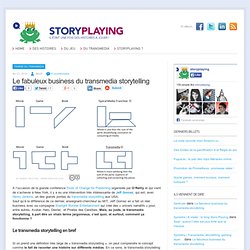 Sauf qu'à la différence de ce dernier, enseignant-chercheur au MIT, Jeff Gomez en a fait un réel business avec sa compagnie Starlight Runner Entertainment qui créé des « univers narratifs » pour, entre autres, Avatar, Halo, Dexter, et Pirates des Caraïbes. Mais, au juste, le transmedia storytelling, à part être un vilain terme jargonneux, c'est quoi, et surtout, comment ça fonctionne ? 'Transmedia': A brave new world in entertainment marketing - Los. Audiences are active in what Jenkins dubs "transmedia" storytelling,… (Jay L.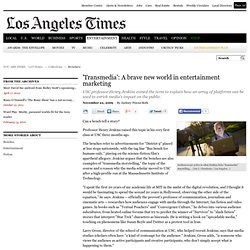 Clendenin / Los Angeles…) Can a bench tell a story? Professor Henry Jenkins raised this topic in his very first class at USC three months ago. The benches refer to advertisements for "District 9" placed at bus stops nationwide, with the tag line "Bus bench for humans only," playing on the science-fiction film's apartheid allegory. Jenkins argues that the benches are also examples of "transmedia storytelling," the topic of the course and a reason why the media scholar moved to USC after a high-profile run at the Massachusetts Institute of Technology. What shape is a story? | Metamedia. A blog post is the wrong shape for pulling together strands from The Story.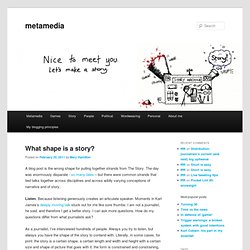 The day was enormously disparate - so many tales – but there were common strands that tied talks together across disciplines and across wildly varying conceptions of narrative and of story. Listen. Because listening generously creates an articulate speaker.
---