Teenagers
Generation Why? by Zadie Smith. The Social Network a film directed by David Fincher, with a screenplay by Aaron Sorkin You Are Not a Gadget: A Manifesto by Jaron Lanier Knopf, 209 pp., $24.95 How long is a generation these days?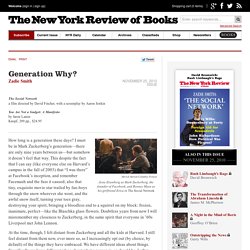 Continuous Brand Management for Generation 10:45 - John Sviokla. By John Sviokla | 9:10 AM February 3, 2010 The Kaiser Foundation recently released a study documenting the astounding fact that 8-18 year olds in the United States have increased their media use from 8 hours and 33 minutes' worth of usage per day in 2004 to 10 hours and 45 minutes' worth in 2009.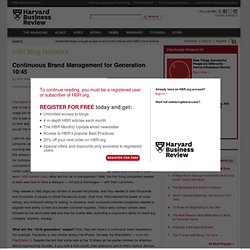 Regardless of whether you think this is bad news signaling the demise of our society, or good news intimating that our progeny are on their way to becoming more literate in a media-rich world, as business leaders we must all accept the new reality and understand what it means for managing our brands. Eurovision : Lena avait peut-être déjà gagné des mois auparavant. By Laurent Francois Citoyens !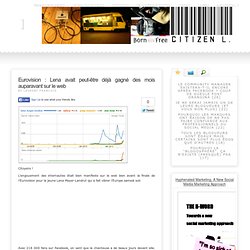 L'engouement des internautes était bien manifeste sur le web bien avant la finale de l'Eurovision pour la jeune Lena Meyer-Landrut qui a fait vibrer l'Europe samedi soir. Avec 218 000 fans sur Facebook, on sent que la chanteuse a de beaux jours devant elle. Après Abba, une nouvelle icône internationale ? What Is It About 20-Somethings?
---