Teenagers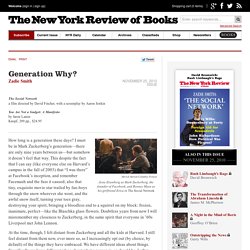 Merrick Morton/Columbia Pictures Jesse Eisenberg as Mark Zuckerberg, the founder of Facebook, and Rooney Mara as his girlfriend Erica in The Social Network How long is a generation these days? I must be in Mark Zuckerberg's generation—there are only nine years between us—but somehow it doesn't feel that way. This despite the fact that I can say (like everyone else on Harvard's campus in the fall of 2003) that "I was there" at Facebook's inception, and remember Facemash and the fuss it caused; also that tiny, exquisite movie star trailed by fan-boys through the snow wherever she went, and the awful snow itself, turning your toes gray, destroying your spirit, bringing a bloodless end to a squirrel on my block: frozen, inanimate, perfect—like the Blaschka glass flowers. Doubtless years from now I will misremember my closeness to Zuckerberg, in the same spirit that everyone in '60s Liverpool met John Lennon.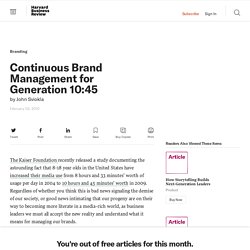 by John Sviokla | 9:10 AM February 3, 2010 The Kaiser Foundation recently released a study documenting the astounding fact that 8-18 year olds in the United States have increased their media use from 8 hours and 33 minutes' worth of usage per day in 2004 to 10 hours and 45 minutes' worth in 2009. Regardless of whether you think this is bad news signaling the demise of our society, or good news intimating that our progeny are on their way to becoming more literate in a media-rich world, as business leaders we must all accept the new reality and understand what it means for managing our brands.
Continuous Brand Management for Generation 10:45 - John Sviokla
Eurovision : Lena avait peut-être déjà gagné des mois auparavant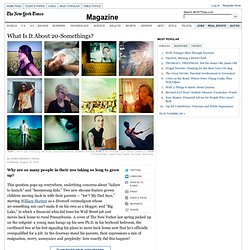 ROW 1 , left to right: Annie Ling, Jen Davis, Latoya Ruby Frazier, Elizabeth Weinberg. ROW 2: Dru Donovan (1,2,4); Marvin Orellana (3). ROW 3: David Wright, Latoya Ruby Frazier, Jen Davis, Annie Ling. This question pops up everywhere, underlying concerns about "failure to launch" and "boomerang kids."
What Is It About 20-Somethings?