Teenagers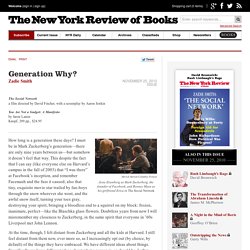 The Social Network a film directed by David Fincher, with a screenplay by Aaron Sorkin You Are Not a Gadget: A Manifesto by Jaron Lanier Knopf, 209 pp., $24.95 How long is a generation these days?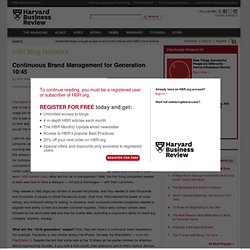 by John Sviokla | 9:10 AM February 3, 2010 The Kaiser Foundation recently released a study documenting the astounding fact that 8-18 year olds in the United States have increased their media use from 8 hours and 33 minutes' worth of usage per day in 2004 to 10 hours and 45 minutes' worth in 2009. Regardless of whether you think this is bad news signaling the demise of our society, or good news intimating that our progeny are on their way to becoming more literate in a media-rich world, as business leaders we must all accept the new reality and understand what it means for managing our brands.
Continuous Brand Management for Generation 10:45 - John Sviokla
Eurovision : Lena avait peut-être déjà gagné des mois auparavant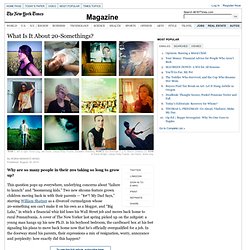 This question pops up everywhere, underlying concerns about "failure to launch" and "boomerang kids." Two new sitcoms feature grown children moving back in with their parents — "$#*! My Dad Says," starring as a divorced curmudgeon whose 20-something son can't make it on his own as a blogger, and "Big Lake," in which a financial whiz kid loses his Wall Street job and moves back home to rural Pennsylvania. A cover of The New Yorker last spring picked up on the zeitgeist: a young man hangs up his new Ph.D. in his boyhood bedroom, the cardboard box at his feet signaling his plans to move back home now that he's officially overqualified for a job. In the doorway stand his parents, their expressions a mix of resignation, worry, annoyance and perplexity: how exactly did this happen? It's happening all over, in all sorts of families, not just young people moving back home but also young people taking longer to reach adulthood overall.
What Is It About 20-Somethings?