Storytelling and real ROI
Communities & public drive ROI analysis. TOC 2010: Jeff Gomez, "Storyworlds: The New Transmedia Business Paradigm" Ecrits numériques : vers une fiction interactive et collaborative. Marques et Stories. Le « story-telling » contre l'information.
Story-telling et information Le "story-telling" est devenu l'un des termes à la mode du marketing-journalistique.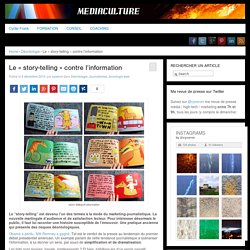 La nouvelle martingale d'audience et de satisfaction lecteur. Creating Shared Value. The capitalist system is under siege.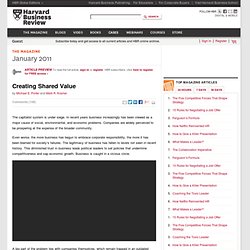 In recent years business increasingly has been viewed as a major cause of social, environmental, and economic problems. Companies are widely perceived to be prospering at the expense of the broader community.
Everything Is a Remix. Girl Talk, héraut de la génération copier/coller. Il y a deux semaines sortait All Day, le nouvel album du DJ américain Girl Talk, grand spécialiste du mashup.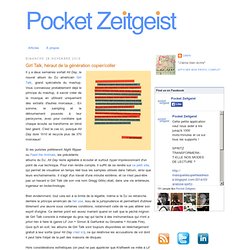 Vous connaissez probablement déjà le principe du mashup, à savoir créer de la musique en utilisant uniquement des extraits d'autres morceaux... En somme, le sampling et le détournement poussés à leur paroxysme, avec pour corollaire que chaque écoute se transforme en blind test géant. C'est le cas ici, puisque All Day dure 1h10 et recycle plus de 370 morceaux!
Si les puristes préféreront Night Ripper ou Feed the Animals, les précédents albums du DJ, All Day reste agréable à écouter et surtout hyper impressionnant d'un point de vue technique. Pour s'en rendre compte, il suffit de se rendre sur ce petit site, qui permet de visualiser en temps réel tous les samples utilisés dans l'album, ainsi que leurs enchaînements. Storytelling State of the Heart, Little "S" Big "S", Narrative and Self & More. Content Marketing and the Power of the Brand Experience « ROI Marketing Insights Published: January 4, 2011 Brand is about creating memorable experiences.
Content marketing is about telling stories of memorable experiences that become engaging conversations. Object Oriented Storytelling « Little Storping-in-the-Swuff Fiction subclasses reality, overriding certain methods and implementing the interfaces of genres.
---