Media Basics (social & digital)
Lessons from the Komen Controversy. Brands beware.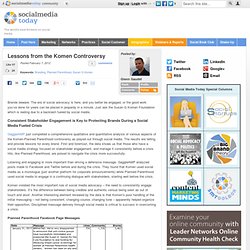 The era of social advocacy is here, and you better be engaged, or the good work you've done for years can be placed in jeopardy in a minute. Just ask the Susan G Komen Foundation which is reeling due to a backlash fueled by social media. Consistent Stakeholder Engagement is Key to Protecting Brands During a Social Media Fueled Crisis. Overview. By Tom Rosenstiel and Amy Mitchell of the Project for Excellence in Journalism By several measures, the state of the American news media improved in 2010.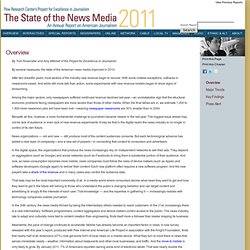 After two dreadful years, most sectors of the industry saw revenue begin to recover. With some notable exceptions, cutbacks in newsrooms eased. And while still more talk than action, some experiments with new revenue models began to show signs of blossoming. Critique des médias sur le web (juin-août 2010) Sur les médias en ligne et, particulièrement Wikileaks Quand les médias sociaux revisitent la hiérarchie de l'info (Regard sur le numérique 02/06/10) – « Tous les jours, entre neuf heures et dix heures du matin, un membre de l'équipe du centre de recherche « Project for Excellence in Journalism » - l'un des labos du think-tank américain Pew Research Center - relève, à la main, sur des services comme Tweetmeme, Techorati ou Icerocket, la liste des cinq sujets les plus discutés sur les blogs et les réseaux sociaux, ainsi que le volume de ces partages.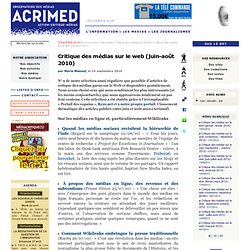 Un rapport hebdomadaire de très haute qualité, baptisé New Media Index, en est tiré. À propos des médias en ligne, des revenus et des subventions (Presse Citron 23/07/10) – « Une chose est sûre : avec l'émergence des pure players dans le monde des médias en ligne français, personne ne roule sur l'or, et les rédactions se serrent encore la ceinture en attendant des jours meilleurs. OJD.
Vocabulaire de base. Benchmark. Digital Influence Basics. Avenir des médias.
---