Measuring ROI
Making magic, using logic
Prescription vs Suggestions
its-time-industrialize-analytics from smartdatacollective.com
There's a lot of talk about advanced analytics these days - the use of data mining and predictive analytics is growing rapidly so lots of articles, books (like Tom Davenport's latest) and blog posts are being written.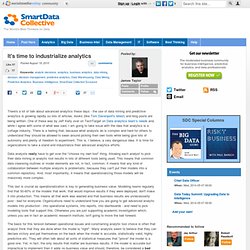 Influencing the Influencer
inShare4 The competition for attention is focused on social networks as brands vie for awareness and consideration. Establishing a presence in Facebook and Twitter is as necessary as it is trivial.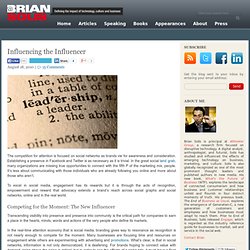 Brands are making plenty of money in social media: Dell Outlet's Twitter account has generated millions for Dell, the Intel Channel Voice community has decreased costs by eliminating the need for expensive in-person events and P&G used media mix modeling to demonstrate that the BeingGirl.com community is several times more effective at driving sales than the brands' television ads. Many marketers can draw a straight line between investments in social media marketing and financial results, but many more cannot. This doesn't mean social media marketing is ineffective; it just means that marketers have to recognize benefits beyond dollars and cents.
The ROI Of Social Media Marketing: More Than Dollars And Cents