Marques et Stories
Rethinking the Idea of the Brand - Umair Haque
Le grand retour des publicitaires dans les médias sociaux
Citoyens ! La demi décennie qui vient de s'achever avait annoncé la mort de la publicité dite "classique". Print, TV, affichages auraient du connaitre un déminage en règle, au profit d'une nouvelle ère pour la communication ; des disciplines nouvelles avaient donc vu le jour comme par exemple le social media marketing ou encore le marketing expérientiel. Il s'avère que si de nouvelles pratiques ont effectivement explosé ces dernières années, elles n'ont pas concurrencé la publicité mais ont bien au contraire renforcé sa présence et son impact.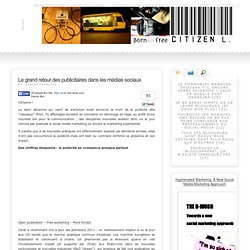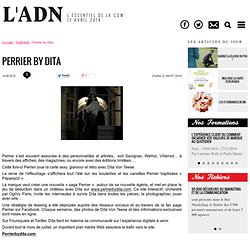 Perrier s'est souvent associée à des personnalités et artistes, soit Savignac, Warhol, Villemot… à travers des affiches, des magazines, ou encore avec des éditions limitées…. Cette fois-ci Perrier joue la carte sexy, glamour et rétro avec Dita Von Teese. La reine de l'effeuillage s'affichera tout l'été sur les bouteilles et les canettes Perrier baptisées « Paparazzi ». La marque veut créer une nouvelle « saga Perrier » autour de sa nouvelle égérie, et met en place le jeu de séduction dans un château avec Dita sur www.perrierbydita.com. Ce site Interactif, orchestré par Ogilvy Paris, invite les internautes à suivre Dita dans toutes les pièces, la photographier, jouer avec elle…
Actualités - Perrier by Dita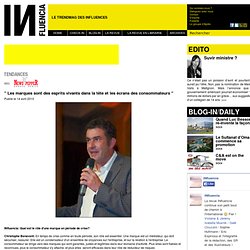 les marques sont des espris vivants
" Les marques sont des esprits vivants dans la tête et les écrans des consommateurs " Publié le 14 avril 2010 INfluencia: Quel est le rôle d'une marque en période de crise? Christophe Benavent: En temps de crise comme en toute période, son rôle est essentiel.
Michael Jackson, Pepsi made marketing history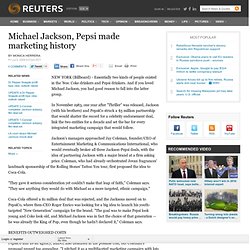 By Monica Herrera Fri Jul 3, 2009 6:57pm EDT NEW YORK (Billboard) - Essentially two kinds of people existed in the '80s: Coke drinkers and Pepsi drinkers. And if you loved Michael Jackson, you had good reason to fall into the latter group. In November 1983, one year after "Thriller" was released, Jackson (with his brothers) and PepsiCo struck a $5 million partnership that would shatter the record for a celebrity endorsement deal, link the two entities for a decade and set the bar for every integrated marketing campaign that would follow.
It's A Brand New Day - Brand Timeline Portrait