Baz Buzz
La campagne McDonald's sur Twitter tourne au fiasco
Lorsque McDonald's a décidé de lancer une campagne virale sur Twitter, le but était de promouvoir la marque en vantant son identité et la qualité de ses produits par le biais de tweets: "Il y a beaucoup d'amour et de passion dans la production de la viande de nos hamburgers - la preuve!", renvoyant vers une vidéo commerciale. Puis, l'enseigne a proposé aux internautes de raconter leurs souvenirs liés à McDonald's via le hashtag #McDStories.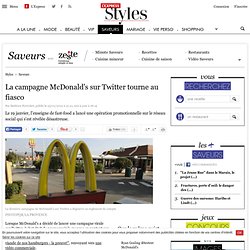 STATS: Each Negative Social Media Comment Costs 30 Customers | P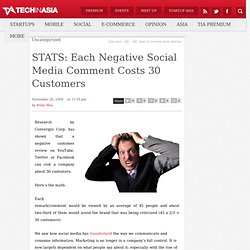 Research by Convergys Corp. has shown that a negative customer review on YouTube, Twitter or Facebook can cost a company about 30 customers. Here's the math: Each remark/comment would be viewed by an average of 45 people and about two-third of them would avoid the brand that was being criticized (45 x 2/3 = 30 customers).
How Saatchi & Saatchi's Toyota social media disaster unfolded -