Common Core
NOVELny and the Common Core: Summer Reading at New York Libraries: New York State Library
Libraries and the Common Core Learning Standards: Division of Library Development: New York State Library
Your Common Core Secret Weapon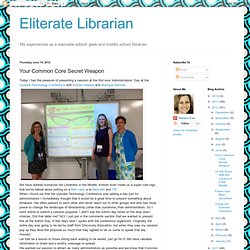 Today I had the pleasure of presenting a session at the first ever Administrators' Day at the Upstate Technology Conference with Kristen Hearne and Monique German . We have dubbed ourselves the Librarians in the Middle. Kristen even made us a super cute logo that we've talked about putting on a Moo card , a la Gwyneth and Tiff . When I found out that the Upstate Technology Conference was adding a day just for administrators I immediately thought that it would be a great time to present something about librarians.
Onondaga - Cortland - Madison Counties BOCES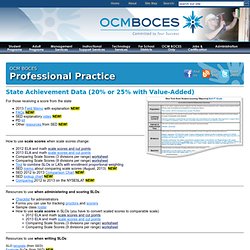 For those receiving a score from the state This summary presentation can be used to show how the State's growth scores is determine (this has the revised cut scores in it) This detailed presentation explains how growth scores will be calculated this year for 4-8 ELA and math teachers (caution: it has the old cut scores in it) SED Guide for Teachers SED Guide for Principals FAQ document Resources to use when administering and scoring SLOs : Checklist for administrators Forms you can use for tracking proctors and scorers Sample class roster How to use scaled scores in SLOs (you have to convert scaled scores to comparable scale) 2012 ELA and math scale scores and cut points Redefined Performance Levels (and pretend new scale scores) Comparing Scale Scores (3 divisions per range) worksheet Comparing Scale Scores (9 divisions per range) worksheet Resources to use when writing SLOs : SLO template (from SED) Making an SLO workshop slides (step by step with an example)
All Aboard!: Implementing Common Core offers school librarians an opportunity to take the lead.
By Rebecca Hill April 1, 2012 OK, so school librarians weren't invited to the party. When members of the National Educational Association, the National Council for Teachers of English, the International Reading Association, and the American Federation of Teachers met in 2010 to draft new benchmarks for language arts and literacy for our nation's K–12 schools—the Common Core Curriculum State Standards ( www.corestandards.org )—there weren't any media specialists at the table.
rubricforseniorcapstonecourse.pdf (application/pdf Object)
Answering questions about library impact on student learning
Share! image by wordshore on Flickr This essay reports on a project which evaluated the Understanding Library Impacts (ULI) protocol , a suite of instruments for detecting and communicating library impact on student learning.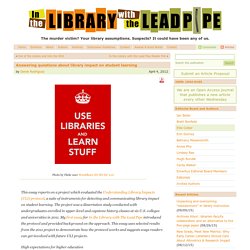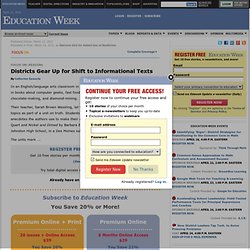 Published Online: March 13, 2012 Published in Print: March 14, 2012, as Districts Gird for Added Use of Nonfiction FOCUS ON: Reading Premium article access courtesy of Edweek.org. In an English/language arts classroom in Iowa, 10th graders are analyzing the rhetoric in books about computer geeks, fast food, teenage marketing, the working poor, chocolate-making, and diamond-mining. Their teacher, Sarah Brown Wessling, let them choose books about those real-world topics as part of a unit on truth.
Districts Gear Up for Shift to Informational Texts
Education Week Teacher: The Core Standards That Matter Most in My Classroom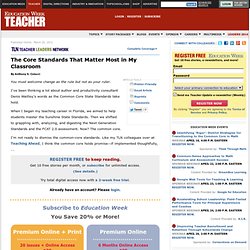 Published Online: March 20, 2012 By Anthony S. Colucci Premium article access courtesy of Education Week Teacher .
Rigor is NOT a Four-Letter Word
Skip to main content ALA User Menu Search form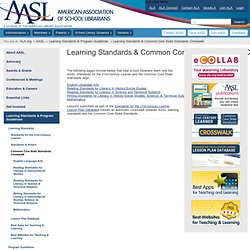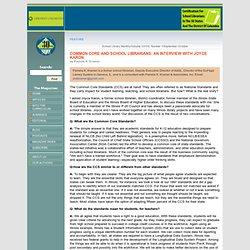 School Library Monthly - Common Core and School Librarians
School Library Monthly/Volume XXVIII, Number 1/September-October Common Core and School Librarians: An Interview with Joyce Karon by Pamela K.
nysp12cclsela
Teachers: Get Started with the Common Core
standardsbasedvision.wikispaces
School Librarians and the Common Core Standards: Resources