Common Core
NOVELny and the Common Core: Summer Reading at New York Libraries: New York State Library. Libraries and the Common Core Learning Standards: Division of Library Development: New York State Library. Your Common Core Secret Weapon. Today I had the pleasure of presenting a session at the first ever Administrators' Day at the Upstate Technology Conference with Kristen Hearne and Monique German.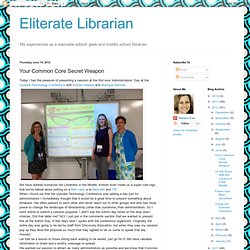 We have dubbed ourselves the Librarians in the Middle. Kristen even made us a super cute logo that we've talked about putting on a Moo card, a la Gwyneth and Tiff. When I found out that the Upstate Technology Conference was adding a day just for administrators I immediately thought that it would be a great time to present something about librarians. Onondaga - Cortland - Madison Counties BOCES. For those receiving a score from the state 2013 Field Memo with explanation NEW!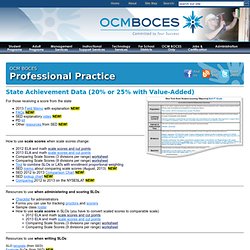 FAQs NEW! SED explanatory video NEW! PD kit Other resources from SED NEW! All Aboard!: Implementing Common Core offers school librarians an opportunity to take the lead. By Rebecca Hill, 3/30/2012 OK, so school librarians weren't invited to the party.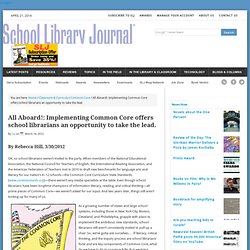 When members of the National Educational Association, the National Council for Teachers of English, the International Reading Association, and the American Federation of Teachers met in 2010 to draft new benchmarks for language arts and literacy for our nation's K–12 schools—the Common Core Curriculum State Standards (www.corestandards.org)—there weren't any media specialists at the table. Even though school librarians have been longtime champions of information literacy, reading, and critical thinking—all prime pieces of Common Core—we weren't asked for our input. And two years later, things still aren't looking up for many of us. As a growing number of states and large school systems, including those in New York City, Boston, Cleveland, and Philadelphia, grapple with plans to implement the ambitious new standards, school librarians still aren't consistently invited to pull up a chair.
Rubricforseniorcapstonecourse.pdf (application/pdf Object) Answering questions about library impact on student learning. Image by wordshore on Flickr This essay reports on a project which evaluated the Understanding Library Impacts (ULI) protocol, a suite of instruments for detecting and communicating library impact on student learning.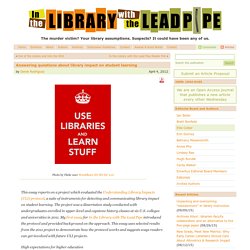 The project was a dissertation study conducted with undergraduates enrolled in upper-level and capstone history classes at six U.S. colleges and universities in 2011. Districts Gear Up for Shift to Informational Texts. The Core Standards That Matter Most in My Classroom. UserID: iCustID: IsLogged: false IsSiteLicense: false.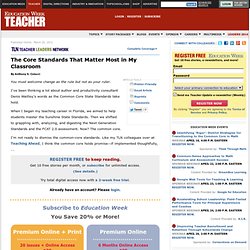 Rigor is NOT a Four-Letter Word. Crosswalk of the Common Core Standards and the Standards for the 21st-Century Learner. Skip to main content ALA User Menu Search form A Division of the American Library Association.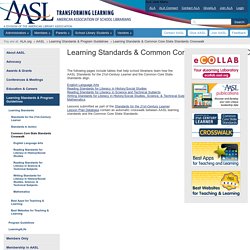 Common Core and School Librarians. School Library Monthly/Volume XXVIII, Number 1/September-October Common Core and School Librarians: An Interview with Joyce Karon by Pamela K.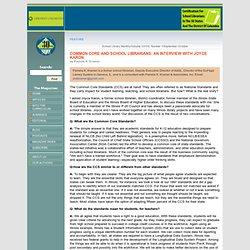 Nysp12cclsela. Standardsbasedvision.wikispaces.
School Librarians and the Common Core Standards: Resources.
---