PKM
Collaborer aurour de l'info / Working around the info
Présenter l'info / Present the info
Installer SugarCRM sous Ubuntu - Blog de Thomas ZILLIOX
Personal knowledge management (PKM) is a collection of processes that a person uses to gather, classify, store, search, retrieve, and share knowledge in his or her daily activities (Grundspenkis 2007) and the way in which these processes support work activities (Wright 2005). It is a response to the idea that knowledge workers increasingly need to be responsible for their own growth and learning. (Smedley 2009) It is a bottom-up approach to knowledge management (KM), as opposed to more traditional, top-down KM. (Pollard 2008) History and Background[edit] Although as early as 1998 Davenport wrote on the importance to worker productivity of understanding individual knowledge processes (cited in (Zhang 2009)), the term personal knowledge management appears to be relatively new.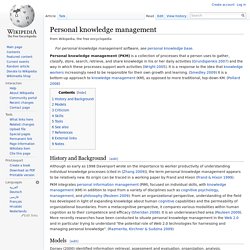 [Edit] S'inscrire à Quora sans invitation !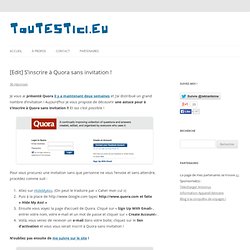 Je vous ai présenté Quora il y a maintenant deux semaines et j'ai distribué un grand nombre d'invitation ! Aujourd'hui je vous propose de découvrir une astuce pour à s'inscrire à Quora sans invitation !! Et oui c'est possible ! Pour vous procurez une invitation sans que personne ne vous l'envoie et sans attendre, procédez comme suit : Allez sur HideMyAss.
ALL Social that CAN bookmark
My first notebook - Google Notebook
As of July 2012, Google Notebook has shut down and all Notebook data should now be in Google Docs. As previously announced, in most cases we were able to automatically export the Notebook data, so please visit Google Docs. Also please update any bookmarks or links to Notebook so that they point to Docs instead. Here are answers to some questions about this transition.