PKM
Collaborer aurour de l'info / Working around the info
Présenter l'info / Present the info
Installer SugarCRM sous Ubuntu - Blog de Thomas ZILLIOX
Actualités L'ADBS vous souhaite une bonne année ! L'ADBS, son conseil d'admi­nis­tra­tion et l'équipe de la délégation per­ma­nente vous adres­sent leurs meilleurs vœux pour l'année 2014.L'ADBS, partenaire du numéro de février 2014 du magazine Entreprendre L'ADBS introduira le dossier spécial du numéro du mois de février 2014 du magazine Entreprendre qui sera consacré à la gestion d'information et documentaire. Entreprendre est un mensuel qui informe ses lecteurs, cadres et dirigeants d'entreprises, à travers des sujets et sur des solutions concrètes à travers la mise en avant de sociétés désireuses de communiquer sur leurs offres.La campagne 2014 est ouverte Rejoignez notre réseau !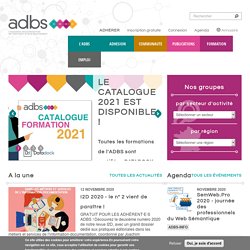 Personal knowledge management (PKM) is a collection of processes that a person uses to gather, classify, store, search, retrieve, and share knowledge in his or her daily activities (Grundspenkis 2007) and the way in which these processes support work activities (Wright 2005). It is a response to the idea that knowledge workers increasingly need to be responsible for their own growth and learning. (Smedley 2009) It is a bottom-up approach to knowledge management (KM), as opposed to more traditional, top-down KM. (Pollard 2008) History and Background[edit] Although as early as 1998 Davenport wrote on the importance to worker productivity of understanding individual knowledge processes (cited in (Zhang 2009)), the term personal knowledge management appears to be relatively new.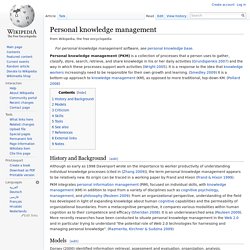 reddit gold gives you extra features and helps keep our servers running. We believe the more reddit can be user-supported, the freer we will be to make reddit the best it can be. Buy gold for yourself to gain access to extra features and special benefits. A month of gold pays for 276.46 minutes of reddit server time!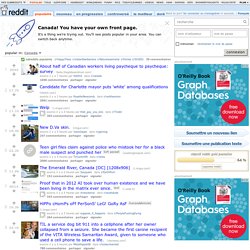 [Edit] S'inscrire à Quora sans invitation !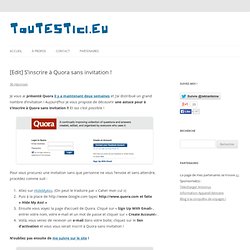 Je vous ai présenté Quora il y a maintenant deux semaines et j'ai distribué un grand nombre d'invitation ! Aujourd'hui je vous propose de découvrir une astuce pour à s'inscrire à Quora sans invitation !! Et oui c'est possible ! Pour vous procurez une invitation sans que personne ne vous l'envoie et sans attendre, procédez comme suit : Allez sur HideMyAss.
ALL Social that CAN bookmark
My first notebook - Google Notebook
Google Notizbuch wurde im Juli 2012 eingestellt. Alle Notizbücher sollten jetzt in Google Docs zu finden sein. Wie bereits angekündigt konnten wir die Notizbücher in den meisten Fällen automatisch nach Google Docs exportieren. Aktualisieren Sie auch Lesezeichen oder Links zu Google Notizbuch, sodass sie stattdessen auf Google Docs verweisen.