Photography
Photography, Digital Camera & Lightroom Tips — FroKnowsPhoto » Edit this RAW File Week 20. Last week we asked you for some RAW files with Planes, Trains and automobiles and this file came in for us to edit.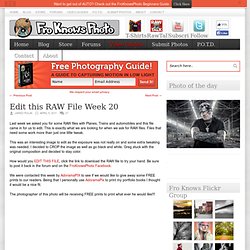 This is exactly what we are looking for when we ask for RAW files. Files that need some work more than just one little tweak. This was an interesting image to edit as the exposure was not really on and some extra tweaking was needed. People Photography Training Workshop: Artistic Nude (5 days) | Workshop Detail | Nikonians Academy Europe. Credit Card Merchant Login Yukon - Canada's Untamed Wilderness Discuss this workshop.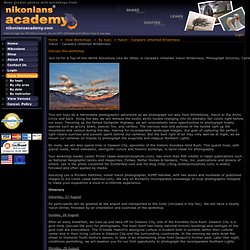 Overloaded And Overcrowded. Call it crazy, dangerous, nuts, efficient or what you will, but one thing we can agree upon is that things seems to be a little bit overloaded and overcrowded in these images. 101.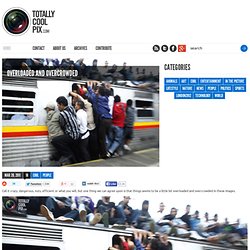 People hang onto an entrance of a commuter train which will transport them to Jakarta, in Depok, Indonesia's West Java province May 31, 2010. According to PT Kereta Api Indonesia, their trains operate 300 cars each day to serve about 500,000 commuters in Jakarta. Picons | Vector Icons and Pictograms. Photography Made Easy: Inverse Square Law |Fstoppers.
There always seems to be two camps when it comes to photography: those who go by feel and those who go by technique.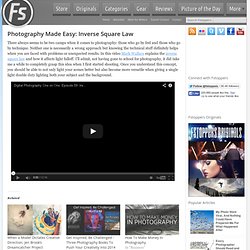 Neither one is necessarily a wrong approach but knowing the technical stuff definitely helps when you are faced with problems or unexpected results. In this video Mark Wallace explains the inverse square law and how it affects light falloff. I'll admit, not having gone to school for photography, it did take me a while to completely grasp this idea when I first started shooting. Once you understand this concept, you should be able to not only light your scenes better but also become more versatile when giving a single light double duty lighting both your subject and the background.
Related. Carolyn Drake's Continuing Visit With the Uighur People. Carolyn Drake could probably stop now.
Her project on the Uighurs, a group of Turkic-speaking Muslims in western China, started in 2007 on her first trip to Xinjiang Province. Her most recent visit was in February. The images she has captured are vibrant, poetic and incredibly varied in scope. Cricket passion. The new "Night Vision" option of the Nikon D5100 will have ISO up to 102400. The Fox Is Black » CreativeMornings Los Angeles with Michelle Mcilroy of Lomography, Sponsored by The Fox Is Black. To say I'm a fan of Lomography would be an understatement.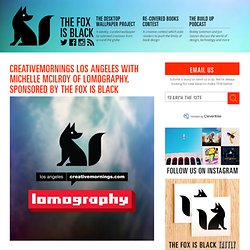 I first started getting into photography after hearing that skateboarder Ed Templeton shot a lot of his photos with a Holga. This was back in 2001 before the Holga was distributed through Lomo, and you had to order it off of random, bootleg websites. Lensbaby unveils Composer Pro. Lensbaby has announced the Composer Pro version of its selective focus lens.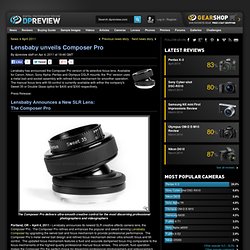 Available for Canon, Nikon, Sony Alpha, Pentax and Olympus DSLR mounts, the 'Pro' version uses a metal ball-and-socket assembly with refined focus mechanism for smoother operation. The manual focus lens with tilt control is currently available with either the company's Sweet 35 or Double Glass optics for $400 and $300 respectively. Press Release: _ Behold The World's Largest Photo Ever Taken Indoors: 40 Gigapixels Of Awesome. We interrupt our live coverage of breaking news about Internet companies from around the world to point you to this phenomenal 360-degrees photo (okay, actually it's 2,947 pictures stitched together).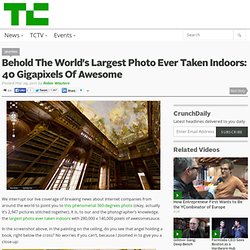 It is, to our and the photographer's knowledge, the largest photo ever taken indoors with 280,000 x 140,000 pixels of awesomesauce. In the screenshot above, in the painting on the ceiling, do you see that angel holding a book, right below the cross? No worries if you can't, because I zoomed in to give you a close-up: That's how freaking amazing this picture is. How to Photograph Drummers | ishootshows.com. As I've mentioned before, one of the very first pieces of music photography advice I ever received was simply, "Don't forget the drummer."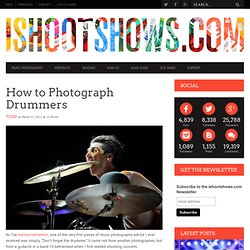 It came not from another photographer, but from a guitarist in a band I'd befriended when I first started shooting concerts. I was hanging out with the band in their dressing room before a gig, and the guitarist was noodling around on his guitar. Afghanistan, March 2011. 8 Secrets to Perfect Pet Photos. Grace Chon, Shine Pet Photos Pets have such charm—why is it so few photos of them show it?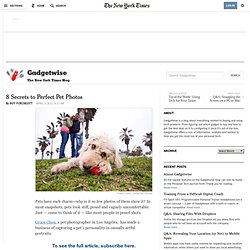 In most snapshots, pets look stiff, posed and vaguely uncomfortable. Just — come to think of it — like most people in posed shots. Grace Chon, a pet photographer in Los Angeles, has made a business of capturing a pet's personality in casually artful portraits. Magnum photographer publishes book on iPad. Reuters Freelancer Killed in Iraq: Sabah al-Bazee Was 30. Magnum Festival: Celebrating the Art of Documentary / 60 Years. Shutter Sisters - home. Nue York: Self Portraits of a Bare Urban Citizen by Erica Simone. 40 Examples of Minimalist Photography at DzineBlog. Learn how to earn $125 or more per hour as a freelancer - Click Here Looking for hosting?.
We recommend MediaTemple for web hosting. Editor's choice | Analysis & Opinion | Reuters. Middle East Arms Expo an Oddly Peaceful Scene | Raw File. Pakistan Ordnance Factory demonstrates machine guns and automatic rifles. Pakistan exhibit at IDEX 2007. Military ammunition by Poongsan from South Korea. A Quick Video With A Happy Ending » f stoppers. I just saw this and it made me smile so I thought I would share it with all of you.
Keep in mind that you still have a few days left to help Noam with our Photoshop contest. If you have no idea what is going on in this video then you need to watch this. Related Fstoppers Original: The Stolen Scream. The Fox Is Black » Connection, A Responsive Light Installation by United Visual Artists. I'm a big fan of United Visual Artists, UVA for short, and their work and experimentation with light. One of their most recent projects is called Connection, a "work consists of an array of vertical luminaires integrated into a pedestrian bridge." What's interesting about this though is that the lights are triggered by human movement, so what was a pretty banal bridge is now a lively, moving piece of art. When people walk by it almost looks the the bridge is physically undulating, like it's swaying in the breeze.
I feel like work like this is more interesting than new projects because it's taking something that's existing and simply making it better, even if it's purely aesthetics. MAME-CAM DX: Thanko's Micro HD Camera Weighs Just 14g. 5 Ways Street Photography Can Make You a Better Photographer | Digital Photography insights. Dog Sledding season - coming to a close. - Aircraft Pictures. LEPAGE - PHOTOGRAPHY - TWO-EYES.COM. More Proof That Expensive Gear Does Not Equal Good Pictures » f stoppers. Photographer John Moore on 'Epic' Libya Battles, Arab World Revolutions. Miyagi Prefecture and More - Pictures of the Day. Holi: Festival of Colors. 2011 March 20 - Parthenon Moon. The Invisible Camera: Your Mind Will Be Blown » f stoppers. Magnum Photos Newsletter. SHAPSNOTS. Miru Kim. Miru Kim. Miru Kim. Moonmosaic_carboni_f. Brightest Moon in 18 Years to Appear Saturday Night. Red Bull's Illume Photo Exhibit Is Itself Art » f stoppers. Red-Bull-Illume-redbull-charleston. Satellite Photos - Japan Before and After Tsunami - Interactive Feature.
Japan: Hopes fade for finding more survivors. Japan: Continuing crisis. Brian Lanker Photography: Portfolio. Parting Glance: Brian Lanker, 1947-2011. Vintage Madonna Portraits Finally See Light of Day - JPG News. Massive earthquake hits Japan. FCK PHOTOSHOP the pencil for the purist by mrzach. Browse hundreds of great pictures from TED2011 and TEDActive. 5 Tips For Changing Lenses Faster | ishootshows.com. Stunning photos of Japan's earthquake and tsunami. Elegy to a Small Idaho Town: Steve Davis Photographs His Hometown. Tahrir Square: Social Media, Public Space. San Francisco's Pier 24 is Largest, Most Exclusive Photography Gallery in the U.S. - JPG News.
Pier 24. Sony to disclose E-mount specifications. Lens makers back Sony's disclosure of E-mount specifications. All the World's a Canvas - Slide Show. Peter Lik Photograph "One" Sells for $1 Million! | Peter LikPeter Lik. HP ZR30w Monitor Layers Magazine | Layers Magazine. Afghanistan, February 2011. The Stolen Scream.
'The Sweet Things' in a Changing Brooklyn Neighborhood. Do You Know These Photographers? - JPG News. An Update on the Mysterious Roll of Film Found in Brooklyn - JPG News. Pictures of the month: January. Funny Pictures at WalMart Top Rated.
---