Random
Nigeria Sect Leader Threatens President in Message. Google Zeitgeist 2011. Could a Form of Ecstasy Fight Cancer? New research suggests that a modified form of MDMA — more commonly known as the illegal drug ecstasy — could kill some types of blood cancer cells.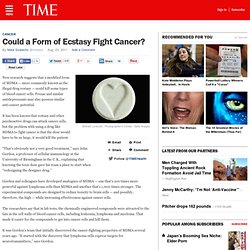 Prozac and similar antidepressants may also possess similar anti-cancer potential. It has been known that ecstasy and other psychoactive drugs can attack cancer cells, but the problem with using a drug like MDMA to fight cancer is that the dose would have to be so large, it would kill the patient. "That's obviously not a very good treatment," says John Gordon, a professor of cellular immunology at the University of Birmingham in the U.K., explaining that knowing the toxic dose gave his team a place to start when "redesigning the designer drug." 39 killed in 5 bomb blasts in Nigeria.
BEIJING, Dec. 26 (Xinhuanet) -- Terror attacks across Nigeria by a radical Muslim sect have killed at least 39 people.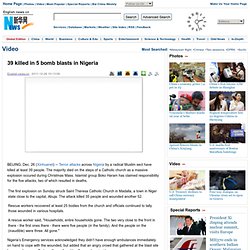 The majority died on the steps of a Catholic church as a massive explosion occured during Christmas Mass. Islamist group Boko Haram has claimed responsibility for the five attacks, two of which resulted in deaths. The first explosion on Sunday struck Saint Theresa Catholic Church in Madalla, a town in Niger state close to the capital, Abuja. XINHUANEWS. Somali women defy danger to write basketball history. Coach Mohamed Sheekh gives instructions to his players during Somalia's game against Jordan on Monday, December 19.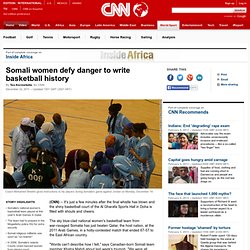 Somalia's national women's basketball team played at this year's Arab Games in QatarThe team had to prepare in the Mogadishu police HQ for extra securitySomali religious militants see sport as "un-Islamic"In 2006, Somalia's Islamic Courts Union banned women from playing sport (CNN) -- It's just a few minutes after the final whistle has blown and the shiny basketball court of the Al Gharafa Sports Hall in Doha is filled with shouts and cheers. The sky blue-clad national women's basketball team from war-ravaged Somalia has just beaten Qatar, the host nation, at the 2011 Arab Games, in a hotly-contested match that ended 67-57 to the East African country. Moms Breast-Feed in 250 Target Stores. Can a 'Nurse-In' Alter Perceptions of Public Breast-Feeding? Boobs and babes took center stage Wednesday morning as nursing mothers held "nurse-ins" at Target stores across the country to assert their right to breast-feed their children in public.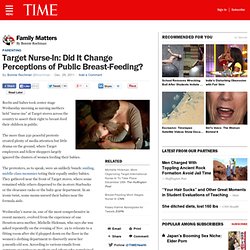 The more than 250 peaceful protests created plenty of media attention but little drama on the ground, where Target employees and fellow shoppers largely ignored the clusters of women feeding their babies. The protesters, so to speak, were an unlikely bunch: smiling, middle-class mommies toting their equally smiley babies. They gathered near the front of Target stores, where some remained while others dispersed to the in-store Starbucks or the clearance racks or the baby-gear department.
In an ironic twist, some moms nursed their babies near the formula aisle. Lil Wayne Disses Jay-Z On "It's Good" Featuring Jadakiss & Drake. Weezy responds to Hov's "baby money" diss on "H.A.M.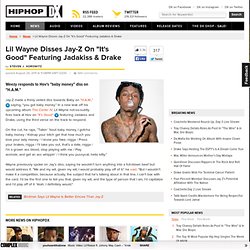 " Jay-Z made a thinly veiled diss towards Baby on "H.A.M.," saying, "you got baby money." In a new leak off his upcoming album Tha Carter IV, Lil Wayne not-so-subtly fires back at Hov on "It's Good" featuring Jadakiss and Drake, using the third verse on the track to respond. On the cut, he raps, "Talkin' 'bout baby money, I gotcha baby money / Kidnap your bitch get that how much you love your lady money / I know you fake, nigga / Press your brakes, nigga / I'll take you out, that's a date, nigga / I'm a grown ass blood, stop playing with me / Play asshole, and get an ass whippin' / I think you pussycat, hello kitty."
Uzbekistan Shows No Love for Valentine's Day. Who needs dinner and romance when there's a medieval poetry reading instead?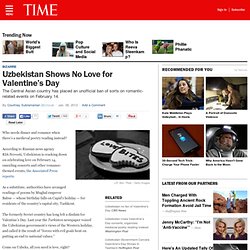 According to Russian news agency RIA-Novosti, Uzbekistan is cracking down on celebrating love on February 14, canceling concerts and other romance-themed events, the Associated Press reports. As a substitute, authorities have arranged readings of poems by Mughal emperor Babur — whose birthday falls on Cupid's holiday — for residents of the country's capital city, Tashkent. The formerly Soviet country has long felt a disdain for Valentine's Day. Detroit police say 3 deaths tied to dating services site. UFC 141 play-by-play: Lesnar vs. Overeem.
LAS VEGAS -- Relive all the action from the Ultimate Fighting Championship's final pay-per-view card in 2011, featuring Brock Lesnar vs.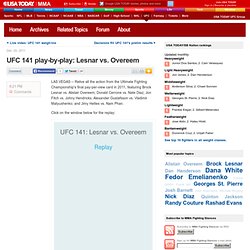 Alistair Overeem; Donald Cerrone vs. Nate Diaz; Jon Fitch vs. Johny Hendricks; Alexander Gustafsson vs. Nigerian women are the world most unfaithful... proved by chinese research. Kampala Naked Women Protestors. Man sued for keeping company Twitter followers. 29 December 2011Last updated at 13:22 ET Mr Kravitz took the Twitter account after leaving Phonedog in October last year A man is being sued for keeping Twitter followers that he attracted while working for a US mobile news website.
Noah Kravitz tweeted for Phonedog as @Phonedog_Noah, but later changed his username when he left the company - taking 17,000 followers with him. The company is now seeking damages of $2.50 (£1.60) per user, per month - a total of $370,000. Mr Kravitz said his former employer had given him permission to continue using the account after he left.
---