Arduino
ARDUINO
L'électronique est la manipulation de signaux et d'informations électriques afin de les mesurer, les contrôler ou de les modifier.Des éléments désignés « composants » sont assemblés sous la forme de circuits.
Floss Manuals francophone - Lire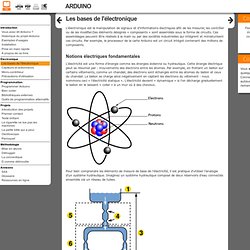 Francais - MaterielOuAcheter browse
Un "starter kit" permet de démarrer un projet avec tous les éléments nécessaires afin de ne pas perdre de temps et d'éviter la frustration de manquer d'un composant à 20 centimes pour terminer votre montage.
Les starter kits pour Arduino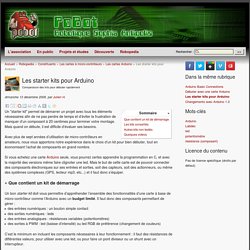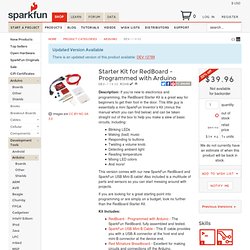 Arduino Starter Kit
Description: if you're new to electronics and programming, the RedBoard Starter Kit is a great way for beginners to get their foot in the door. This little guy is essentially a mini SparkFun Inventor's Kit (minus the manual which you can find below) and can be taken straight out of the box to help you make a slew of basic circuits, including: Blinking LEDs Making (bad) music Responding to buttons Twisting a volume knob Detecting ambient light Reading temperature Mixing LED colors And more! This version comes with our new SparkFun RedBoard and SparkFun USB Mini-B cable! Also included is a multitude of parts and sensors so you can start messing around with projects. If you are looking for a great starting point into programming or are simply on a budget, look no further than the RedBoard Starter Kit.
Le Câble USB 2.0 haute vitesse de type AB pour Arduino est le câble standard (gros connecteur type imprimante) pour les cartes Arduino UNO, MEGA et DFRduino.
Câble USB type AB classique pour Arduino [E0N1P001] - 3,00€ : , Zartronic : Votre source Arduino en France
Arduino UNO Atmega328 [UNO] - 23,95€ : , Zartronic : Votre source Arduino en France
Disponible vers le 6 sept. Arduino UNO Révision 3 (R3)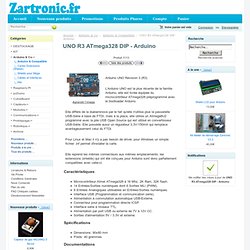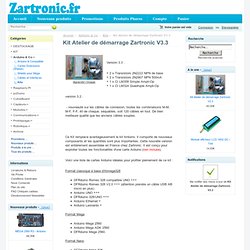 14/12 : Assemblage terminé, Le kit est disponible .
KIT Atelier (Workshop) de démarrage Zartronic V3 [E4N1P002] - 40,00€ : , Zartronic : Votre source Arduino en France
www.ecole-art-aix.fr/IMG/pdf/Cours_2005.pdf