Arduino
ARDUINO
L'électronique est la manipulation de signaux et d'informations électriques afin de les mesurer, les contrôler ou de les modifier.Des éléments désignés « composants » sont assemblés sous la forme de circuits.
Floss Manuals francophone - Lire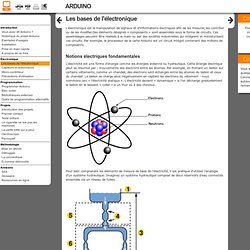 Francais - MaterielOuAcheter browse
Matériel : Vue d'ensemble - Carte Duamilanove - Autres Cartes Liste des fournisseurs de cartes Arduino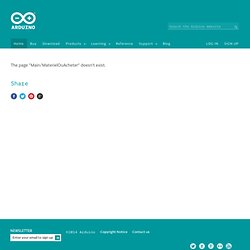 Attention, cet article peut contenir des informations non à jour.
Les starter kits pour Arduino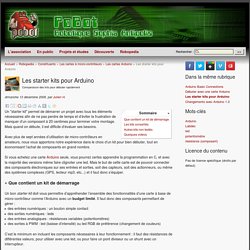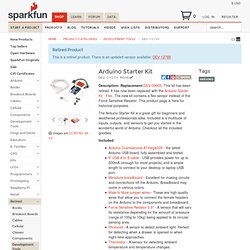 Arduino Starter Kit
Replacement: DEV-09905 . This kit has been retired. It has now been replaced with the Arduino Starter Kit - Flex . The new kit contains a flex sensor instead of the Force Sensitive Resistor. This product page is here for historical purposes.
Le Câble USB 2.0 haute vitesse de type AB pour Arduino est le câble standard (gros connecteur type imprimante) pour les cartes Arduino UNO, MEGA et DFRduino.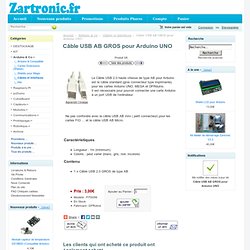 Câble USB type AB classique pour Arduino [E0N1P001] - 3,00€ : , Zartronic : Votre source Arduino en France
Arduino UNO Atmega328 [UNO] - 23,95€ : , Zartronic : Votre source Arduino en France
Arduino UNO Révision 3 (R3) L'Arduino UNO est la plus récente de la famille Arduino, elle est livrée équipée du microcontrôleur ATmega328 préprogrammé avec le bootloader Arduino.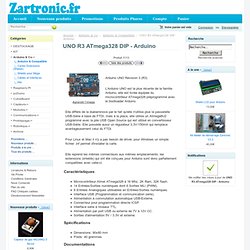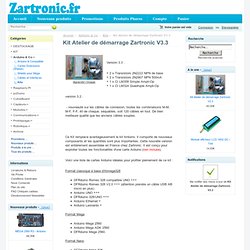 Prochaine production : après le week-end de Pâques.
KIT Atelier (Workshop) de démarrage Zartronic V3 [E4N1P002] - 40,00€ : , Zartronic : Votre source Arduino en France
www.ecole-art-aix.fr/IMG/pdf/Cours_2005.pdf