Extraterrestrial Life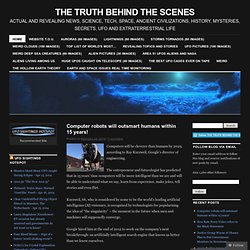 Computer robots will outsmart humans within 15 years! Computers will be cleverer than humans by 2029, according to Ray Kurzweil, Google's director of engineering. The entrepreneur and futurologist has predicted that in 15 years' time computers will be more intelligent than we are and will be able to understand what we say, learn from experience, make jokes, tell stories and even flirt. Kurzweil, 66, who is considered by some to be the world's leading artificial intelligence (AI) visionary, is recognised by technologists for popularising the idea of "the singularity" – the moment in the future when men and machines will supposedly converge.
UFO Home: Subversive Element.com
In the last century people from all around the world have been theorising about the possible existence of alien like beings. This is an idea that has met heavy resistance by sceptics and non-believers who rely on evidence and hard facts to confirm the existence of such creatures. The thought of aliens watching over us and abducting humans randomly for genetic testing has created a mixture of fear and doubt worldwide. The thought of aliens also causes confusion to people who find it hard to picture what an alien civilisation would be like and how it would differ to earth. The human race has managed to exhaust the resource of its planet in less than two centuries of industry, provoking massive pollution and climate change.
Aliens Central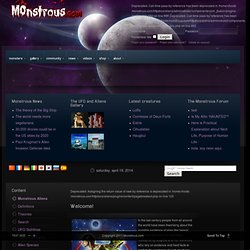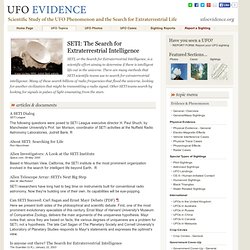 UFO Evidence : SETI: The Search for Extraterrestrial Intelligence
SETI, or the Search for Extraterrestrial Intelligence, is a scientific effort aiming to determine if there is intelligent life out in the universe. There are many methods that SETI scientific teams use to search for extraterrestrial intelligence. Many of these search billions of radio frequencies that flood the universe, looking for another civilization that might be transmitting a radio signal. Other SETI teams search by looking for signals in pulses of light emanating from the stars.
Exclusive: NASA Scientist Claims Evidence of Alien Life on Meteorite - FoxNews.com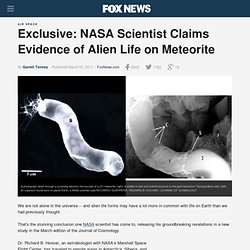 A photograph taken through a scanning electron microscope of a CI1 meteorite (right) is similar in size and overall structure to the giant bacterium Titanospirillum velox (left), an organism found here on planet Earth, a NASA scientist said.Riccardo Guerrero / Richard B. Hoover / Journal of Cosmology We are not alone in the universe -- and alien life forms may have a lot more in common with life on Earth than we had previously thought. That's the stunning conclusion one NASA scientist has come to, releasing his groundbreaking revelations in a new study in the March edition of the Journal of Cosmology. Dr. Richard B.