Extraterrestrial Life
THE TRUTH BEHIND THE SCENES | ACTUAL AND REVEALING NEWS, SCIENCE, TECH, SPACE, ANCIENT CIVILIZATIONS, HISTORY, MYSTERIES, SECRETS, UFO AND EXTRATERRESTRIAL LIFE
UFO Home: Subversive Element.com
Aliens Central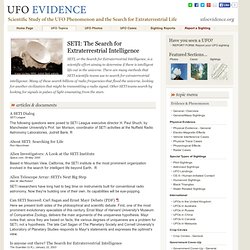 UFO Evidence : SETI: The Search for Extraterrestrial Intelligence
SETI, or the Search for Extraterrestrial Intelligence, is a scientific effort aiming to determine if there is intelligent life out in the universe.
Exclusive: NASA Scientist Claims Evidence of Alien Life on Meteorite - FoxNews.com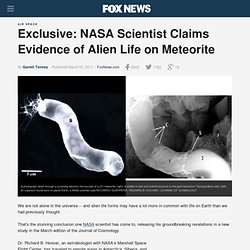 We are not alone in the universe -- and alien life forms may have a lot more in common with life on Earth than we had previously thought. That's the stunning conclusion one NASA scientist has come to, releasing his groundbreaking revelations in a new study in the March edition of the Journal of Cosmology.