Extraterrestrial Life
THE TRUTH BEHIND THE SCENES | ACTUAL AND REVEALING NEWS, SCIENCE, TECH, SPACE, ANCIENT CIVILIZATIONS, HISTORY, MYSTERIES, SECRETS, UFO AND EXTRATERRESTRIAL LIFE. UFO Home: Subversive Element.com. Aliens Central. UFO Evidence : SETI: The Search for Extraterrestrial Intelligence. SETI, or the Search for Extraterrestrial Intelligence, is a scientific effort aiming to determine if there is intelligent life out in the universe.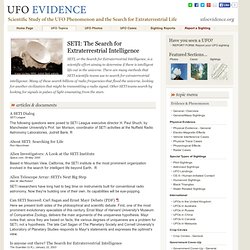 There are many methods that SETI scientific teams use to search for extraterrestrial intelligence. Many of these search billions of radio frequencies that flood the universe, looking for another civilization that might be transmitting a radio signal. Other SETI teams search by looking for signals in pulses of light emanating from the stars. Exclusive: NASA Scientist Claims Evidence of Alien Life on Meteorite - FoxNews.com. A photograph taken through a scanning electron microscope of a CI1 meteorite (right) is similar in size and overall structure to the giant bacterium Titanospirillum velox (left), an organism found here on planet Earth, a NASA scientist said.Riccardo Guerrero / Richard B.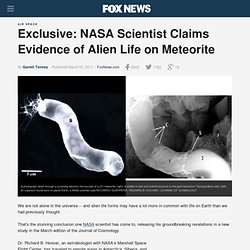 Hoover / Journal of Cosmology We are not alone in the universe -- and alien life forms may have a lot more in common with life on Earth than we had previously thought. That's the stunning conclusion one NASA scientist has come to, releasing his groundbreaking revelations in a new study in the March edition of the Journal of Cosmology.
Dr. Richard B.
---