Job Hunting
CareerLeap
In an essay in this newspaper last fall, Peter Cappelli, a professor of management and human resources at the University of Pennsylvania's Wharton School, challenged the oft-heard complaint from employers that they can't find good workers with the right skills. "The real culprits are the employers themselves," he asserted.
Software Screening Rejects Job Seekers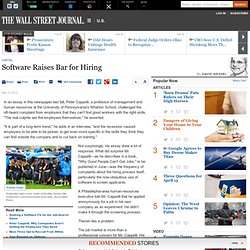 Hackers Hiring Hackers | Gun.io
IT Jobs / Engineering Jobs - Sologig
ComputerJobs.com | Search, Apply and Advertise jobs
Louisville Area job search and jobs posting. Find a high quality employee. Find the perfect job.