Creatief denken
Support - Mind Map Gallery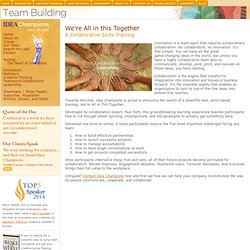 We're All in this TogetherA Collaborative Skills Training Innovation is a team sport that requires extraordinary collaboration. No collaboration, no innovation. It's that simple.
Collaboration Training
Seth Godin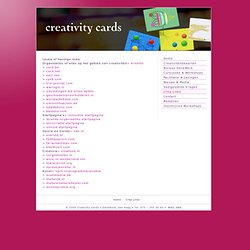 - Creativity Cards • Weblinks
Leuke of handige links Organisaties of sites op het gebied van creativiteit > kreanet> cocd.be > cocd.net > eaci.net > cpsb.com > triz-journal.com > waringin.nl > uitvindingen die ertoe deden > geschiedenisvoorkinderen.nl > worldwidebase.com > visionintoaction.de > edwdebono.com > basadur.com Startpagina's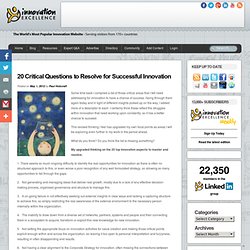 20 Critical Questions to Resolve for Successful Innovation
Some time back I compiled a list of those critical areas that I felt need addressing for innovation to have a chance of success. Going through them again today and in light of different insights picked up on the way, I added more of a descriptor to each. I certainly think these reflect the struggles within innovation that need working upon constantly, so it has a better chance to succeed. This revised thinking I feel has upgraded my own focal points as areas I will be exploring even further in my work in the period ahead. What do you think? Do you think the list is missing something?
Kwaliteitenspel.nl
The 10 Personas of a Good Brainstorm Facilitator
Armed with a short list of ground rules, a flipchart marker, and a muffin, most brainstorm facilitators miss the mark completely. The reason has less to do with their process, tools, and techniques than it does with their inability to adapt to what's happening, real-time, in the room. In an all-too-professional attempt to be one-pointed, they end up being one-dimensional, missing out on a host of in-the-moment opportunities to spark the ever-mutating, collective genius of the group.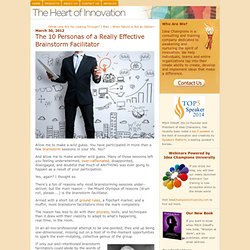 Website Trainnovation
Weblog Trainnovation