Creatief denken
Support - Mind Map Gallery
We know it sounds weird, at first: Playing games to do work. But traditional thinking is just plain wrong. Research shows that human beings have been hard-wired to express themselves and interact with each other through play.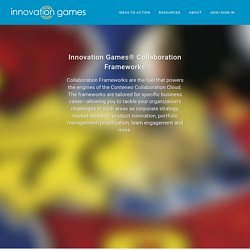 Posted: January 14th, 2014 | Added by: Dave Gray | Filed under: Facilitator resources | No comments » Check out this Gamestorming cheat sheet by master Gamestormer Brynn Evans. Rating: 6.2/10 (6 votes cast)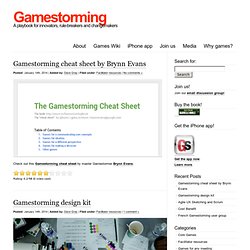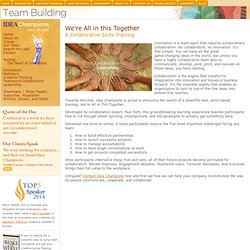 We're All in this TogetherA Collaborative Skills Training Innovation is a team sport that requires extraordinary collaboration. No collaboration, no innovation. It's that simple.
Collaboration Training
Seth Godin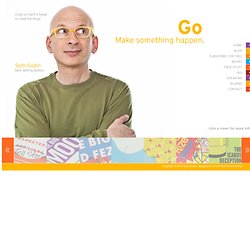 prev next Copyright © 2014 Seth Godin.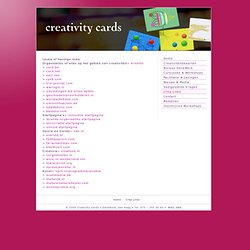 - Creativity Cards • Weblinks
Leuke of handige links Organisaties of sites op het gebied van creativiteit > kreanet> cocd.be > cocd.net > eaci.net > cpsb.com > triz-journal.com > waringin.nl > uitvindingen die ertoe deden > geschiedenisvoorkinderen.nl > worldwidebase.com > visionintoaction.de > edwdebono.com > basadur.com Startpagina's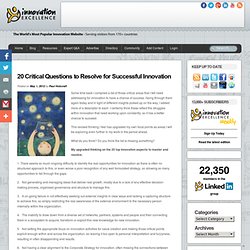 20 Critical Questions to Resolve for Successful Innovation
Some time back I compiled a list of those critical areas that I felt need addressing for innovation to have a chance of success. Going through them again today and in light of different insights picked up on the way, I added more of a descriptor to each. I certainly think these reflect the struggles within innovation that need working upon constantly, so it has a better chance to succeed. This revised thinking I feel has upgraded my own focal points as areas I will be exploring even further in my work in the period ahead. What do you think? Do you think the list is missing something?
Kwaliteitenspel.nl
The 10 Personas of a Good Brainstorm Facilitator
And allow me to make another wild guess. Many of those sessions left you feeling underwhelmed, over-caffeinated, disappointed, disengaged, and doubtful that much of ANYTHING was ever going to happen as a result of your participation. Yes, again?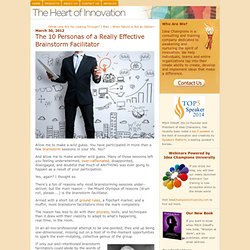 Met een rugzak vol (levens-, werk- en management)ervaring, kennis en gereedschap staat Trainnovation klaar voor u, uw team en organisatie! Klaar om u te helpen uw doelen te definiëren en te bereiken. In overleg komen we tot het juiste plan van aanpak om dit te realiseren. De diensten van Trainnovation bestrijken een breed gebied, maar concentreren zich voornamelijk rondom trainen en coachen. Bedrijfstraining: Bedrijfscoaching:
Website Trainnovation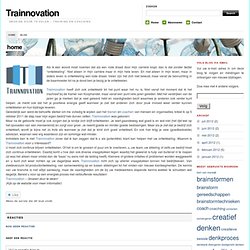 Weblog Trainnovation
Als ik één woord moet noemen dat als een rode draad door mijn carrière loopt, dan is dat zonder twijfel "ontwikkeling". Niet alleen in mijn carrière maar in mijn hele leven. En niet alleen in mijn leven, maar in ieders leven is ontwikkeling een rode draad. Velen zijn het zich niet bewust, maar vanaf de bevruchting in de baarmoeder tot na je dood ben je bezig je te ontwikkelen. Trainnovation heeft zich ook ontwikkeld tot het punt waar het nu is.