Creatief denken
Stormboard - Online Brainstorming and Planning. Add a sticky note and post it online with dot voting. Support - Mind Map Gallery. Innovation Games. Gamestorming. Collaboration Training. We're All in this TogetherA Collaborative Skills Training Innovation is a team sport that requires extraordinary collaboration.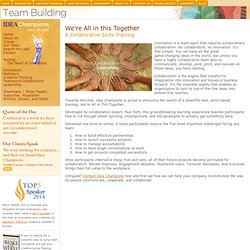 No collaboration, no innovation. It's that simple. Seth Godin. - Creativity Cards • Weblinks. Leuke of handige links Organisaties of sites op het gebied van creativiteit > kreanet> cocd.be > cocd.net > eaci.net > cpsb.com > triz-journal.com > waringin.nl > uitvindingen die ertoe deden > geschiedenisvoorkinderen.nl > worldwidebase.com > visionintoaction.de > edwdebono.com > basadur.com Startpagina's.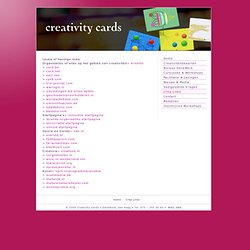 20 Critical Questions to Resolve for Successful Innovation. Some time back I compiled a list of those critical areas that I felt need addressing for innovation to have a chance of success.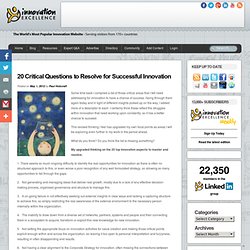 Going through them again today and in light of different insights picked up on the way, I added more of a descriptor to each. I certainly think these reflect the struggles within innovation that need working upon constantly, so it has a better chance to succeed. This revised thinking I feel has upgraded my own focal points as areas I will be exploring even further in my work in the period ahead. What do you think? Do you think the list is missing something?
Kwaliteitenspel.nl. Creative Thinking - Michael Michalko's Home page. The 10 Personas of a Good Brainstorm Facilitator. And allow me to make another wild guess.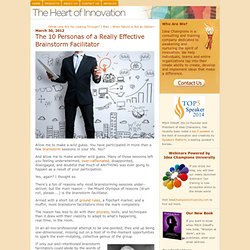 Many of those sessions left you feeling underwhelmed, over-caffeinated, disappointed, disengaged, and doubtful that much of ANYTHING was ever going to happen as a result of your participation. Yes, again? Website Trainnovation. Weblog Trainnovation.
---