Recipes
Individual Peach Ginger Hand Pies You Can Pack for Lunch | Apartment Therapy The Kitchn. If there's anything better than homemade pie, it's a petite and crusty hand pie that you can claim as your own and nibble at leisure.
And if there's anything better than a hand pie, it's one that's filled with jammy summer peaches and just a touch of spicy ginger. Don't you think? An afternoon in the kitchen makes enough hand pies to feed a crowd, but I'll admit they're a bit time-consuming. To better fit into your schedule, you could make the dough and shape the pies on one day, freeze them overnight, and then bake them straight from the freezer the next day. Look! Crispy, Creamy Avocado Fries | Apartment Therapy The Kitchn. KREWETKI - Smażone w cieście. Krewetki w cieście filo z sosem sojowymKrewetki w piwnej panierce z sosem tatarskimKrewetki w szynce parmeńskiej z dipem aioli ....................................................................................................................................................................................................................................Krewetki w cieście filo ΔZ rozmarynowym sosem sojowym Wyśmienite chrupiące krewetki zawijane w cieniutkie ciasto filo, wraz z ziarnami sezamu to moje ulubione danie lub przekąska.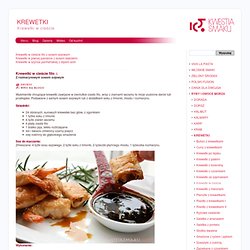 Podawane z samym sosem sojowym lub z dodatkiem soku z limonki, miodu i rozmarynu.Składniki: 24 obranych, surowych krewetek bez głów, z ogonkiem1 łyżka soku z limonki4 łyżki ziaren sezamu4 płaty ciasta filo1 białko jaja, lekko roztrzepanesól i świeżo zmielony czarny pieprzolej roślinny do głębokiego smażeniaSos do maczania:Zmieszane: 4 łyżki sosu sojowego, 2 łyżki soku z limonki, 2 łyżeczki płynnego miodu, 1 łyżeczka rozmarynu. 10 Ways to Eat a Potato (and Just a Potato) for Dinner | Apartment Therapy The Kitchn. Bacon-Cheddar Twice-Baked Potatoes It's going to involve a little more than butter and sour cream.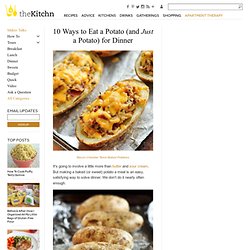 But making a baked (or sweet) potato a meal is an easy, satisfying way to solve dinner. We don't do it nearly often enough. How To Bake a Potato in the Oven. Chili, Lemon, and Basil Shrimp with Israeli Couscous Quick Dinner for Two | Apartment Therapy The Kitchn. Here's a quick, easy weeknight dinner.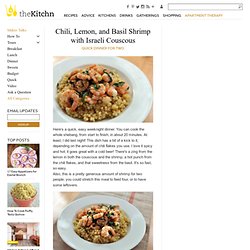 You can cook the whole shebang, from start to finish, in about 20 minutes. At least, I did last night! Kevin's Spicy Orange Teriyaki Chicken and Shrimp Quick Weeknight Meals Recipe Contest 2009 | Apartment Therapy The Kitchn. Previous image Next image Recipe: Spicy Orange Teriyaki Chicken and Shrimp How long does it take?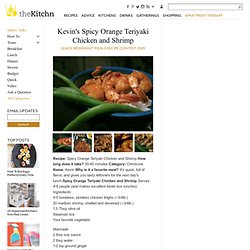 30-45 minutes Category: Omnivore Name: Kevin Why is it a favorite meal? Spicy Grilled Shrimp | Apartment Therapy The Kitchn. We ate this last night for dinner--fresh South Carolina shrimp seasoned with thyme, ancho chile powder, oregano, and .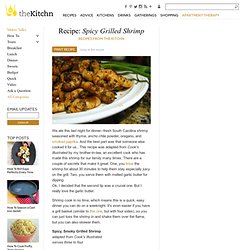 And the best part was that someone else cooked it for us...This recipe was adapted from by my brother-in-law, an excellent cook who has made this shrimp for our family many times. There are a couple of secrets that make it great: One, you the shrimp for about 30 minutes to help them stay especially juicy on the grill. Two, you serve them with melted garlic butter for dipping. Diana's Quick Jambalaya Quick Weeknight Meals Recipe Contest 2009 | Apartment Therapy The Kitchn.
Tarta z awokado. Tarta z awokado i suszonymi pomidorami Składniki, dla 4 osób: Ciasto: • 200 g mąki • 100 g zimnego masła, pokrojonego • 1 łyżeczka soli • 3 - 4 łyżki zimnej wody.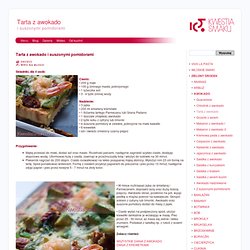 Przegryź sobie. Zapiekany ryż z warzywami. Zapiekanka z ryżem, warzywami i seremz pomidorami, bakłażanem, cukinią Składniki, 4 porcje: • 300 g dojrzałych pomidorów • 300 g bakłażana • 400 g cukinii • 2 łyżki oliwy z oliwek • 1/2 cebuli, posiekanej w kosteczkę • 1 ząbek czosnku, pokrojony na plasterki • 100 g surowego ryżu Arborio do risotto (lub zwykłego białego ryżu) • 250 ml wody lub bulionu • 250 ml passaty pomidorowej (przecieru pomidorowego) • sól morska i świeżo zmielony czarny pieprz • 4 łyżki oliwy z oliwek z pierwszego tłoczenia + dodatkowo do podania • 2 łyżki posiekanej natki pietruszki • 150 - 200 g tartego sera (użyłam sera owczego, ale może być dowolny) Przygotowanie: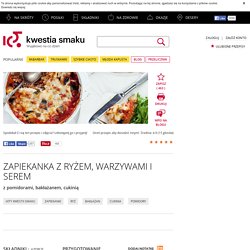 How To Make Ice Cream Without an Ice Cream Machine: An Easy, Foolproof Method | Apartment Therapy The Kitchn. Previous image Next image The ice cream after about an hour in the freezer, post-churning.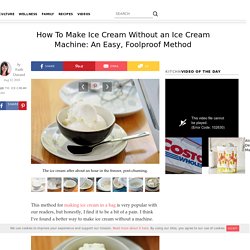 Dzisiaj zajmiemy się pieczeniem, a konkretnie – Pokazywarka.pl. Dzisiaj zajmiemy się pieczeniem, a konkretnie wypiekaniem jednej z najczęściej używanych baz polskich posiłków i przekąsek, czyli chleba.
Jakość pieczywa sprzedawanego aktualnie w "piekarniach" oraz sklepach spożywczych pozostawia wiele do życzenia (jeśli nie wszystko). Tak naprawdę ok. 80% wyrobów ciężko w ogóle nazwać pieczywem. Untitled. How to Grow Herbs Indoors - Feature - Top Stories. Easy? Maybe not. Rewarding? Tortilla z kurczakiem, Drób > Tortilla z kurczakiem. Tortilla z kurczakiem to danie, które możesz wykonać samodzielnie w domu. Z pewnością będzie zdrowsze, jeśli użyjesz wysokiej jakości składników i nie dodasz, żadnych poprawiaczy smaku. Tortilla z kurczakiem /fot. Fotolia Tortilla z kurczakiem - składniki pół filetu z piersi kurczaka (60g) liść sałaty (10g) 3 plasterki pomidora (21g) średni ogórek (100g) 2 łyżki jogurtu naturalnego (30g) ząbek czosnku (7g) łyżeczka oleju słonecznikowego (5ml) pół łyżeczki masła (3g) 2 łyżki mąki kukurydzianej (20g) 1,5 łyżeczki mąki pszennej (10g) szczypta soli woda.
The Original Red Velvet Cake. There are a lot of different recipes for Red Velvet Cake. Here is the one that I grew up with and still use. I have to say, it's worth buying a couple of heart-shaped cake pans just for this cake. It's a perfect Valentine's Day dessert. The 21 Coolest Summer Food Picks in New York City. 1Gin Cocktail The JB Combine—short for juniper (gin) and basil (the flavor and the garnish)—is as cool and inviting as a summer lawn. (Alto; $14; 212-308-1099). 2Frogurt Smooth and aberrantly tart, it's the only truly yogurty-tasting frozen yogurt in a Tasti D-Lite world (Forty Carrots at Bloomingdale's; $6 for a large; 212-705-3085). Home Made Tahini: Make Your Own Tahini Sesame Seed Paste. Tahini, or sesame seed paste, may be made of hulled or whole sesame seeds. This recipe for home made tahini, using a food processor with metal blades, uses whole sesame seeds which is more nutritious, but it does have a slightly stronger taste than tahini made with hulled seeds.
The texture may also be slightly coarser than store bought tahni, but it has the same delicious flavor, and may be far cheaper! When you make your own tahini, you are on your way to making tasty homemade homous and falafel which are delicious and cheap to make. Sesame seeds are rich in minerals such as calcium, zinc and manganese. Czarna Oliwka - Hummus. Red Velvet Cake. Red Velvet Cake I Recipe. Net: The Neiman-Marcus Cookie Story. Sernik "Dulce de leche" Best Recipes and Foods for Better Sex, Brain Health, More Energy, Weight Loss, Stress Reduction and Vegetarianism | EcoSalon: Organic Green Fashion, Design, Food, Tech, Travel, Culture, Pets and Lifestyle. Mrożony sernik z nutellą. Uroda, Moda, Zdrowie, Ciąża, Dzieci, Forum kobiety... Uroda, Moda, Zdrowie, Ciąża, Dzieci, Forum kobiety... Mana Bar :: Australia's First Video Game Bar. Odkrywanie angielskiego puddingu - Kuchnie na widelcu - Dla ciekawych świata / nawidelcu.pl.
---