Stitch Patterns
February 2, 2012 - Stefanie Yarn: Worsted Weight Acrylic Wraps Per Inch: 9 wpi Needles: US 6 – 4mm Gauge: 18 stitches = 4″ 24 rows = 4″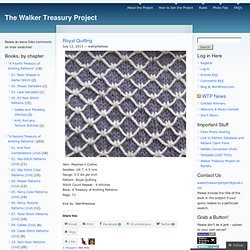 Knitting Stitch Patterns - a gallery on Flickr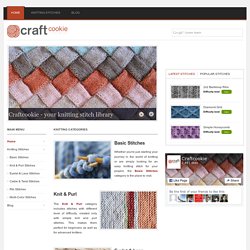 Whether you're just starting your journey in the world of knitting or are simply looking for an easy knitting stitch for your project, the Basic Stitches category is the place to visit. Knit & Purl The Knit & Purl category includes stitches with different level of difficulty, created only with simple knit and purl stitches. This makes them perfect for beginners as well as for advanced knitters. Eyelet & Lace The Eyelet & Lace category contains some of the most beautiful knitting stitches in our collection.
Cables
Free Stitches Knitting Pattern Link Directory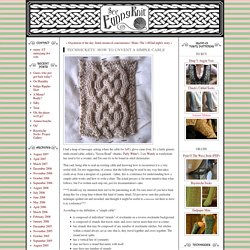 I had a heap of messages asking where the cable for Jeff's glove came from. It's a fairly generic multi-strand cable; called a "Saxon Braid" (thanks, Purly White!). I see Wendy at wendyknits has used it for a sweater, and I'm sure it's to be found in stitch dictionaries. That said, being able to read an existing cable and knowing how to reconstruct it is a very useful skill. I'm not suggesting, of course, that the following be used in any way that takes credit away from a designer of a garment - rather, this is a reference for understanding how a simple cable works and how to write a chart.