Designing
Knitting designer series: Creating a knitting pattern. Knitting designer series: I invited a few of my favourite knitwear designers to discuss their design process and inspiration and to share some tips and ideas too.
Hilary Smith Callis lives in San Francisco with her husband and toddler son. You can find her line of knitting patterns at theyarniad and find her on Ravelry as theyarniad. After I've published a new pattern, I often talk about my inspiration for the design, but I only focus on what it looks like. Rarely, if ever, do I get down into the details of how the pattern itself comes about. Design Seeds®: For All Who Love Color.
Knitty.com. Wrap your mind around this FINALLY!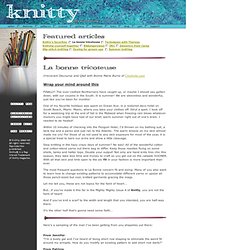 The over-clothed Northerners have caught up, or maybe I should say gotten down, with our cousins in the South. Sweater Menu. Site News: Recently AOL.com email addresses have been experiencing difficulty receiving the verification email following the creation of a new account.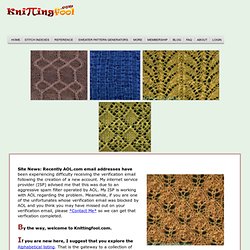 My internet service provider (ISP) advised me that this was due to an aggressive spam filter operated by AOL. My ISP is working with AOL regarding the problem. The Contiguous Method - a description of the contiguous method. Knitting Calculator - Calculate Yarn Requirements for a Variety of Projects at Jimmy Beans Wool. The Incredible, Custom-fit Raglan Sweater. A simple, fill-in-the-blanks method for making the incredible, custom-fit raglan--the sweater that is knit from the neck down in one piece, to fit anybody!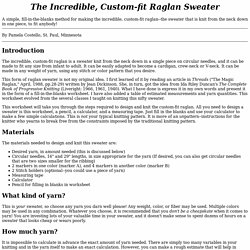 By Pamela Costello, St. Paul, Minnesota. Staying honest when measuring your swatch » Knit Picks Blog. I am beginning my first attention at a top down sweater.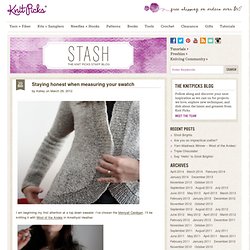 I've chosen the Merryall Cardigan. I'll be knitting it with Wool of the Andes in Amethyst Heather. Many, many, many years ago, I watched The Knitter's Workshop for the first time. Simple hat calculator - StumbleUpon. Abbreviations: K = Knit K2tog = Knit 2 stitches together as if they were one (this is a decrease).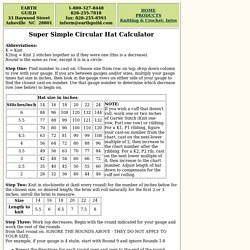 Round is the same as row, except it is in a circle. Step One: Find number to cast on: Choose size from row on top; drop down column to row with your gauge. Heels by Number. Heels by number Disclaimer: I have not personally turned each of these heels using the number of stitches indicated, but the numbers should work.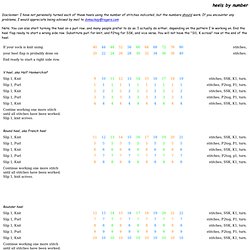 If you encounter any problems, I would appreciate being advised by mail to dvmackay@rogers.com. The Sock Calculator. Standards & Guidelines for Crochet & Knitting. The publishers, fiber, needle and hook manufacturers and yarn members of the Craft Yarn Council have worked together to set up a series of guidelines and symbols to bring uniformity to yarn, needle and hook labeling and to patterns, whether they appear in books, magazines, leaflets or on yarn labels.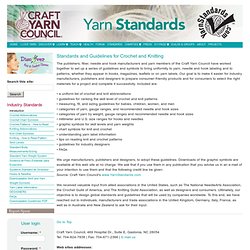 Our goal is to make it easier for industry manufacturers, publishers and designers to prepare consumer-friendly products and for consumers to select the right materials for a project and complete it successfully. Included are: Knitting Design for Beginners: Designing Knitwear Patterns; Getting Started. | Suite101.com. Once you can knit, there is nothing to stop you from designing your own simply shaped garments.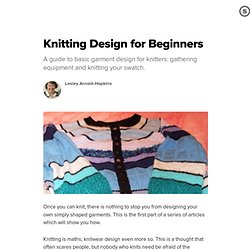 This is the first part of a series of articles which will show you how. Knitting is maths; knitwear design even more so. This is a thought that often scares people, but nobody who knits need be afraid of the numbers, as all knitters are already counting and measuring as they go. The mathematical side doesn't have to be difficult or complex, but it is vital. Designing your own patterns is straightforward and satisfying. The 'How Many…?' Knitting Tool. If I want to decrease 14 stitches over 6 inches - how many rows should I work between decreases?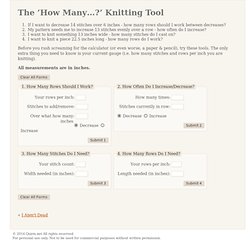 My pattern needs me to increase 13 stitches evenly over a row - how often do I increase? I want to knit something 13 inches wide - how many stitches do I cast on? I want to knit a piece 22.5 inches long - how many rows do I work? Tutorial: how to custom a fit a sweater.
---