Free Online Resources
TV | Video Product Reviews, CNET Podcasts, Tech Shows, Live CNET Video - CNET TV. The Library of Congress' Photostream. How to Set Up a Google+ Page for Your Business. Google+ has opened the doors for business and brand pages.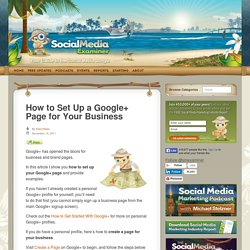 In this article I show you how to set up your Google+ page and provide examples. If you haven't already created a personal Google+ profile for yourself, you'll need to do that first (you cannot simply sign up a business page from the main Google+ signup screen). How to borrow a Kindle book from a public library. Starting today, you can check out digital Kindle books from your local library branch (well, one that's hip to digital downloads, anyway) and read them on your Kindle device, your desktop, or any smartphone or tablet that supports Amazon's free Kindle app.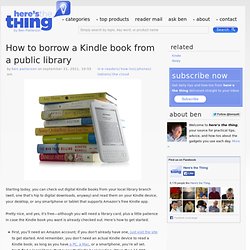 Pretty nice, and yes, it's free—although you will need a library card, plus a little patience in case the Kindle book you want is already checked out. Here's how to get started. First, you'll need an Amazon account; if you don't already have one, just visit the site to get started. And remember, you don't need an actual Kindle device to read a Kindle book; as long as you have a PC, a Mac, or a smartphone, you're all set.Next, find a local library that supports Kindle book lending. (More than 11,000 branches are lending Kindle volumes as of Wednesday, Amazon says.) GH7060 Bathroom Safety for Older People. Anna Cathryn Yost Department of Consumer and Family Economics James Martinr Physical Therapy Education Home bathrooms often need adaptation if an elderly person wants to stay at home and remain independent.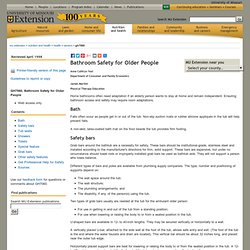 Ensuring bathroom access and safety may require room adaptations. Bath Falls often occur as people get in or out of the tub. CDS Boston English Country Dance Collection. Internet Archive: Digital Library of Free Books, Movies, Music & Wayback Machine. The Online Books Page. Dressmaking. The Ohio State University Press. (2) Daily Cheap Reads. 29 Semi-Productive Things I Do Online When I'm Trying to Avoid Real Work. Post written by: Marc Chernoff Email You don't always have to work hard to be productive.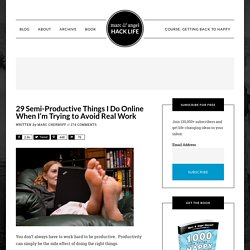 Productivity can simply be the side effect of doing the right things. So here's a list of 29 semi-productive things I do online when my mind is set on avoiding 'real work.' Check delicious popular tags like 'useful,' 'tutorials,' 'tips,' 'howto,' 'advice,' 'entrepreneurship,' etc. for interesting, educational articles to read.Watch one of the thousands of educational videos streaming at TED.com, Academic Earth and Teacher Tube.Read an online book list and find a new book to grab next time I'm at the library. E-books. 11 Tech Factors That Changed Education in 2011. Michael Staton is the founder of Inigral, which develops social software for student recruitment and higher education retention.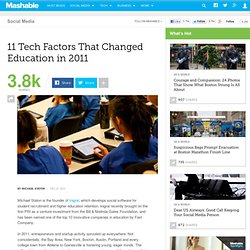 Inigral recently brought on the first PRI as a venture investment from the Bill & Melinda Gates Foundation, and has been named one of the top 10 innovative companies in education by Fast Company. In 2011, entrepreneurs and startup activity sprouted up everywhere. Not coincidentally, the Bay Area, New York, Boston, Austin, Portland and every college town from Abilene to Gainesville is fostering young, eager minds. Renascence Editions. Or try these narrowed seaches: New: Daniel Defoe.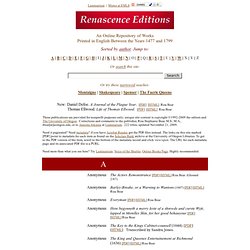 A Journal of the Plague Year. [PDF] [HTML] Risa Bear Thomas Ellwood. Technophilia: Get a free college education online. 12 Dozen Places To Educate Yourself Online For Free. Post written by: Marc Chernoff Email All education is self-education.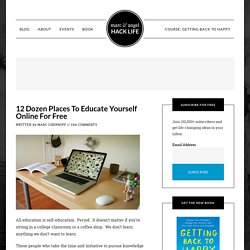 M.I.T. Game-Changer: Free Online Education For All. Bartleby.com: Great Books Online -- Quotes, Poems, Novels, Classics and hundreds more. The Online Books Page. Listing over 1 million free books on the Web - Updated Friday, April 25, 2014 Search our Listings -- New Listings -- Authors -- Titles -- Subjects -- Serials A public domain metadata gift for our 20th birthday -- Blog (Everybody's Libraries) -- Latest Book Listings.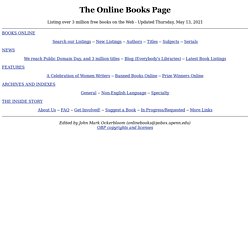 Gatorindo. IPL2 -- Subject Browsing. IPL -- Arts and Humanities -- Literature -- Online Texts26 resources KnowledgeRush Book Directory Large directory of popular literary works and historical documents available on the Web.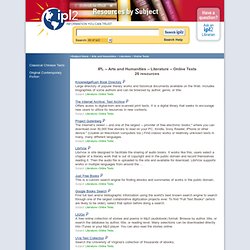 Includes biographies of some authors and can be browsed by author, genre, or title. Subject: Pictures of Science: 700 Years of Scientific and Medical Illustration. Collection History This digital collection draws upon the materials selected for an exhibition called "Seeing Is Believing," held in the Library's Gottesman Exhibition Hall, October 23, 1999 - February 19, 2000.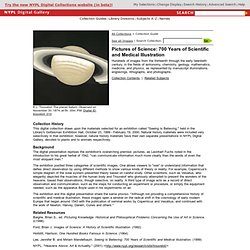 Natural history materials were included very selectively in that exhibition; however, natural history materials have their own separate presentations in NYPL Digital Gallery, devoted to plants and to animals respectively. Background.
---