History of Curation
Digital Curation: The Emergence of a New Discipline Sarah Higgins 2011, Vol. 6, No. 2, pp. 78-88 doi:10.2218/ijdc.v6i2.191 Abstract In the mid 1990s UK digital preservation activity concentrated on ensuring the survival of digital material – spurred on by the US report Preserving Digital Information (The Task Force on Archiving of Digital Information, 1996) and developed through JISC-funded activities.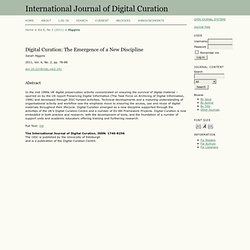 Digital Curation: The Emergence of a New Discipline | Higgins | International Journal of Digital Curation
Twitter made an interesting acquisition on Thursday, Jan. 19, when it bought a Canadian startup called Summify, a company whose service (as its name implies) was designed to cut through the noise of all those social-media streams and summarize the content that matters. More than anything, this is perhaps the single biggest hole that exists not just in Twitter but Facebook and other services as well: the need to give users more ways of filtering the massive amounts of information that keep flooding their activity streams and other social media in-boxes. There are so many ways of producing and sharing content but so few good ways of filtering. As has been reported elsewhere, Summify says it's mothballing its service (a decision that was not received warmly by many users), and the team of five will join the growing ranks at Twitter's new headquarters.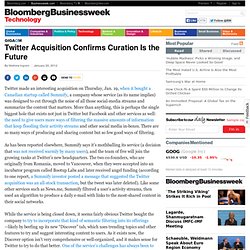 Twitter Acquisition Confirms Curation Is the Future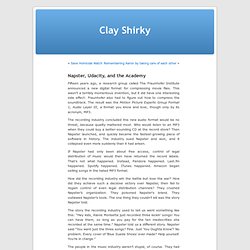 Fifteen years ago, a research group called The Fraunhofer Institute announced a new digital format for compressing movie files. This wasn't a terribly momentous invention, but it did have one interesting side effect: Fraunhofer also had to figure out how to compress the soundtrack. The result was the Motion Picture Experts Group Format 1, Audio Layer III, a format you know and love, though only by its acronym, MP3. The recording industry concluded this new audio format would be no threat, because quality mattered most. Who would listen to an MP3 when they could buy a better-sounding CD at the record store? Then Napster launched, and quickly became the fastest-growing piece of software in history.
If you've been using computers for a while, you've probably purchased quite a few devices for storing your work. My family's first computer (a Timex Sinclair 1000 purchased for about $40 in 1984 from our neighborhood grocery store) saved files to an ordinary audio cassette by transferring data over the same sort of cord you might use to connect your iPod to your car stereo. Since then I've used floppy disks, zip disks, CD-ROMS, DVD-ROMs, and memory sticks, and with each change I migrated most of my important files to the new format. Occasionally though, I, like most computer users, need to access files left behind on obsolete technology. I've written before in various places about the problem this poses for scholars and archivists working with the so-called "born digital" collections in our Library, but many of the tools and techniques I use as a digital curator, I also use to access my own digital history.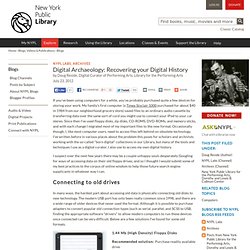 Digital Archaeology: Recovering your Digital History
In the beginning there was curation, and it was good. People found interesting things on the web, created directories of those things, and then you found what you were looking for inside those curated lists. That was the origins of the original lists and directories, from Yahoo on outward. But then that got too hard. The web got bigger faster than anyone could keep track.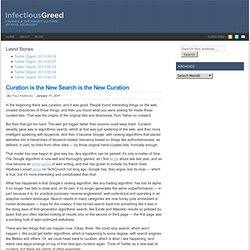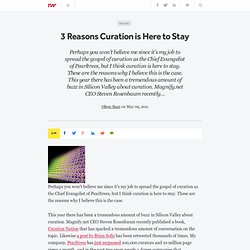 Perhaps you won't believe me since it's my job to spread the gospel of curation as the Chief Evangelist of Pearltrees, but I think curation is here to stay. These are the reasons why I believe this is the case. This year there has been a tremendous amount of buzz in Silicon Valley about curation. Magnify.net CEO Steven Rosenbaum recently published a book, Curation Nation that has sparked a tremendous amount of conversation on the topic. Likewise a post by Brian Solis has been retweeted thousands of times. My company, Pearltrees has just surpassed 100,000 curators and 10 million page views a month, and in the past two years nearly a dozen companies that incorporate digital curation into their models have launched.
news.geeknerdnetwork.com/?p=2152
Computer Systems Laboratory Colloquium
March 31, 2011 | 36 Comments Curation has always been an underrated form of creation. The Getty Center in Los Angeles is one of the most frequently visited museums in America – and started as a private art collection from one man (J.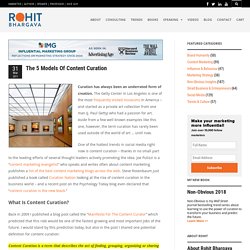 Last updated: 15:19 Source: Youtube Manchester United Uses Google Hangouts To Get World Fans Into Old Trafford Front Row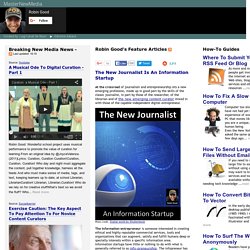 Stanford Law School Center for Internet and Society; United States Department of Justice Copyright Society of the USA, Vol. 54, Issue 218, January 2007 Abstract: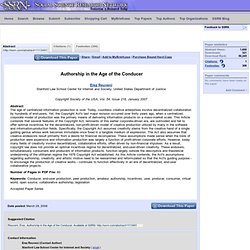 Authorship in the Age of the Conducer by Erez Reuveni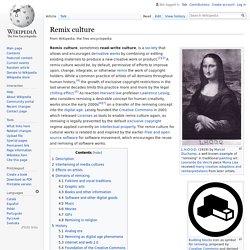 Read-Only Culture vs. Read/Write Culture[edit] The Read Only culture (RO) is the culture we consume more or less passively. The information or product is provided to us by a 'professional' source, the content industry, that possesses an authority on that particular product/information. Analog technologies inherently supported RO culture's business model of production and distribution and limited the role of the consumer to just that, 'consuming'. Digital technology, however, does not have the 'natural' constraints of the analog that preceded it.
Digital Curation Google Group
Interesting Google Group on Digital Curation set up a month or so ago, 25 November 2008 to be exact. Brief is: "Intended to be a collaborative space for people involved in the work of digital curation and repository development to share ideas, practices, technology, software, standards, jokes, etc."
Curator Effect
I took the summer off from the blog and presented Curator Culture at a few conferences. I also spent time writing a longer format article that I'm providing in its entirety here. Advertising Age published a version in its July 16, 2007 CMO Strategy column.
Not that familiar with "content strategy?" That's ok. It's in my job title, and I struggle every time I'm asked what I do for a living. Many people have no idea what it means, but even more people bring their own (wrong) assumptions to the conversation.