History of Curation
Digital Curation: The Emergence of a New Discipline Sarah Higgins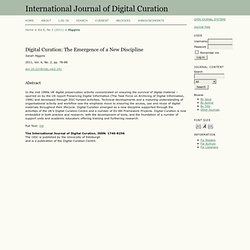 Digital Curation: The Emergence of a New Discipline | Higgins | International Journal of Digital Curation
Twitter made an interesting acquisition on Thursday, Jan. 19, when it bought a Canadian startup called Summify, a company whose service (as its name implies) was designed to cut through the noise of all those social-media streams and summarize the content that matters.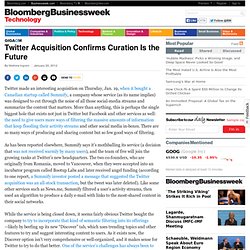 Twitter Acquisition Confirms Curation Is the Future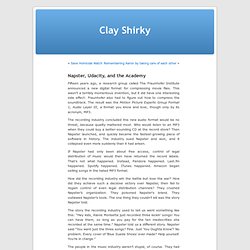 Fifteen years ago, a research group called The Fraunhofer Institute announced a new digital format for compressing movie files. This wasn't a terribly momentous invention, but it did have one interesting side effect: Fraunhofer also had to figure out how to compress the soundtrack. The result was the Motion Picture Experts Group Format 1, Audio Layer III, a format you know and love, though only by its acronym, MP3. The recording industry concluded this new audio format would be no threat, because quality mattered most. Who would listen to an MP3 when they could buy a better-sounding CD at the record store? Then Napster launched, and quickly became the fastest-growing piece of software in history.
If you've been using computers for a while, you've probably purchased quite a few devices for storing your work.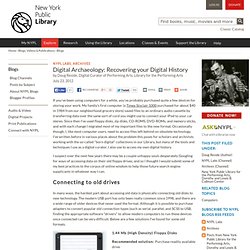 Digital Archaeology: Recovering your Digital History
In the beginning there was curation, and it was good.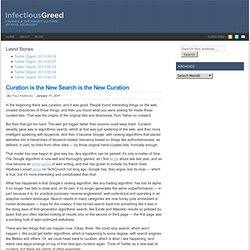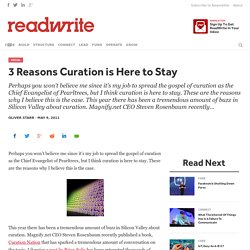 Perhaps you won't believe me since it's my job to spread the gospel of curation as the Chief Evangelist of Pearltrees, but I think curation is here to stay. These are the reasons why I believe this is the case. This year there has been a tremendous amount of buzz in Silicon Valley about curation. Magnify.net CEO Steven Rosenbaum recently published a book, Curation Nation that has sparked a tremendous amount of conversation on the topic.
news.geeknerdnetwork.com/?p=2152
Computer Systems Laboratory Colloquium
March 31, 2011 | 34 Comments Curation has always been an underrated form of creation. The Getty Center in Los Angeles is one of the most frequently visited museums in America – and started as a private art collection from one man (J.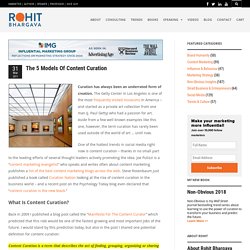 Stanford Law School Center for Internet and Society; United States Department of Justice Copyright Society of the USA, Vol. 54, Issue 218, January 2007 Abstract: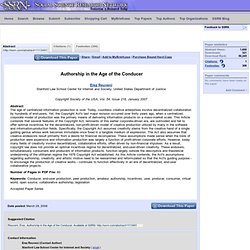 Authorship in the Age of the Conducer by Erez Reuveni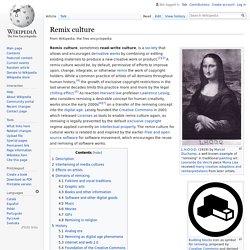 Read-Only Culture vs. Read/Write Culture[edit]
Digital Curation Google Group
Interesting Google Group on Digital Curation set up a month or so ago, 25 November 2008 to be exact. Brief is: "Intended to be a collaborative space for people involved in the work of digital curation and repository development to share ideas, practices, technology, software, standards, jokes, etc."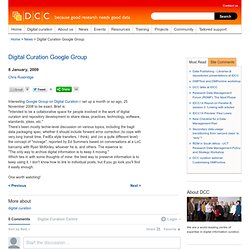 Curator Effect
Not that familiar with "content strategy?" That's ok. It's in my job title, and I struggle every time I'm asked what I do for a living. Many people have no idea what it means, but even more people bring their own (wrong) assumptions to the conversation.