Curation & marketing
Content Pandemics and the Impetus for Enterprise Content Curation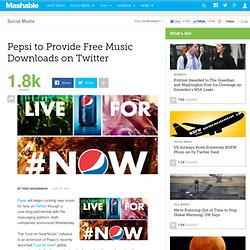 Pepsi will begin curating new music for fans on Twitter through a year-long partnership with the messaging platform, both companies announced Wednesday. The "Live for Now Music" initiative is an extension of Pepsi's recently launched "Live for Now" global campaign, will offer free music downloads, music videos and a series of pop-up concerts this summer and fall.
Pepsi to Provide Free Music Downloads on Twitter
Image via CrunchBase Kipp Bodnar of HubSpot shares his thoughts on curation as a marketing strategy…
A Marketer's Guide to Content Curation | Power Tools for Thought Leaders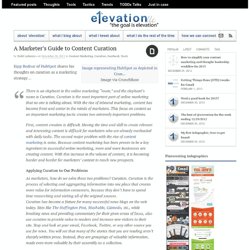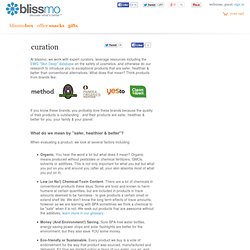 At blissmo, we work with expert curators, leverage resources including the EWG "Skin Deep" database on the safety of cosmetics, and otherwise do our research to introduce you to exceptional products that are safer, healthier & better than conventional alternatives. What does that mean?
s curation philosophy | blissmo
Content curation is the organizing, filtering and "making sense of" information on the web and sharing the very best pieces of content that you've cherry picked with your network.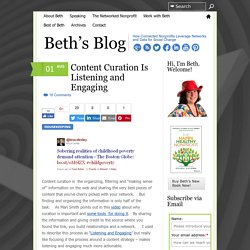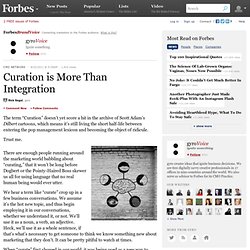 The term "Curation" doesn't yet score a hit in the archive of Scott Adam's Dilbert cartoons, which means it's still living the short half-life between entering the pop management lexicon and becoming the object of ridicule.
The 30 Best Content Curation Resources for Marketers and Business Pros
When I first graduated from college almost 20 years ago, I quickly learned that I was not prepared to have conversations with experienced business professionals on the reality of the business challenges they were confronting. My approach was to subscribe to 3 magazines: BusinessWeek, Fast Company and Newsweek and I read the newspaper every single day.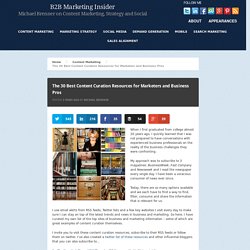 La curation et le personal branding c'est possible ! | E-Reputation de la veille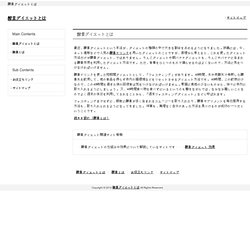 最近、酵素ダイエットという手法が、ダイエットの種類の中で大きな割合を占めるようになりました。
Content curation has drawn my interest. I was at a tech conference last week and saw a couple of pretty cool applications for curating content. Setting a side the debate of right or wrong, these new content curation tools will make their mark.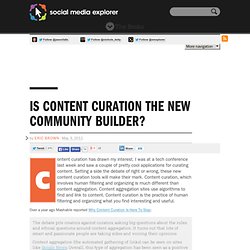 Is Content Curation the New Community Builder?
Sharing Content to Show Thought Leadership
As many of us know, in the social media marketing game content is king! Without anything to Tweet about or post about on Facebook our communities would fall by the wayside and our customers would stop listening to us.
Content Curation versus Content Creation | Uptown Treehouse Blog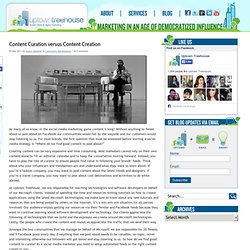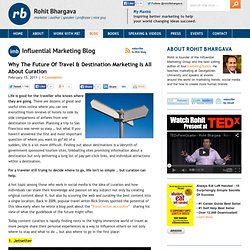 February 15, 2011 | 4 Comments Life is good for the traveller who knows where they are going. There are dozens of great and useful sites online where you can see everything from reviews of hotels to side by side comparisons of airfares from one destination to another.
Why The Future Of Travel & Destination Marketing Is All About Curation
The new billion-dollar opportunity: real-time-web curation - scobleizer's posterous | Web Content & Digital Curation
How to use content curation to add value to your own website
If you are responsible for adding high-value content to your website, you are constantly being challenged to find page or post topics which are new, shareable, helpful and original. As Google's recent Panda update taught us, quick and easy content is not going to get our pages listed on page one of the search results.
Most of us understand the value of sharing information.
Content curation, a term that gained popularity in 2010, is the art of culling relevant, valuable and useful information from the vast ocean of data, and presenting it in a cohesive, interesting and comprehensive style that gives a 'big picture' view of a specific niche topic. No longer can anyone claim that they can peruse and make sense of all the content that exists (and is being constantly added) on even a very narrow range of subjects. 47 million websites were added in 2009 and an estimated 550 billion documents exist online today. The role of a content curator was first proposed around 2004, when the catchy term 'Newsmastering' was introduced by Robin Good of MasterNewMedia.com to describe a dedicated content analyst who would gather, collate and categorize content from various sources and compile it for consumption by those who are interested.
Content Curation – How Infopreneurs Can Quickly Add Value | How To Blog & Information Marketing
Like many digital marketers, I consume and create large amount of content daily.
Why Attention is the New Currency Online
One of the continuing trends in B2B social media is curating content from other sources and presenting it to your followers and subscribers. Depending on the medium you use to present it, this may include your own comments about the curated articles.
6 Ways to Use Curation for B2B Social Media
Content Curation Has Taken Center Stage as Marketing Strategy per Study Results From HiveFire
What Is Content Curation? | The Content Authority
Content-Curation-2
Content Curation – The Cure for What Ails Pharma Social Media?