Curation/Community
C-Change Media Inc. Brain Pickings. The Browser: intelligent curation is serious business. Despite his rakish appearance, garrulous talk and intense enthusiasm for the Web, Henry Lane Fox has always been something of a quiet man on the U.K.'s Internet scene.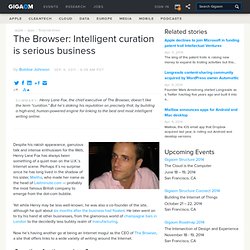 Perhaps it's no surprise since he has long lived in the shadow of his sister, Martha, who made her name as the head of Lastminute.com — probably the most famous British company to emerge from the dot-com bubble. Yet while Henry may be less well-known, he was also a co-founder of the site, although he quit about six months after the business had floated. He later went on to try his hand at other businesses, from the glamorous world of champagne bars in London to the decidedly less bubbly realm of manufacturing. Now he's having another go at being an Internet mogul as the CEO of The Browser, a site that offers links to a wide variety of writing around the Internet. Ken KaplanScoop. Our Lord of Curation series presents to you some of the great curators on Scoop.it.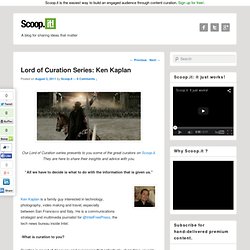 They are here to share their insights and advice with you. "All we have to decide is what to do with the information that is given us." Ken Kaplan is a family guy interested in technology, photography, video making and travel, especially between San Francisco and Italy. He is a communications strategist and multimedia journalist for @IntelFreePress, the tech news bureau inside Intel. A better definition of collective curation - Crowdspoke Blog. Content Curation Essentials by Janet Aronica (@JanetAronica) - oneforty. New twists on content curation | oneforty.
---