Curation/Community
C-Change Media Inc.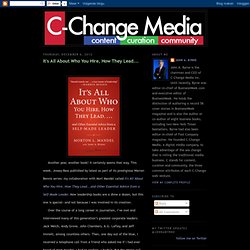 Google's latest decision to change its secret algorithms to reduce the rankings of trashy websites is a long overdue and important step to improve the company's core product: search. But the bigger problem with Google is not how spammers and low-quality web publishers have figured out how to game Google's search results, something I wrote about in August of last year in "Google? Where Are You?" and "Bing vs. Google: Guess Who Wins?" What has really eroded the company's dominance in search is good, old fashioned competition from new innovative rivals.
By: Maria Popova "Through our scopes, we see ourselves. Every new lens is also a new mirror." Given my longtime fascination with the so-termed digital humanities and with data visualization, and my occasional dabbles in the intersection of the two, I've followed the work of data scholars Erez Aiden and Jean-Baptiste Michel with intense interest since its public beginnings. Now, they have collected and contextualized their findings in the compelling Uncharted: Big Data as a Lens on Human Culture (public library) — a stimulating record of their seven-year quest to quantify cultural change through the dual lens of history and digital data by analyzing the contents of the 30,000 books digitized by Google, using Google's Ngram viewer tool to explore how the usage frequency of specific words changes over time and what that might reveal about corresponding shifts in our cultural values and beliefs about economics, politics, health, science, the arts, and more.
The Browser: intelligent curation is serious business
Despite his rakish appearance, garrulous talk and intense enthusiasm for the Web, Henry Lane Fox has always been something of a quiet man on the U.K.'s Internet scene. Perhaps it's no surprise since he has long lived in the shadow of his sister, Martha, who made her name as the head of Lastminute.com — probably the most famous British company to emerge from the dot-com bubble. Yet while Henry may be less well-known, he was also a co-founder of the site, although he quit about six months after the business had floated. He later went on to try his hand at other businesses, from the glamorous world of champagne bars in London to the decidedly less bubbly realm of manufacturing. Now he's having another go at being an Internet mogul as the CEO of The Browser, a site that offers links to a wide variety of writing around the Internet.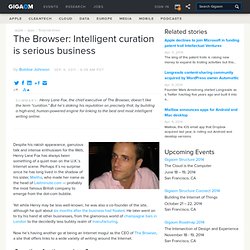 Ken KaplanScoop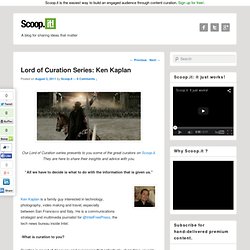 Our Lord of Curation series presents to you some of the great curators on Scoop.it. They are here to share their insights and advice with you. "All we have to decide is what to do with the information that is given us." Ken Kaplan is a family guy interested in technology, photography, video making and travel, especially between San Francisco and Italy. He is a communications strategist and multimedia journalist for @IntelFreePress, the tech news bureau inside Intel.
A better definition of collective curation - Crowdspoke Blog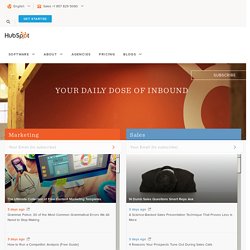 Why Marketing Is So Hard Marketing is hard. But the problem is that too many people think it isn't. Especially with all the new, "magic bullet" technologies out there that pretty much do everything for you.