Art
- StumbleUpon
The Art of Paul Kuczynski - mashKULTURE - StumbleUpon
This exclusive free web application is brand new. Unforunately it is only available from December 2008 to February 2009, so make sure you tell your friends about it now! :) All images used in the construction of images mosaics are fetched from Flickr and copyright of their respective owners.
Image Mosaic Generator - StumbleUpon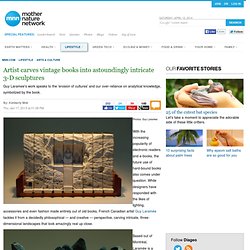 Photos: Guy Laramee With the increasing popularity of electronic readers and e-books, the future use of hard-bound books also comes under question. While designers have responded with the likes of lighting, accessories and even fashion made entirely out of old books, French Canadian artist Guy Laramée tackles it from a decidedly philosophical — and creative — perspective, carving intricate, three-dimensional landscapes that look amazingly real up close. Based out of Montréal, Laramée is a multidisciplinary artist, writer, director, composer and anthropologist. "Biblio" and "The Great Wall" are his series of sculpted vintage books, which range from ridged landscapes and Zen gardens to actual archaeological landmarks like the Temple of Petra.
Artist Carves Vintage Books Into Astoundingly Intricate 3D Sculptures (Photos) : TreeHugger - StumbleUpon
Heike Weber Installations | bumbumbum - StumbleUpon
Leaf Cut Art by Lorenzo Durán - StumbleUpon