Tools
Bar & Column charts are very useful for comparison. Here is a little trick that can enhance them even more. Lets say you are looking at sales of various products in a column chart. And you want to know how sales of a given product compare with a lower bound (last year sales) and an upper bound (competition benchmark). By adding these boundary markers, your chart instantly becomes even more meaningful.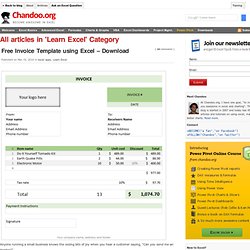 All Articles on Learn Excel
Nathan Zaru - Nathan Zaru Blog
Real SEOs work in Excel! SeoTools is an Excel add-in that adds a bunch of useful functions for working with SEO and other web metrics directly in Excel. For example you can use SeoTools for: Onpage analysis and debuggingCreate your own SEO scorecard/reportMonitor and analyze back linksScrape any website or web service and get data directly into Excel using regular expressions or XPATHDomain researchString templatingGet any data out of Google AnalyticsMonitor social media effortsAvoid duplicate content when writing textsWork with your MajesticSEO or SEOlytics account.And much more…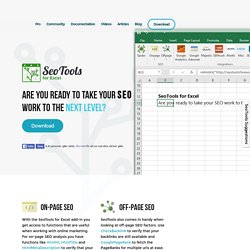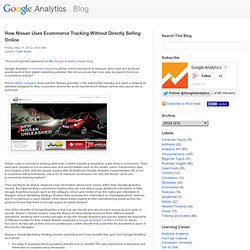 How Nissan Uses Ecommerce Tracking Without Directly Selling Online
Google Analytics' e-commerce tracking allows online merchants to measure items sold and tie those results back to their digital marketing activities. But did you know that it can also be used to track non e-commerce activity? Nissan Motor Company does just this. Nissan operates in the automobile industry, and owns a network of websites designed to help consumers around the world decide which Nissan vehicle they would like to purchase. Nissan uses e-commerce tracking whenever a visitor submits a request for a test drive or a brochure.
The Best Content Marketing Infographics
We all know that when it comes to getting high rankings in the search engines link building is one of the most critical activities you can engage in…whether you are using tactics to get a large amount of links or zeroing in on attracting high-authority links . But most of that work is done manually. This can be time-consuming and boring. This is why I've been exploring ways to automate my search for link building opportunities with free alerts. I'll share these tools with you…and then explain how you can take advantage of the link building opportunities that arise from these discoveries. Finding link building opportunities with Google Alerts
The Inside Scoop to Finding Link Building Opportunities with Free Alerts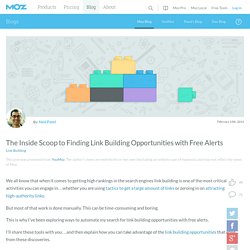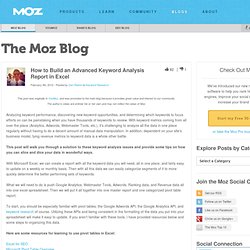 How to Build an Advanced Keyword Analysis Report in Excel - YouMoz
Analyzing keyword performance, discovering new keyword opportunities, and determining which keywords to focus efforts on can be painstaking when you have thousands of keywords to review. With keyword metrics coming from all over the place (Analytics, Adwords, Webmaster Tools, etc.), it's challenging to analyze all the data in one place regularly without having to do a decent amount of manual data manipulation. In addition, dependent on your site's business model, tying revenue metrics to keyword data is a whole other battle.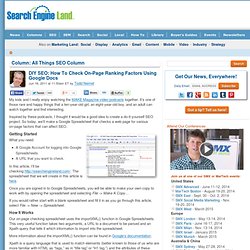 DIY SEO: How To Check On-Page Ranking Factors Using Google Docs
My kids and I really enjoy watching the MAKE Magazine video podcasts together. It's one of those rare and happy things that a ten-year-old girl, an eight-year-old boy, and an adult can watch together and find interesting. Inspired by these podcasts, I thought it would be a good idea to create a do-it-yourself SEO project. So today, we'll make a Google Spreadsheet that checks a web page for various on-page factors that can affect SEO.
For a long time I've been pulling an RSS feed from Twitter for the query: "guest post" OR "guest author" [TOPIC] into my Google Reader.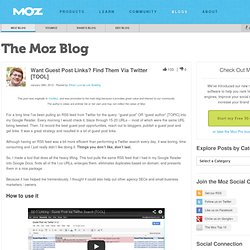 Want Guest Post Links? Find Them Via Twitter [TOOL] - YouMoz
Buzzstream Review: How Does it Measure Up?
Raven SEO Tools Review
Best link dev idea generators Link Development forum at WebmasterWorld