Social media marketing
HelpfulTools
Adverblog | Digital advertising and marketing: only the best ideas worldwide, since 2003. Ignition. Storify · Create social stories. Outreach. Dl/Social-Signal-Experiment.pdf. Social Cases. SM-ViralWorks. Google+: A few big improvements before the New Year. Today we're pleased to announce a goodie basket full of Google+ features and functionality for you to unpack and enjoy over the holidays.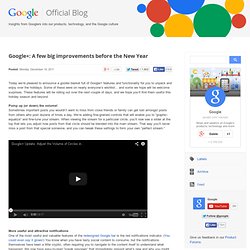 Some of these were on nearly everyone's wishlist... and some we hope will be welcome surprises. These features will be rolling out over the next couple of days, and we hope you'll find them useful this holiday season and beyond. Pump up (or down) the volume! Sometimes important posts you wouldn't want to miss from close friends or family can get lost amongst posts from others who post dozens of times a day. Twenty-Nine-Year-Old Hearsay Social CEO Clara Shih Joins Starbucks Board Of Directors.
Untitled. Google+ Pages, Google Direct Connect, and You – The Future | Market & Convert. It's finally true.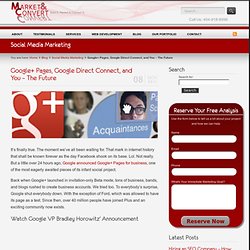 The moment we've all been waiting for. That mark in internet history that shall be known forever as the day Facebook shook on its base. Lol. Types of Social Media Content to Boost SEO. I've written often about the benefits of going viral in both content and marketing strategies.
Increasingly, however, social media content (a.k.a. viral content) does more than increase brand recognition and site traffic: it can also boost your SEO signals. As search engines pay more and more attention to social signals, going viral is rapidly becoming one of the best ways to build links, attract attention, and establish authority and legitimacy in your field. How Social & SEO Are Linked Let's start with the obvious: social media builds links. In fact, viral content serves the same purpose as a link building campaign: gathering endorsements that establish authority and legitimacy in your field. StumbleUpon's Mobile Growth Rockets 800%; Company Unveils Major Redesign With 250 Brand Partners. StumbleUpon, the discovery engine that enables its users to "Stumble" onto personalized web content, unveiled a major redesign Monday, introducing a slew of upgrades that include a streamlined interface, recommendation improvements, and the addition of brand channels.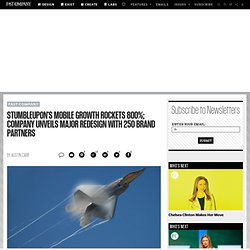 But what's really driving the overhaul isn't some product-cycle deadline--it's StumbleUpon's mobile growth, which has rocketed 800% in the last year, becoming core to the company and its future business potential. "We're doing a complete relaunch of the site, and a lot of it is inspired by our mobile experience," says CEO Garrett Camp. "It's basically because of our mobile traction. Survey: Inbound Marketing Cost Per Lead Is 60% Lower Than Outbound. So, how can your organization lower its marketing costs by 60%?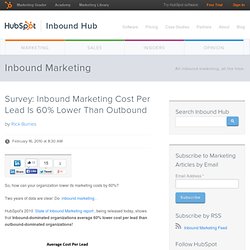 Two years of data are clear: Do inbound marketing . HubSpot's 2010 State of Inbound Marketing report , being released today, shows that Inbound-dominated organizations average 60% lower cost per lead than outbound-dominated organizations! The report is based on a survey of 231 people involved with or familiar with their business' marketing strategy. We asked them to provide their average cost per lead, then compared the cost-per-lead for organizations that focus on inbound marketing ( Social media , blogs , PPC , SEO ) to the cost per lead for organization that focus on outbound marketing (direct mail, telemarketing, trade shows). How Social Media Helped Kate Spade Become a Global Brand. If our play-by-play coverage is any testament, Kate Spade New York ranks among the strongest brands in the online marketing space.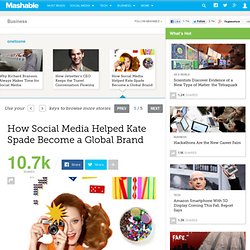 From Twitter and Tumblr to Instagram and online video, we've been consistently impressed with the quality and strength of voice the fashion and lifestyle label has brought to each new platform. We're not alone: Luxury research and advisory firm L2 ranked Kate Spade second in its third annual Digital IQ Index in the fashion category, just behind Burberry. Four years ago, the label's future was less certain. How a photographer generated over $100,000 through Facebook. When I asked Craig Finlay how Facebook became a major lead generator for his wedding photography business, he interrupted me mid-sentence.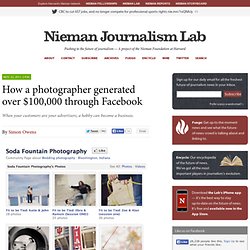 "It's not a major lead generator," he said. "It's the entirety of the business." Finlay's experience is a neat case study in the power of social marketing. Up until 2010 or so, photography had been mostly a hobby. He was an avid practitioner of urban exploration, a term for photographers who enter — oftentimes illegally — abandoned buildings and urban structures to photograph their interiors. INFOGRAPHIC: Here's How To REALLY Use LinkedIn.
LinkedIn is the proverbial dark horse of social media: we all know it's there, but few of us use it to its full potential.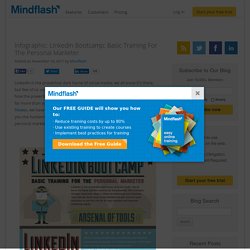 With just a little bit of effort you will see how the powerful social site can help you market yourself and your business far more than you imagined. With help from the LinkedIn guru himself, Lewis Howes, we have enrolled you in our basic LinkedIn boot camp training to give you the fundamental tools necessary to use the site for all your business and personal marketing needs.
How To Get TechCrunch'd. Www.webmarketing123.com/wordpress/wp-content/uploads/2011/11/Webmarketing123_Digital-Marketing-Report-Infographic_2011.pdf. EdgeRank Checker | Check your Facebook Page's EdgeRank. Is Facebook really a valid B2B marketing channel? | Coast Digital Blog. Social media is becoming an increasingly large element within the B2B marketing landscape and with 79% of B2B markets feeling that social media is relevant to B2B organisations (The B2B Barometer, 2011) this is unsurprising.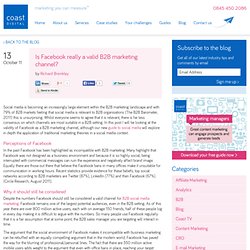 Whilst everyone seems to agree that it is relevant, there is far less consensus on which channels are most suitable in a B2B setting. In this post I will be looking at the validity of Facebook as a B2B marketing channel, although our new guide to social media will explore in depth the application of traditional marketing theories in a social media context. Perceptions of Facebook In the past Facebook has been highlighted as incompatible with B2B marketing.
Many highlight that Facebook was not designed as a business environment and because it is so highly social, being interrupted with commercial messages can ruin the experience and negatively affect brand image.
---