Blackberry Playbook
PlayStation Emulator for PlayBook: PCSX-ReARMed-PB. CompRemote - Zhuowei's website. The source of CompRemote lite is now available.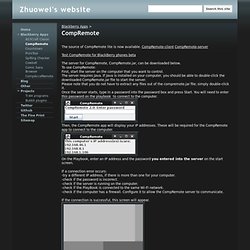 CompRemote-clientCompRemote-server Test CompRemote for BlackBerry phones beta The server for CompRemote, CompRemote.jar, can be downloaded below. CompRemote Lite; utiliza tu BlackBerry PlayBook como ratón para tu PC o portátil | LaBlackBerry.com | BlackBerry; temas, noticias, juegos y accesorios. Rebuscando alguna aplicación que utilizar con mi BlackBerry PlayBook a falta de la llegada del cliente nativo de email o el calendario me he topado con CompRemote Lite, una de esas aplicaciones que te sorprenden y te agradan.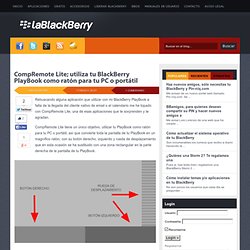 CompRemote Lite tiene un único objetivo, utilizar tu PlayBook como ratón para tu PC o portátil, así que convierte toda la pantalla de tu PlayBook en un magnífico ratón, con su botón derecho, izquierdo y rueda de desplazamiento que en esta ocasión se ha sustituido con una zona rectangular en la parte derecha de la pantalla de tu PlayBook. BlackBerry Convertible Case for PlayBook | BlackBerry PlayBook Flip-Lid Cases. Looking for a protective case and a multi-angle stand for your BlackBerry PlayBook 4G LTE or PlayBook?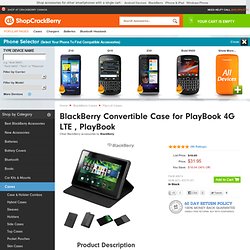 The BlackBerry Convertible Case is the perfect solution for you. With this case you have the option to use two ideal typing angles or flip it around for the perfect view when watching movies. Access to media ports and headphones are available so you can use your tablet without taking it out of the case. The panels are reinforced for an extra layer of protection. Features: How to Connect your BlackBerry PlayBook tablet. One of the great features with the BlackBerry® PlayBook™ tablet is the variety of connections you can use to browse the Internet, access your email and stay connected with friends and colleagues while on the go!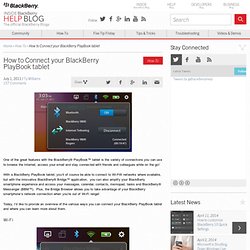 With a BlackBerry PlayBook tablet, you'll of course be able to connect to Wi-Fi® networks where available, but with the innovative BlackBerry® Bridge™ application, you can also amplify your BlackBerry smartphone experience and access your messages, calendar, contacts, memopad, tasks and BlackBerry® Messenger (BBM™). Plus, the Bridge Browser allows you to take advantage of your BlackBerry smartphone's network connection when you're out of Wi-Fi range! Today, I'd like to provide an overview of the various ways you can connect your BlackBerry PlayBook tablet and where you can learn more about them.
Wi-Fi. Clearing up the PlayBook Confusion: BlackBerry Bridge vs. Internet Tethering. As I read through forum threads and check out blog post comments both here on CrackBerry and on other websites, I am noticing there is still a lot of confusion surrounding a few specific aspects of RIM's first tablet.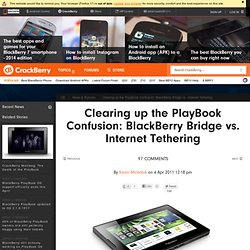 Hopefully RIM's PlayBook marketing efforts will clean up the mess as we near launch, but in the meantime I'll do my best to help the cause. I already addressed the no native email, calendar, contacts at launch issue here, and in this post we're going to clear up the misunderstandings between Internet Tethering and the BlackBerry Bridge on the BlackBerry PlayBook and answer some of the big questions regarding both.
Here we go! Poynt: A BlackBerry Super App Extended to PlayBook. (Originally posted on the Inside BlackBerry Developer's Blog) (YouTube link for easy mobile viewing) One incredibly cool demo that I saw this year at BlackBerry® World™ 2011 was Poynt's integration of BlackBerry push services to call a number on a BlackBerry® smartphone from their BlackBerry PlayBook™ tablet app.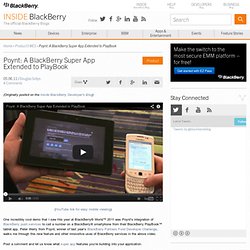 Peter Werry from Poynt, winner of last year's BlackBerry Partners Fund Developer Challenge, walks me through this new feature and other innovative uses of BlackBerry services in the above video. PlayBook for Business (Video) (Originally posted on the Inside BlackBerry for Business Blog) [ YouTube link for mobile viewing ] I'm really excited to have to have this opportunity today to present you with a new BlackBerry PlayBook video.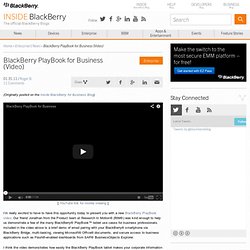 Our friend Jonathan from the Product team at Research In Motion® (RIM®) was kind enough to help us demonstrate a few of the many BlackBerry® PlayBook™ tablet use cases for business professionals. Included in the video above is a brief demo of email pairing with your BlackBerry® smartphone via BlackBerry Bridge, multi-tasking, viewing Microsoft® Office® documents, and secure access to business applications such as Flash®-enabled dashboards from SAP® BusinessObjects Explorer. PlayBook Native Email App Demo (VIDEO)
(YouTube link for easy mobile viewing) In one of the most anticipated demos of BlackBerry World™ 2011, keynote attendees got a sneak peek of the upcoming Native email and PIM (Personal Information Management) for the BlackBerry® PlayBook™ tablet.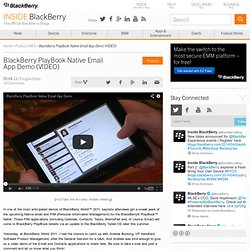 These PIM applications (including Calendar, Contacts, Tasks, MemoPad and, of course, Email) will come to BlackBerry PlayBook tablets via an update to the BlackBerry Tablet OS later this summer. Protector Invisible Shield Blackberry Playbook Tablet - $ 80.000 en MercadoLibre. Protector Invisible Shield Blackberry Playbook Pantalla - $ 50.000 en MercadoLibre. Transferencia de archivos de la PC a la PB por wi-... - Foros de Soporte Comunitario BlackBerry. Hola antonio_vh, Es bien sencillo, activa en las configuraciones donde está el engrane el uso compartido y te va a pedir asignar una clave, te sugiero pongas una.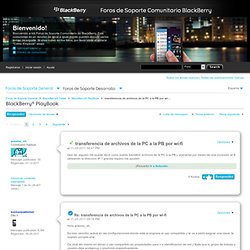 Da click ahi mismo en almac y uso compartido en propiedades para ir a identificacion de red y fijate que tu grupo de trabajo y usuario diga workgroup y playbook respectivamente. Luego, sal de ahi para ir a 'Acerca de' que es la primera opcion del lado izquierdo hasta arriba y da click donde dice General para después dar click en red y anota la IPv4 que tiene tu playbook. SINCRONIZACION DEL PLAYBOOK - Foros de Soporte Comunitario BlackBerry. Hola DISCO03, Si continuas con el problema de sincronización con el PlayBook y BlackBerry Desktop Manager, te aconsejo que lo actualices a la versión reciente, que incluye soporte para el PlayBook.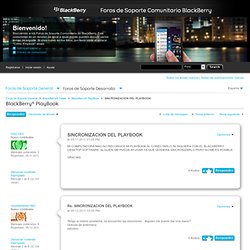 La versión debería de ser 6.0.2 y esta disponible gratis en es.blackberry.com/desktop. De vueltas con la 2.0, esta vez con las Apps de An... - Foros de Soporte Comunitario BlackBerry. Despues de la decepción que me lleve (menudo disgusto) con el retraso de la salida de la 2.0 decidí ir a por todas y poner en funcionamiento como fuera las aplicaciones Android, y despues de varias instalaciones, vueltas a la 1.7 y vueltas a la 2.0, visitar multiples foros, estar traduciendo y traduciendo post ingleses para poder tenerlo al final todo dió su fruto y ahora estoy instalando aplicaciones Android como un loco. Soy Fan de Dropbox (tengo cuenta premium) y ahora tengo la app de android que funciona de maravilla, de Pulse el lector de feeds que mas me gustaba en iOS, iM para tener chat con mis cuentas. etc etc...
Os dejo captura. Saludos. PlayBook - Foros de Soporte Comunitario BlackBerry. Playbook and USB connection issues. Troubleshooting PlayBook USB connectivity issues on Windows | Brightpoint GB Blog. Should your BlackBerry PlayBook not connect to your Windows PC via USB on the first attempt, there are a number of troubleshooting steps you can take. Firstly you should ensure that you are running the latest version of the BlackBerry Desktop Manager software available from ideally you should be running version 6.0.2.44 Bundle 45 or later. If running Windows 7 64-bit, you should ensure that you are running Service Pack 1 or later. When first connected to the PC, Windows should detect the new hardware as a "RIM Network Device" and add it as a Network Adapter. KB26068-Cómo transferir archivos a/desde la tableta BlackBerry PlayBook. Renuncia de responsabilidad Al descargar, acceder o utilizar de cualquier otra forma los documentos de la base de conocimientos, acepta: (a) que los términos de uso de los documentos disponibles en.
[Videotutorial] Como conectar tu BlackBerry PlayBook a tu televisión | LaBlackBerry.com | BlackBerry; temas, noticias, juegos y accesorios. Cuando salió al mercado ya os colocamos un vídeo de como conectar vuestra BlackBerry PlayBook a la televisión, aunque en aquella ocasión érais pocos los que contábais con una BlackBerry PlayBook pues todavía no había llegado a España, además el vídeo que colgamos en su día estaba en inglés, y claro, no todo el mundo está familiarizado con el idioma anglosajón. En esta ocasión, y gracias nuevamente a @tejedor1967 os traemos un video tutorial de como conectar vuestra BlackBerry PlayBook a la televisión y como sacar el mayor rendimiento a esa conexión que ostenta la BlackBerry PlayBook y que carecen muchas otras tablets que están en el mercado.
Os recomiendo que no os perdáis este vídeo, es totalmente instructivo y aprovecharéis vuestra BlackBerry PlayBook al máximo. Ver vídeo desde tu smartphone. Como intercambiar archivos entre tu BlackBerry PlayBook y tu PC en red | LaBlackBerry.com | BlackBerry; temas, noticias, juegos y accesorios. Cuando trabajamos bajo una red Wifi todo puede resultar mucho más sencillo, primero podremos dotar de una conexión de datos a nuestra BlackBerry PlayBook sin utilizar el BlackBerry Bridge o utilizar nuestro smartphone como modem. Otra de las ventajas que podemos sacar a la conexión Wifi es el uso compartido de archivos.
Como todos sabéis podemos conectar nuestra BlackBerry PlayBook a nuestro PC utilizando el cable usb y así podremos pasar toda la información desde nuestro PC a la PlayBook y viceversa. Pero si utilizamos esta opción estamos siempre supeditados al cable USB y por tanto la movilidad tan presente en la PlayBook se convierte en estabilidad ya que nuestra tableta sólo podrá separarse de nuestro PC según la longitud del cable usb utilizado. Por ello la conexión Wifi nos brinda la posibilidad de conectar nuestra tableta a nuestro PC y de esta manera pasar archivos de un lado a otro y viceversa de la forma más cómoda y sencilla.
---