Psychology
The Minimalist » Blog Archive » Income distribution vs. happiness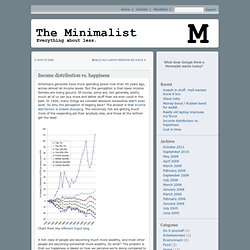 Americans generally have more spending power now than 50 years ago, across almost all income levels. But the perception is that lower income families are losing ground. Of course, some are, but generally, pretty much all of us can buy more and better stuff than we ever could in the past.
by Maria Popova On reconciling the fussy with the fuzzy, or what Benjamin Franklin has to do with Drew Carey. "The list is the origin of culture," Umberto Eco famously proclaimed . ( Leonardo da Vinci , John Lennon , and Woody Guthrie would have all agreed.) But the list, it turns out, might also be the origin of both our highest happiness and our dreariest dissatisfaction. So argue New York Times science writer John Tierney and psychologist Roy F.
A Brief History of the To-Do List and the Psychology of Its Success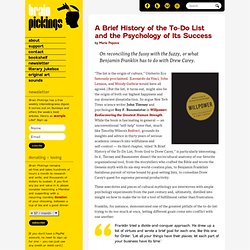 post written by: Marc Email It's not where we stand but in what direction we are moving. Sometimes we find ourselves running in place, struggling to get ahead simply because we forget to address some of the simple truths that govern our potential to make progress. So here's a quick reminder: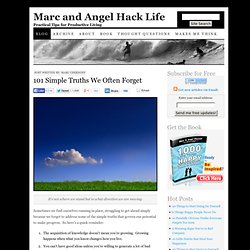 Gossip is basically only thing holding society together, says science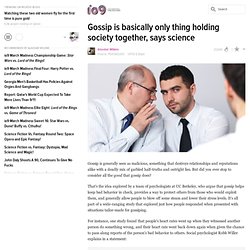 I take a number of issues with this, first of which is the term "prosocial gossip". The very term reeks of confirmation bias. "We've found that 'good gossip' is good." The term itself is not objective, which raises questions about the objectivity of their study. If they had another term for it I wouldn't be raising this point, as it would just appear that they focused their study on the effects of one particular gossip situation.
8 ways that money can buy happiness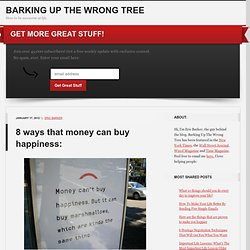 Another paper from Harvard happiness expert Daniel Gilbert (author of the bestseller Stumbling on Happiness ) spells out 8 ways we can spend our money to increase happiness:
Can you use hostage negotiation techniques to improve your life at work and at home
It's called the Behavioral Change Stairway Model and it was developed by the FBI's Crisis Negotiation Unit.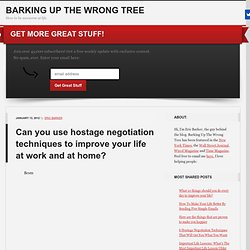 Bad moods knock us all out of alignment now and again. But why do they happen? And is there anything we can do about it? Let's look at the science behind a bad mood, what it does in your system, and what you can do to keep it at bay.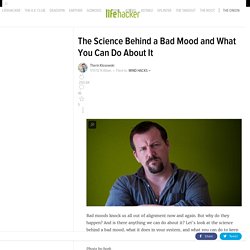 The Science Behind a Bad Mood and What You Can Do About It
Can Passion and Security Coexist? Reflections on Cronenberg's "A Dangerous Method"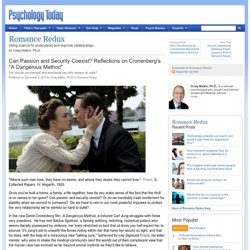 "Where such men love, they have no desire, and where they desire they cannot love." Freud , S. Collected Papers. IV, Hogarth, 1925.
It's a dreary day, so I thought I'd indulge myself and come up with a list of my favorite comedies. A caveat, however: this is not a fancy English-professor-y list of the finest, most exquisitely crafted, most erudite or intellectually sophisticated works on paper in the language. This is a list of the books that make me laugh until my mascara starts to run. These are books to read over your first cup of coffee or just before you go to sleep . Remember: a day you've laughed is day you haven't wasted--even if you didn't get out of bed.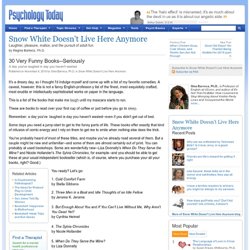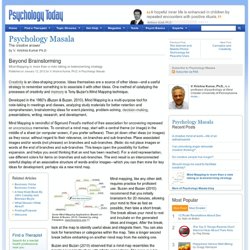 Creativity is an idea-shaping process. Ideas themselves are a source of other ideas—and a useful strategy to remember something is to associate it with other ideas. One method of catalyzing the processes of creativity and memory is Tony Buzan's Mind Mapping technique. Developed in the 1960's (Buzan & Buzan, 2010), Mind Mapping is a multi-purpose tool for note-taking in meetings and classes, analyzing study materials for better retention and comprehension, brainstorming ideas for event planning, problem-solving, decision-making , presentations, writing, research, and development. Mind Mapping is remindful of Sigmund Freud's method of free association for uncovering repressed or unconscious memories.
Beyond Brainstorming
Memory is our past and future. To know who you are as a person, you need to have some idea of who you have been. And, for better or worse, your remembered life story is a pretty good guide to what you will do tomorrow. "Our memory is our coherence," wrote the surrealist Spanish-born film-maker, Luis Buñuel, "our reason, our feeling, even our action."
"Keep Giving Them You, Until You Is What They Want"
This quote comes from Dennis Palumbo, a former screenwriter-turned-psychotherapist, writing about rejection . He says it as a reminder that rejection is often arbitrary and impersonal, so if you take it as a reason to be somebody you're not you're making a mistake. Title image from a poster for the 1979 film Being There . Dennis offers an anecdote from his days as a screenwriter in which he and others were casting a young woman for a small guest spot on a show. After seeing a handful of options, they made a decision and moved on.
The 11 Best Psychology and Philosophy Books of 2011
by Maria Popova What it means to be human, how pronouns are secretly shaping our lives, and why we believe. After the year's best children's books , art and design books , photography books , science books , history books , and food books , the 2011 best-of series continues with the most compelling, provocative and thought-provoking psychology and philosophy books featured here this year.