Publicera och kommunicera
Multimediabyrån - Skolverket. Har du funderat på att göra en webbplats, men aldrig kommit igång för att det verkar så krångligt?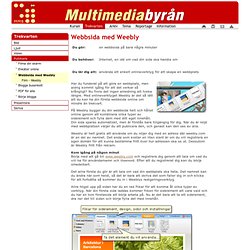 Nu finns det ingen anledning att tveka längre. Med onlineverktyget Weebly är det så lätt att du kan ha din första webbsida online om mindre än trekvart. Multimediabyrån - Skolverket. Bambuser - show the world. Vimeo, Your Videos Belong Here.
Bloggverktyg
Diigo - Web Highlighter and Sticky Notes, Online Bookmarking and Annotation, Personal Learning Network. Cinch - Create and share micro podcasts, images and text updates on cinch.fm. Now with over 800 Life Lessons and Transformed Traveler shows under our belt, we recognize BTR as having been the "rocket fuel" behind brand building and personal growth.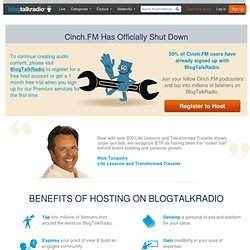 Rick Tocquiny Life Lessons and Transformed Traveler Tap into millions of listeners from around the world on BlogTalkRadio. Develop a personal brand and platform for your ideas. Express your point of view & build an engaged community. Gain credibility in your area of expertise. TodaysMeet.
---