Web Design
CMS Tools That Anyone Can Use Whether you're a beginner or an experienced website builder, LightCMS was created with you in mind. Simple, intuitive controls make it easy for anyone to build and manage a website. The Online Store Made Easy LightCMS revolutionizes the website experience by combining content management system features and a complete online store in a single platform. Creating and managing an online store has never been easier.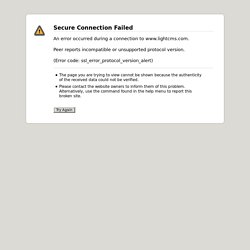 " It's a way our clients can get to know us and see our culture without physically visiting the store. I couldn't believe I got the site up and running over one weekend." " I have been an entrepreneur for many, years, but suddenly my art licensing is really coming together and I need to have a simple, bold statement about my art.
Editor's note: This guest post is written by Uzi Shmilovici, CEO and founder of Future Simple, the company behind Base—a simple CRM for small businesses What do Facebook, LinkedIn, Youtube, Dropbox and Skype have in common? Except for being ridiculously successful, they all enjoyed a strong viral effect that helped accelerate their growth. How did they do that? Here's the thing; most people assume that these companies grew by pure word of mouth. Well, that's only half of the story.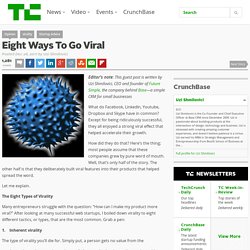 1. These Terms of Service These Terms of Service apply to everyone who is using the services provided by hostFB (the site) and is a member of the site.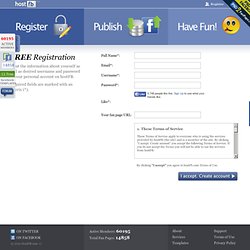 Register your Free Facebook Fan Page Hosting Account
25 Essential HTML5 Tutorials and Techniques
We are always close to the latest technologies – you know that, so today let's cover some more info on the new fundamental markup language for the web – HTML5 that you all love so much. When saying about HTML5, developers mean the new semantic structural tags, API specs like canvas or offline storage, new inline semantic tags, etc. HTML5, in fact, is aimed at creating a comprehensive markup language for front-end development, able to provide qualitative information on the different elements of the page. But to help make some sense of what's new and essential in HTML5, you could review some helpful and indispensable HTML5 tutorials that go over many of the major HTML5 aspects and new standards. The whole purpose of this post is to help you master HTML5 rich features through simple guidelines and easy to follow techniques.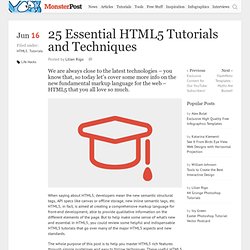 There have been hundreds of free fonts created this year, but we have surprisingly few good fonts that can be used for designer's purposes. Do you want to get a font that will be most effective in your web environment? We are here to show you them. Remember however that font will dictate how the bodies of text will appear throughout your website. Choosing the font for your project you need to keep the overall layout of your website in mind.
40 New Free Fonts for Designer's Needs [Year 2011]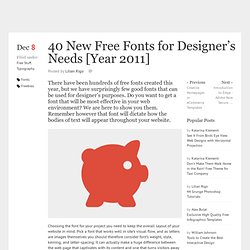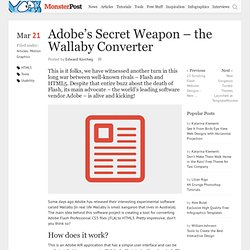 This is it folks, we have witnessed another turn in this long war between well-known rivals – Flash and HTML5. Despite that entire buzz about the death of Flash, its main advocate – the world's leading software vendor Adobe – is alive and kicking! Some days ago Adobe has released their interesting experimental software called Wallaby (in real life Wallaby is small kangaroo that lives in Australia).
Adobe's Secret Weapon – the Wallaby Converter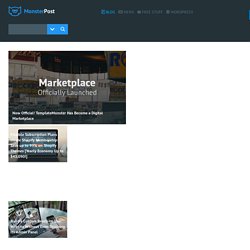 When starting a store/blog/website (select the appropriate) there appears a dilemma whether to choose SAAS or a licensed software for your site. You choice will depend on your personal needs. If you don't want be bothered with backend functionality improvements, coding issues or other things that make you break out in a cold sweat, than it's definitely SAAS. But if you're like a fish in a sea, when it comes to finding and fixing bugs – licensed software is exactly what you need…in case you got enough money to buy one.
How to Get Started with Responsive Web Design
"We should embrace the fact that the web doesn't have the same constraints, and design for this flexibility. But first, we must "accept the ebb and flow of things." John Allsopp, "A Dao of Web Design" Smartphones and tablets of all kinds are in high demand today and web audience can't stop buzzing about the necessity of the new technologies applicable for various devices. iPads, iPhones, Android mobile devices, laptops and netbooks have captivated the web audience, and it's no longer enough to build websites for standard computer screens only. New technologies require brand new approaches, and the most promising trend is represented by the so-called "responsive web design".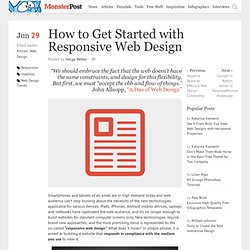 jQuery Plugins for Responsive Web Design
So, do you want your website to be properly displayed on mobile devices and tablets? If yes (and we're pretty sure it is 'yes') then it is time to think about how to make your layout more responsive. Being one of the most discussed web design trends of the year of 2011 responsive web design keeps moving forward by providing new efficient solutions for web developers and webmasters. Today this trend will be presented by the awesome jQuery plugins for responsive design.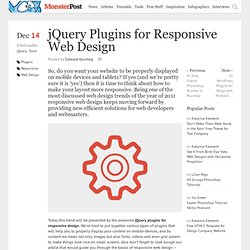 Bookmarklets are a great way of saving time when used regularly. With just a click, they can provide so much information / help. Here is a list of 15 very handy web designer / developer bookmarklets which includes:
15 Must-Have Bookmarklets For Web Designers And Developers
Cool And Free Launch Page With Ajax Newsletter
Rather than creating a new one from scratch for every project, here is a . Don't forget to bookmark this resource at del.icio.us . with ";" delimiters. So they can be used anytime with a simple copy-paste. Before using this , change the name of the text file to anything hard to guess and also update the name of this text file in newsletter.php file's 1st line. You can use this template as is or update it easily to fit your needs.
getfirebug.com has Firebug 2.0 alpha 1 Firebug 2.0a1 fixes 172 issuesFirebug 2.0a1 is compatible with Firefox 30-31 Update: an issue with Firefox 30 compatibility fixed This alpha represents the first public release that is based on new Firefox debugging engine (also known as JSD2). Firebug team has been working hard to adopt this new API and has also done great job with polishing Firebug UI that is now matching the Australis theme introduced in Firefox 29.
You can count on us 24 hours a day, 7 days a week. We understand you and your business. Custom made packages that suit your creative budget. More than 35,000 new creative works added daily. Ready to buy?
Engagement Analytics Now Includes Facebook's "People Talking About"