Futuroplis
city 2.0 / ville de demain
Our present-day cities are already obsolete and are threatening to engulf the entire countryside, permanently destroying vast areas of our best food-producing land. Victory City™ is the wave of the future. It's an entire city all under one roof, to be built and operated by private enterprise alone. There will not be just one, but many such cities throughout the entire world. Boasting no crime, no pollution, and no over-crowding, Victory City is a veritable utopia for those who've grown weary of trying to find solutions to today's urban problems. Welcome to the City of the Future.
Victory City: The City of the Future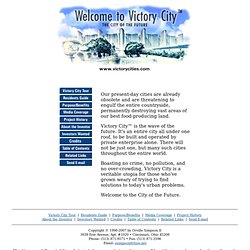 British Council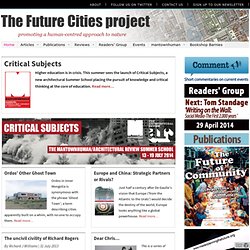 Higher education is in crisis. This summer sees the launch of Critical Subjects, a new architectural Summer School placing the pursuit of knowledge and critical thinking at the core of education. Read more… Ordos in Inner Mongolia is synonymous with the phrase 'Ghost Town'; a term describing cities apparently built on a whim, with no-one to occupy them. Read more… Just half a century after De Gaulle's vision that Europe ('from the Atlantic to the Urals') would decide the destiny of the world, Europe looks anything like a global powerhouse.
Future Cities Project: Home