web infographics
Get flash to fully experience Pearltrees
On February 12, 2013, President Obama gave his annual State of the Union speech, but this year it was "enhanced" with charts, data visualizations and additional information in a sidebar of the display (full video above). The team at NPR ( @nprapps ) published a great review a few days later called Chart Check: Did Obama's Graphics 'Enhance' His Big Speech?
Did you know that American Internet users spend more time on Facebook than any other site ?
As the popularity of visualizations grows, so does their range and quality. Here's a list of 20 of the best Static Visualizations , Interactive Visualizations , and Information Videos from 2011. ( Note: while they are numbered for your convenience, the entries are not ranked. )
On Twitter, Facebook, and dozens of other social sites, normal consumers often choose to keep tabs on the brands they love.
Standing out in a sea of seemingly identical job applicants can provide quite the challenge, but crafting a résumé with a dash of pizazz could be your ticket to employment. MostCreativeResumes.com features a collection of clever infographic-themed résumés that effectively repurpose the data visualization trend for the job seeking set. Why stick to a page filled with Times New Roman when a pie chart could spice it up? Full collection at MostCreativeResumes . Find a job .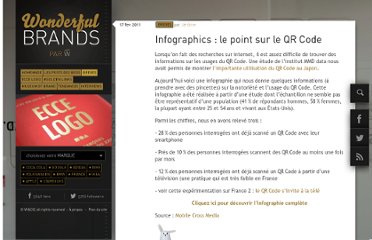 Lorsqu'on fait des recherches sur internet, il est assez difficile de trouver des informations sur les usages du QR Code. Une étude de l'institut MMD data nous avait permis de montrer l'importante utilisation du QR Code au Japon . Aujourd'hui voici une infographie qui nous donne quelques informations (à prendre avec des pincettes) sur la notoriété et l'usage du QR Code.
Mon coupain Stagueve réalise depuis quelques années, une étude sur la blogosphère française. Cette infographie présente les résultats de la dernière étude qu'il a mené fin 2010 dans lequel je dois normalement apparaître… enfin je fais parti du panel comme dirait un certain présentateur de la un. En plus d'être très jolie (c'est subjectif je sais), l'infographie donne pas mal d'infos sur nous en sommes. Je vous laisse la découvrir! <p style="text-align:right;color:#A8A8A8"></p>