Openaccess
Des ressources pour suivre l'actualité de l'open access | Le comptoir de l'accès ouvert. Que ce soit pour faire sa propre veille professionnelle ou pour informer les utilisateurs de la bibliothèque, il existe de nombreuses sources d'information dédiées à l'accès ouvert disponible sur le web.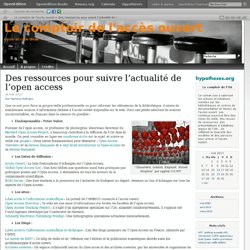 Voici une petite sélection de sources incontournables, en français dans la mesure du possible : "Chinatown, London, England, United Kingdom" par uggboy (CC-BY) Open access science news is mostly good, with a bit of ugly. To see the papers that describe the latest science results, you need to have a subscription to the journals they're published in (or at least your library does).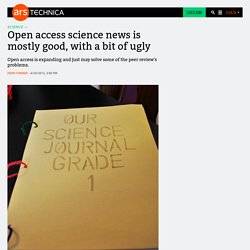 That leaves most of the public, and even many scientists, on the wrong side of a paywall from knowing the latest goings on in their fields. To help speed the flow of scientific information, the National Institutes of Health has mandated a policy where any papers derived from research it funds are made public within a year of their publication; the Obama administration is now trying to expand that policy so it covers all federal agencies.
Meanwhile, lots of journals have been founded that are open access from the start—as soon as a paper is available, anyone can download a copy. There have been many developments in open access publishing lately, so we thought we'd do a rundown of the latest news. 10 things you can do to REALLY support #OpenAccess #PDFTribute. Open Access Explained! Open Access Overview (definition, introduction)
Openaccess pearltrees
Text_mining. Publishing. News. Organizations. Blogs. Scoop.it. Paper.li. MyScienceNetwork. Events.
Conferences. Slideshare. Editors. Journals. Archives.
---