Music
Somalis enjoy first major music concert in two decades - Report: Somalia. Rock, rap and love songs, which most Somalis deem among their few pleasures in life, were banned by al-Shebab, who ordered music off the radio waves and, of course, forbade live performaces.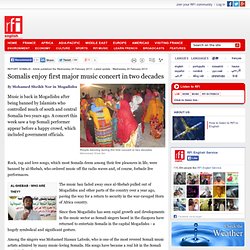 The music ban faded away once al-Shebab pulled out of Mogadishu and other parts of the country over a year ago, paving the way for a return to security in the war-ravaged Horn of Africa country. Since then Mogadishu has seen rapid growth and developments in the music sector as Somali singers based in the diaspora have returned to entertain Somalis in the capital Mogadishu - a hugely symbolical and significant gesture.
Among the singers was Mohamed Hassan Lafoole, who is one of the most revered Somali music artists admired by many music-loving Somalis. His songs have became a real hit in the Somali music industy in recent years. He performed one of his latest albums to hundreds of spectators in Mogadishu for the first time in two decades with government officials also in attendance. Rolling Stones surprise concert in Paris tonight - France - Britain. "The Rolling Stones are playing a short warm-up gig tonight ... in Paris," the group said on Twitter, adding that the tickets would be available from 12 noon (1000 GMT) at the Virgin megastore on the Champs Elysees.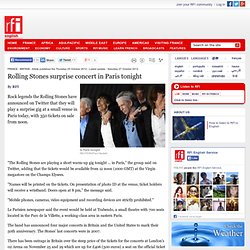 "Names will be printed on the tickets. On presentation of photo ID at the venue, ticket holders will receive a wristband. Doors open at 8 pm," the message said. Pussy Riot - who cares? - Report: France. Musicians from all over the world have rallied behind the three members of Pussy Riot, the Russian punk-rock performance art collective, who were sentenced to two years of prison on Friday.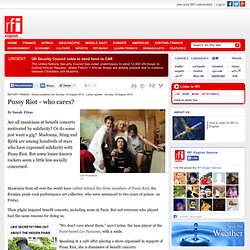 Their plight inspired benefit concerts, including some in Paris. But not everyone who played had the same reasons for doing so. Symphony of Science. Symphony of Science - the Quantum World! Radio - Listen to Free Internet Radio, Find New Music. Espace.mu : Le portail des webradios musicales de Radio-Canada.
Playlist : Festival Interceltique 2011. Titre Sólo Le Pido A Dios de Carlos Nuñez : musique gratuite streaming. Playlist Festival Interceltique Lorient 2011 sur Deezer. Music Web Apps. Musique en ligne.
---